The grand financial shift: Rich own assets while poor and working class deep in debt. 70 percent of wealth for the bottom 80 percent locked up in principal residence.
A core reason for the financial crisis was because too much debt was given to those with very little ability to pay it back.  From the wealthiest banks to those scrimping by on minimum wage.  The irony of this is that many for-profit colleges for example use government aid to finance the education of those that least can pay it back (plus the value of the degrees are virtually worthless in many cases).  One distinct factor between the rich and poor is that the rich own assets while the poor and working class are owned by whatever little assets they have (most have relatively little).  A new report shows this dramatic divide in wealth.  What is also problematic is the recent rise in real estate values spurred by Wall Street buying because most of the gains are now going to those with an already large portion of US wealth.  For Americans with stagnant incomes, this means more money is going to be consumed on real estate and less on other spending.  Not a positive trend in an economy that depends on over 70 percent consumption.  The big shift that has occurred in the last couple of decades is that poor and working class Americans are deep in debt while the wealthy are able to control a larger portion of assets in the country.
The grand divide
This new chart sums up the difference across US wealth: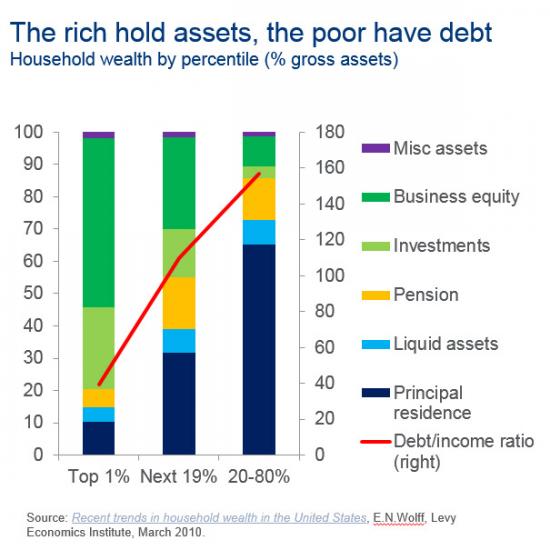 The top 1 percent only have about 40 percent debt-to-income and hold onto a large portion of assets.  This group also controls most stock wealth in the US and helps to explain why the recent bull market in the country has done very little for the rest of Americans: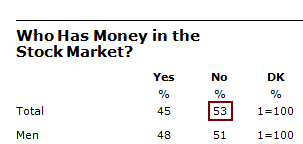 Source: Pew
The above data highlights that most Americans don't even own one piece of stock.  The first chart also highlights how deeply in debt many Americans are.  Take for example a young college graduate with $50,000 in debt and earning $25,000 per year. This is common for those that can actually land a job.  This person assuming no other assets is already starting out life with a debt-to-income ratio of 200 percent.  Some are in more financially poor positions since many young Americans are unable to find work in this part-time employment environment.
The first chart also highlights that the top 1 percent largely own a good portion of non-real estate assets in the US.  For those in the bottom 80 percent their home is the largest source of financial wealth.  This is why the recent trend of mega investor buying in residential real estate is problematic.  Big money is essentially going after the one final outlet for wealth storage for most Americans.
Incomes going back in time
US household incomes continue to retreat in inflation adjusted terms: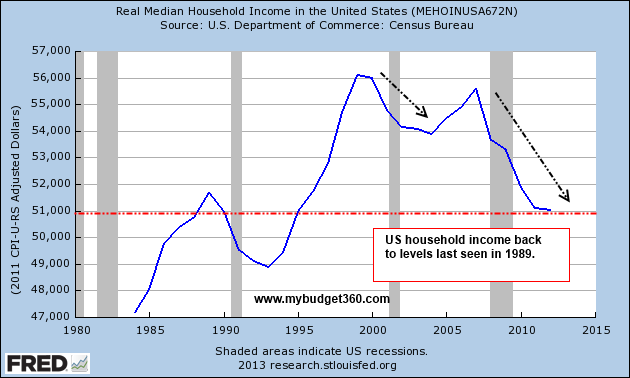 Adjusting for inflation US household incomes are back to levels last seen in the 1980s.  At the same time, prices are up for housing, cars, college, food, and health care.  So more disposable income is getting eaten up by basic life necessities.  In the early 2000s Americans tried keeping up by accessing cheap debt and pretending the middle class lifestyle was not being ushered out into the sunset.  That cheap debt market has slammed shut once household debt hit a peak: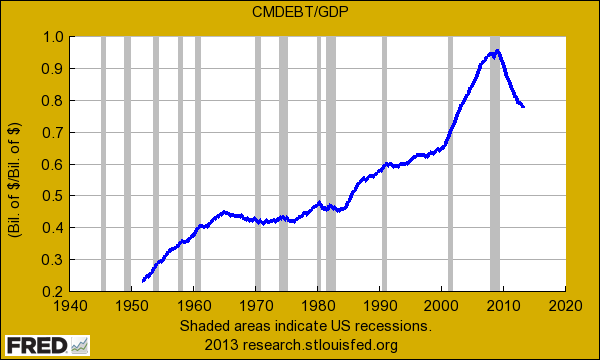 What is stunning is that while households are forced to deleverage via austerity, big banks continue to leverage into positions that resemble those to the pre-crisis days.  No wonder then the massive movement of big banks into residential real estate.  The stock market side is already played out and now the residential trade is the next one up thanks to the Fed's easy money policy.  The end result is that what little assets the bottom 80 percent control are now being diverted to the top 1 percent.
It can be summed up that the rich own assets and the poor and working class are owned by debt.  The data is telling and highlights an unfortunate situation in the US.  The middle class is dramatically shrinking.  It also helps to explain why many non-coastal states are apt to allow their representatives to take such dramatic measures when it comes to the government.  In their perspective, they are being left behind plus they feel that they have nothing to lose (many don't).  The country is divided but I'm not sure if people are focusing on the true issues at hand.  The debate is about a dwindling middle class.  Are people okay with a US with no middle class?  Seems like this is the true battle for the next decade although the above data makes it clear as to who is coming out ahead.

If you enjoyed this post click here to subscribe to a complete feed and stay up to date with today's challenging market!