California Housing Prices Down 41%: Examining the Summer Selling Season and Future Trends
What a difference a year makes.  In May of 2007 the median price for a California home was $595,000.  Today the median price stands at $350,140, a drop of 41% from the peak.  The drop in itself is stunning but what is more amazing is the speed in which this correction has occurred.  The previous bubble which was seen in Southern California saw prices drop over a period of 6 years following a gradual trajectory.  This time, that is not the case.  There are many reasons why this correction has happened so quickly and in contrast to the other one, is very different even though it occurred in the same location.
Here are 3 reasons:
1.  Subprime and Exotic Mortgages – This goes without saying that these loans setup people to fail quickly and miserably.  These loans were almost designed for flipping and were essentially ticking time bombs.  If you didn't unload the home in time, you were going to face major payment shock and we have now seen one year of payment shock in the state and clearly that was enough to sink the market.  It was for all intents and purposes a Ponzi Scheme and like a Ponzi, they grow slowly sucking in people one by one but when they fail, it usually unravels quickly.
2.  Employment – The last bubble that burst was caused by the weak employment situation in the state.  Recall the aerospace engineering falling behind and many people were left unemployed.  The exotic mortgage market did not exist so people had more steady 30 year fixed mortgages.  Given that, the employment situation contracted and methodically the market started to correct.  There was a slight bubble but nothing like the current market.  On the other hand, this current bubble popped and led to further employment cuts which we are now seeing.  In addition, many people here in the state were employed with industries tied to real estate so we are in fact getting a one-two punch.
3.  Psychology – People have anger towards lenders and Wall Street.  The zero down movement made people more susceptible to walking away from their home.  When I say walking away I mean consciously making the executive decision that you will no longer pay your mortgage.  It may be a year before they boot you out.  This will only intensify as the economic situation for the state becomes worse.  The market is saturated with distressed properties and this has an impact on your psyche.  And think about the global nature of this crisis.  You are not alone in this pain so sometimes it makes it easier for people to walk away in community.  If you see that your neighbor has foreclosed, you know that you can do it and survive.
The market is really horrific.  Let us take a look at some quick numbers:
August 2008 California
Sales:  37,988
Notice of Defaults:     44,278
Notice of Trustee Sales:          24,241
Real Estate Owned:                33,205
Total Distressed properties: 101,724
The reason prices are falling so dramatically is the above equation.  When over 50% of all sales are foreclosures and distressed properties you are not going to get top price.  Keep in mind that this is the summer selling season data which supposedly is the apex number for the year.  The next 6 months are always a slower selling season simply because of seasonal factors.  Add into the mix the current crisis and it will only increase ten fold.
JP Morgan Chase took over WaMu yesterday.  Aside from the biggest S & L collapse ever, JP Morgan just did what the current bail out plan cannot.  That is, give a mark to market of the value of the current assets of a distressed institution: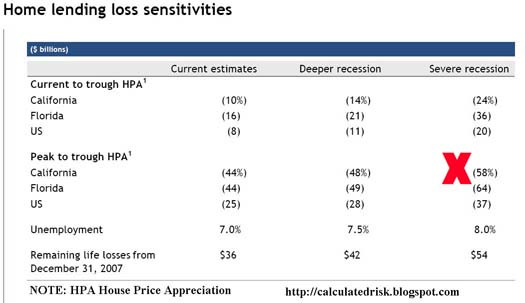 Well as we just reported, California is now down 41% so we are well within the current estimates.  Clearly this is not the bottom.  So we are either going to get a deep recession or a severe recession.  Meaning, it is possible that California will see a 58% peak to trough loss.  So what would that bottom be?
Severe Recession:  $249,900 median price for a California home
Housing is correcting and correcting fiercely.  That is why institutions like Wachovia who have similar portfolios to WaMu are being hammered on the stock market.  JP Morgan just put their estimates on the table.  The denial is officially over.

If you enjoyed this post click here to subscribe to a complete feed and stay up to date with today's challenging market!