The difference between investing in the dollar store economy and living in it: 20 percent of Americans now receiving food stamps. Dollar stores become a growth industry and top one percent gobble up all income gains after recession.
Lost in the tireless cheerleading for the stock market which in reality, is largely a sophisticated sham for most Americans, we had a report from the Department of Agriculture that should put things into perspective.  In the latest release of data for November 2012 (released in February 2013), the report noted that 141,067 Americans were added to the food stamp program known as SNAP.  This is a massive increase at a time when the stock market is soaring to near record highs.  For the record, the S&P 500 went up 0.28% for the month of November while we added a stunning 141,067 Americans in the same month to the food stamp program.  This brings our current total to 47.69 million Americans that now rely on food stamps.  To highlight our growing structural issues we now have a mind jarring 20 percent of our civilian non-institutional population on food stamps.  What does this truly say about our economy?
The rapid rise in food stamp usage
While the overall unemployment rate has fallen, helped by many hiding from the recession in college and others entering into retirement, the usage of food stamps has remained incredibly high and has increased dramatically even when the official recession ended in the middle of 2009: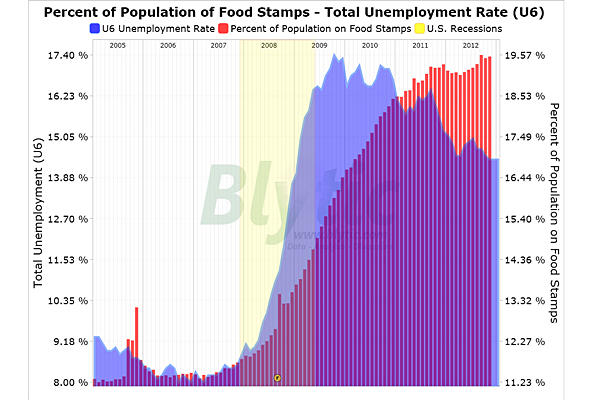 This is a troubling trend.  In 2007 the number of Americans on food stamps was roughly 11 percent.  We have nearly doubled that amount while the stock market inches back to near record levels.  Something tells me that these Americans on food stamps are not necessarily partaking in the speculative fervor that is currently unfolding.
As they say in the financial world, you should always ride out a trend.  While the S&P 500 hasn't done exceptionally well in the last five years factoring for all the ups and downs, some stocks have done extremely well.  Some stocks that cater on a growing and less affluent America have done stunning over the last five years.  Take a look at two leading dollar store companies, Family Dollar and the 99 Cent Store chain:

While the S&P 500 actually fell 4 percent in the last five years, Family Dollar is up over 200 percent while the 99 Cent Store is up by 173 percent.  Well think of the new guaranteed clientele they now have with 47.69 million Americans on food stamps.  Some businesses would fight to get $100 or $200 a month in guaranteed shopping dollars.  These companies are providing a needed service to a large part of our population that is now part of low wage America.  The stock market is largely a sham for most Americans.  We discussed in a previous article how little the typical American has in stocks.  We also discussed how throughout the recession, many organizations used the recession as cover to slash wages and cut costs.  The divide between top wage earners and the rest has never been so wide.
If we look at new data, the top one percent took in 121 percent of all gains while the other 99 percent of the population got put back into the a wage recession or worse, was thrown into the food stamp statistics.
"(New Republic) Astoundingly well. Emmanuel Saez, the Berkeley economist who (with Thomas Piketty, an economist at the École d'economie de Paris) first mapped the enormous 34-year run-up in income share for America's top 1 percent, came up last year with a statistic that was widely quoted by people who care about rising income inequality. In 2010, the first year of economic recovery after the 2009-2010 recession, 93 percent of all pre-tax income gains went to the top 1 percent, which in that year meant any household making more than about $358,000. This was, I quipped at the time, a members-only recovery. No 99-percenters need apply.

Saez has now updated this statistic to include 2011. When you look at the economic recovery's first two years, the top one percent (which by 2011 meant any household making more than about $367,000) captured 121 percent of all pre-tax income gains."
This is a big issue when inequality is at levels that were last seen during the Great Depression.  The mainstream press is guided by big advertising dollars so of course, the plight of those on food stamps is largely muted.  They remain voiceless and are largely a statistic to a growing part of our economy.  We are becoming a low wage nation for many workers.  These people came from somewhere and many are the newly minted poor thrown off the middle class bandwagon.
While all you hear in the press reflects a record breaking stock market, the reality underscores a growing disconnect in America.  You have those that invested in the dollar store economy and those that live it.

If you enjoyed this post click here to subscribe to a complete feed and stay up to date with today's challenging market!