The Main Street Economic Effect: 10 Reasons why This Recession will feel like a Minor Depression.
The investing world is full of cryptic words.  Credit default swaps.  Seasonal adjustments.  Collateralized debt obligations.  But for the average American they are interested in how the economic crisis will impact them on a personal level.  How does the actions of Wall Street impact their daily lives.
It is my belief that by the end of next year, most people will feel this recession as an economic depression.  Many have argued that this housing bubble only started recently but I have argued that this foundation started way back in 1979. We hear a lot of these words being thrown around with little data to back up any predictions.  So first, let us define what we will measure as a depression.  For our rubric, we will use the U-6 broad measure of unemployment which is a wider and broader measure of the employment picture.  First let us look at the current regular measure of unemployment versus the U-6: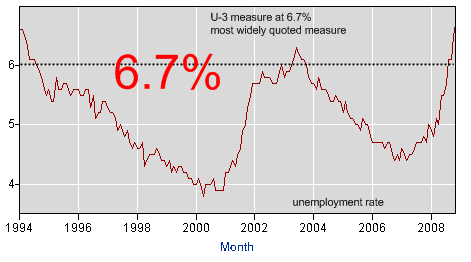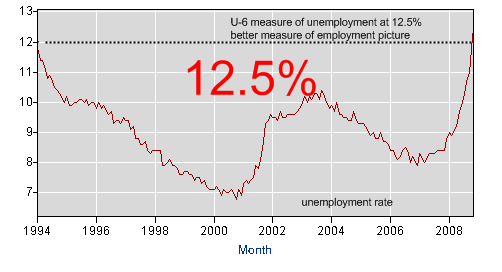 I was encourage to see that the New York Times reported this nuance in one of their latest articles.  The difference between 6.7% and 12.5% is large.  So what does U-6 include that U-3 doesn't?
(a)  Marginally attached workers who currently are neither working nor looking for work but indicate that they want and are available for a job and have looked for work sometime in the past.
(b)  Persons employed part-time for economic reasons but want full-time work.
(c)  Discouraged works who are a subset of marginally attached.  These folks have essentially given up looking for work because of the job market.
I think most of us would venture to say those are groups to consider as unemployed.  So our benchmark for depression level is 19% via U-6. During the Great Depression the rate hovered around this rate for many years: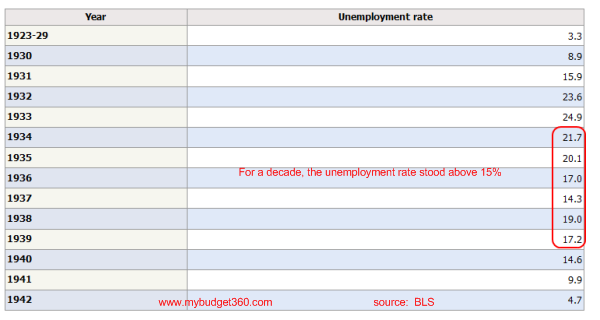 And it is very possible we will see 19% next year because the rate is now accelerating.  Just take a look how quickly the U-6 measure jumped up in one year: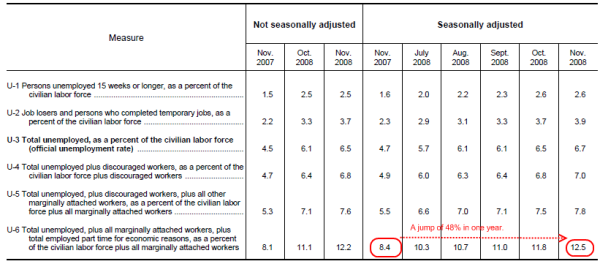 The rate has jumped from 8.4% to 12.5% in one year, an increase of 48%.  If we use only this rate and apply it to next year, the rate by next November will be 18.6% and we believe the rate will only accelerate.  Why?  If you look at the early part of the year, job losses started out slowly and then picked up speed toward the end: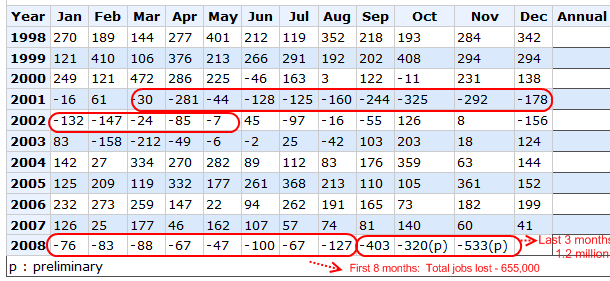 Take a look at the above chart.  For the first 8 months of the year 655,000 jobs were lost.  In the last 3 months alone over 1.2 million jobs have been lost.  This is usually what happens with recessions. Even if you take a look at the mild recession in 2001 you will see how many consecutive months we had job losses and how quickly they escalated and stayed high.
So for our measure, we will say that 19% via the U-6 measure will qualify as a minor depression.  Let us now look at the 10 reasons why this recession will turn into a minor depression:
Reason #1 – Retail Sales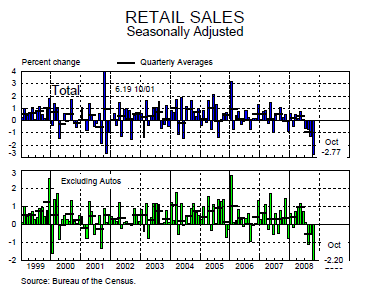 The life blood of our economy is consumption.  GDP estimates put consumption at over 70% of our fuel running our economy.  That is why all eyes are on the shopping malls during this holiday season (or people trying to get lucky on bingo).  It is one last hurrah before reality sets in during 2009.  Early indicators are not looking good.  Even if we look at the recent media layoffs and the Tribune Co. bankruptcy, much of this is due to imploding advertising revenues.  Why have ad revenues dropped? Because companies are cutting back their marketing budgets.  Why?  Because they are losing revenue.  Why?  Because people are not spending.  It is a rather vicious circle that doesn't show signs of improvement.  Much of our employment sector is predicated on high consumption so this is a recipe for further job losses.
Reason #2 – Motor Vehicle Sales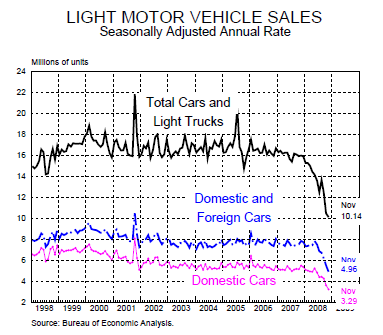 It should be rather apparent that auto sales are important to the United States.  That is why the above chart is so startling.  Across the board auto sales are falling.  People bought cars on financing and the credit markets are frozen.  It isn't like people had the money to buy a car especially if you were making $46,000 a year like 50% of the country.  Plus, many people have bought new cars that simply last longer with better technology.  It then becomes a want and not a need to buy or lease a new car.  Even if the big 3 get some help sales are still going to continue to drop and even with a helping hand, thousands will be laid off.  The peak buying cycle is simply gone.
Reason #3 – Consumer Sentiment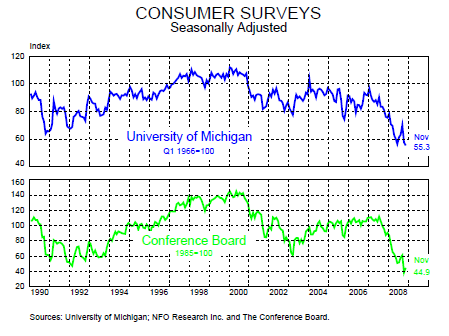 A certain part of the market is driven by consumer sentiment.  I would argue that the reality of the economy is driving consumer sentiment instead of a psychological belief.  However, sentiment does play a major role.  If you are worried about losing your job you probably won't buy a new home or car until things settle down.  Well things won't settle down until people start buying.  You can see the Catch-22 here.  Yet our massive debt load has caused globally for $50 trillion in wealth to be destroyed in the matter of one year.  That will do a number on your sentiment.  Expect consumer sentiment to stay low for the near future thus fueling more cautious spending behavior.
Reason #4 – Saving More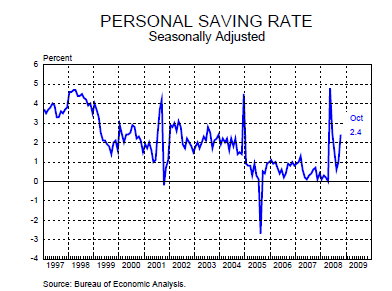 People in tough economic times save money or at least try to.  This is no exception.  It isn't like people are saving tons of money but keep in mind a dollar you save is a dollar you don't spend.  It was stunning that in 2005 we had a radically low savings rate that was under zero.  We were borrowing to pay for future goods and services.  That is now over.  Americans will be more cautious and many will start saving more simply by force.  If you want something you may need to save a few months in a bank account.  That is also why this number is up a bit.
Reason #5 – Hours Worked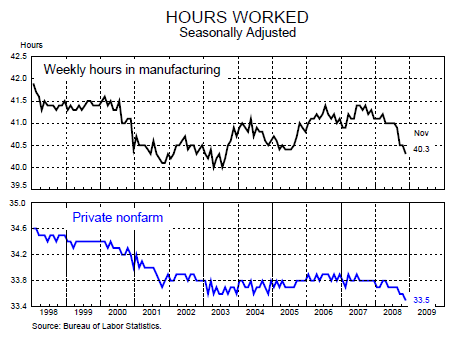 As you can see from the above chart the hours worked has fallen significantly.  Well you need money to spend.  If you are not working as much, you have less money to spend thus fueling the above contraction in retail sales even further.  This will only accelerate since we are deleveraging the current economy from the finance, insurance, and real estate sectors.
Reason #6 – Household Debt Burden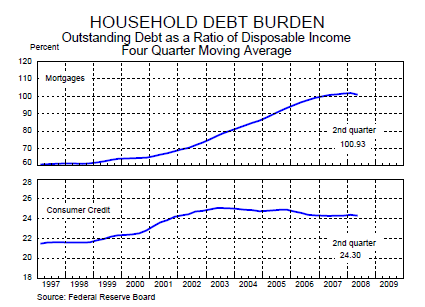 It is amazing that after all the debt destruction and deflation, that the household debt burden is still at record highs.  This will only add to the lack of spending.  Keep in mind we have a race to the bottom here.  For example, a mortgage defaults and the balance is no longer a viable indicator of the value of the home.  It sells for $100,000 less.  That money was destroyed.  Yet for the borrower that just lost the home, they have lost an asset from their balance sheet.  Their debt burden may have gone away in this sense but the burden was shifted to the lender.  Either way, we'll be seeing a lot of this deleveraging in the next few months.
It is expected that 2009 will have the highest number of foreclosures in history and that says a lot given that 2008 will see over 3,000,000 foreclosure filings nationwide.
Reason #7 – Short-term Interest Rates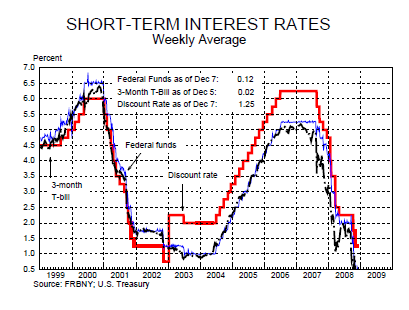 There is a global panic.  The above chart shows this.  Short-term treasuries are returning a near zero percent rate.  You may ask why would anyone put their money into a security with such a low return.  Simple.  Panic and security.  That is what the interest rate markets tell us.  The stock market is all over the map but as I have said in detail, market volatility is sign of a sick and desperate market, not a sign of a healthy and vibrant economy.  So until we see the credit markets improving, we can rest assured that people will be hoarding money and not lending it out.
Reason #8 – Double Stock Bubbles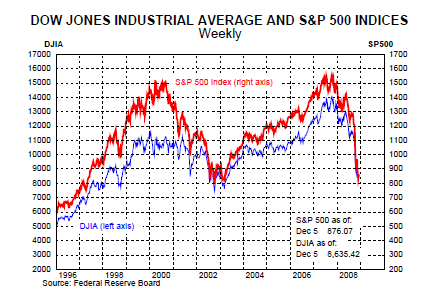 We went from the technology bubble right into the real estate bubble.  2 decades and 2 bubbles.  I'm not sure if the global financial system has it in itself to go for a third.  There is talks about certain industries like green energy seeing a bubble but the incentive may be lost for many now that oil is around $40 a barrel.  We need it for other reasons but just like the 1970s oil crisis, once the scare is gone people go back to their daily routine.  The stock markets are still off and have still seen $32 trillion in global wealth disappear.  Even after this recent run-up, they are still down for the year significantly.
Reason #9 – Account Balance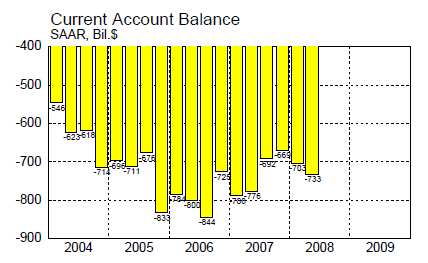 No country can go on forever spending more than it makes.  We have been doing that since 1994.  We now have a trade imbalance of over $733 billion.  That is not good.  No dominant society will stay that way for the long-term.  We send our treasuries abroad and we consume locally.  That makes our trading partners wealthier while we get instant gratification.
And here is the irony.  We as a nation need to correct this for long-term sustainability or we are doomed.  Yet if we do address this by cutting back, retail will get hammered and our economy will suffer in the short-term.  That is why we are at the tipping point where hard decisions will need to be made.
Reason #10 – Commodities Falling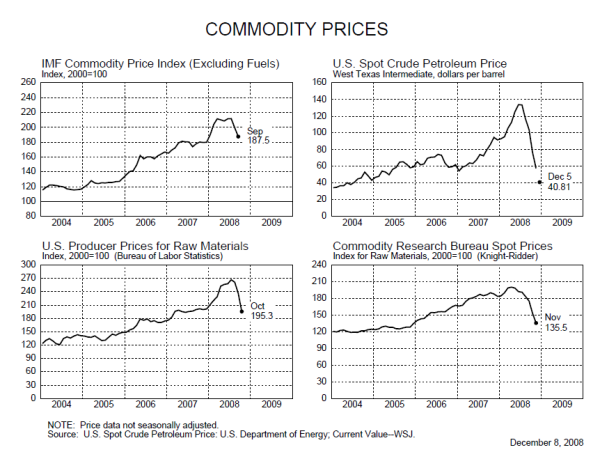 Commodity prices have been in a near free fall.  Oil is now trading at near $40 a barrel when just a few months ago it was at $147 a barrel. This has added a few hundred dollars each month into the wallets of most Americans.  This would be interpreted as good in most circumstances but the only reasons we are seeing a crash in commodities is because of demand destruction and deleveraging.  Americans are going to need every penny that goes back into their wallets.  And keep in mind globally many countries rely on oil for revenues and many estimates state that $50 a barrel is the breakeven point for many countries.  In addition domestically, many producers need the higher price to be viable so if it stays here for awhile, expect job losses in these industries.
That is the current predicament.  It is rather apparent after looking at the above 10 reasons that we will likely see U-6 unemployment hit 19% by the end of 2009.  Fortunately we have more safety nets than during the Great Depression but to expect this to be a walk in the park is naïve.  We are in a serious situation and things will only get tougher in the short run.

If you enjoyed this post click here to subscribe to a complete feed and stay up to date with today's challenging market!