The total market value of Crypto Currencies has fallen by $700+ billion with Bitcoin falling to $3,738 from $20,000 in December.
The crypto currency market is in total free fall.  If you flash back to late last year, there was a FOMO movement regarding crypto currencies pushing the total market value of roughly 2,000 coins to $1 trillion.  First of all, this was clearly unsustainable.  While many aspects of block chain, smart contracts, and crypto currencies are here to stay the previous valuations were clearly a bubble.  Many people got lured into a mania and the collapse of the crypto markets has been astonishing over the past year.  Total crypto currency market value has dropped by $700+ billion.  This value has completely evaporated and it is very clear that there have been players behind the scenes just pumping up values and praying on people that simply went full on FOMO.  Looking at the following charts is breath taking.
The evaporation of crypto wealth
The currency that started it all is Bitcoin of course.  But take a look at this chart to see the absolute collapse of the coin's value in such a short period: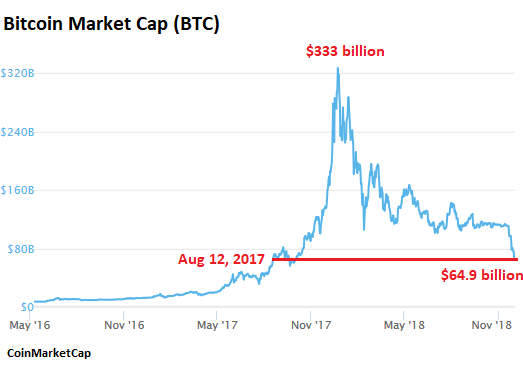 What you want in a currency is:
-Wide usage

-Stability

-Portability

-Divisibility

-Security
Crypto currencies did not meet many of the above requirements.  Places where you can trade currencies are now being reviewed by the IRS so the notion of anonymity is largely lost aside from those that understand the mechanics of digital wallets.  And many people simply do not take the adequate measures to secure their wallets and there are many cases of people losing money.  The larger banking system is already creeping into the space so the novelty is already wearing off.
Just look at this chart: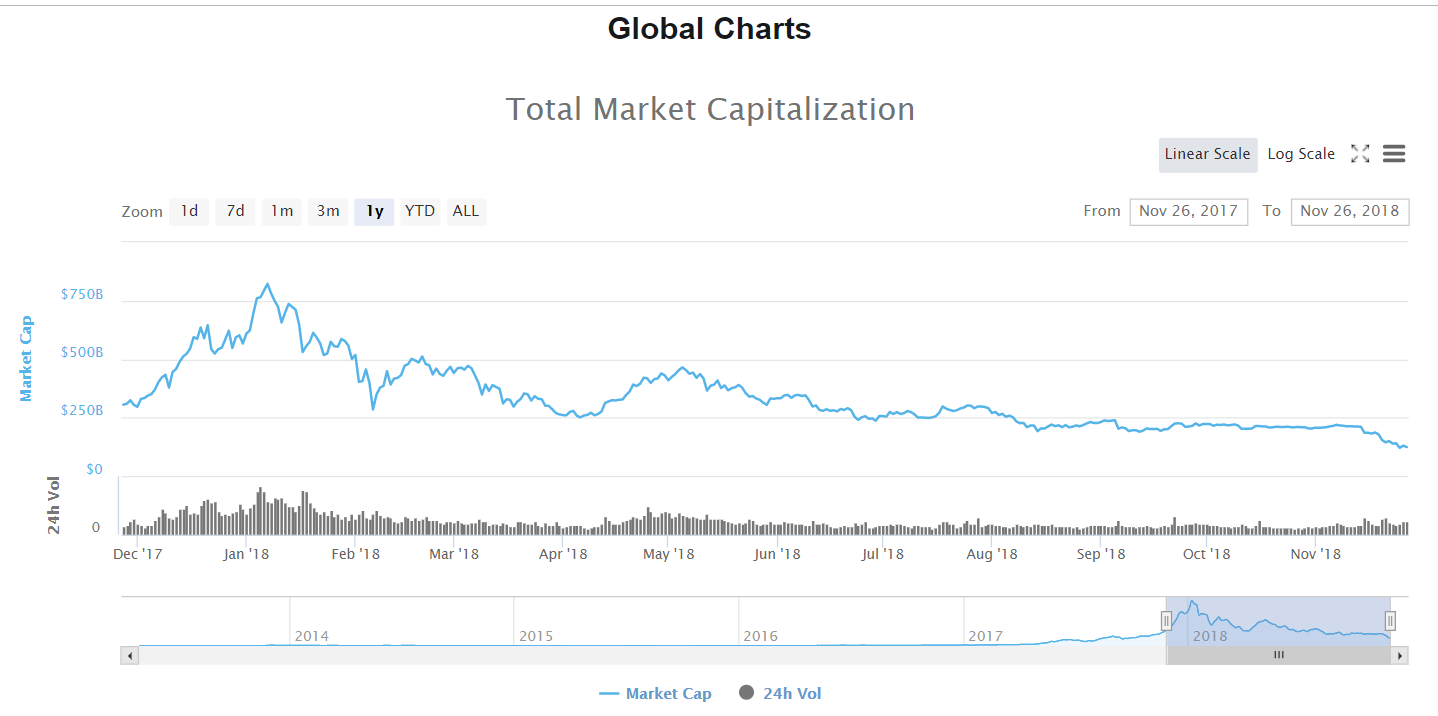 That is a collapse by any standard measure.  Bitcoin is down more than 80 percent just in the last year.  By any standard measure this looks like a bubble popping.  And some of the "top" currencies have taken the biggest hits:
"(Wolf Street) Here are the half-dozen largest cryptos by market cap, and their percent plunge since their respective peaks. These are among the most alive. Hundreds of cryptos have already died:

Bitcoin (BTC): -81%

Ripple (XRP): -91%

Ethereum (ETH): -92.4%

Bitcoin Cash (BCH): -96%

EOS (EOS): -85%

Stellar (XLM): -85%"
There was too much mania in the markets over the past year and now it will be telling to see how many of the crypto currencies survive this adjustment.

If you enjoyed this post click here to subscribe to a complete feed and stay up to date with today's challenging market!