The desert heat melts Arizona home prices – Phoenix home prices now back to late 1990s levels while state tax collection drop to 1998 levels. The second lost decade in the desert.
The real estate crash is much deeper than the media is making it out to be.  Entire life savings are being wiped out in markets that are tanking like the Titanic.  What is troubling is that some markets are having depression like symptoms with home prices falling 50, 60, and even 70 percent in a few short years.  Many Americans who are already struggling with the decade long stagnation in incomes are now seeing their largest asset plummeting.  Each market has a unique story resembling a Greek Tragedy and the desert is seeing its fair share of problems.  The market in Phoenix Arizona is experiencing price declines that have never been witnessed.  Home prices in Phoenix are now back to levels last seen in the 1990s.  Phoenix is unique in the sense that it had its own internal bubble with local speculators buying homes but also rampant money flowing from the California housing bubble.  It is no coincidence that these markets that experienced the biggest benefits from the housing boom are now suffering in its collapse.
Returning to the 1990s
The market in Phoenix is experiencing something more than a lost decade in housing values.  Home prices are now back to levels last seen in the Clinton Administration: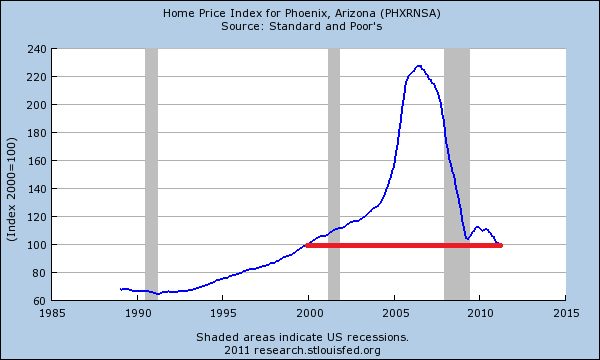 The above does not necessarily highlight the deeper problems in the market.  The reason the Phoenix market hasn't fallen even harder is because investors have been buying up properties in the last two years thinking a bottom was in.  Many were buying with all cash: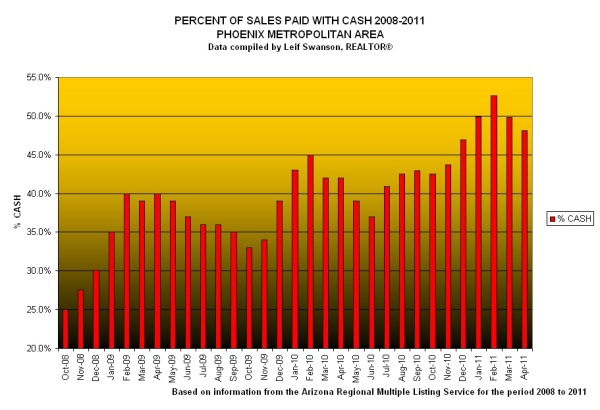 Source:  Leif Swanson
For over two full years 30 percent or more of home purchases in Phoenix have come at the hands of all green cash investors.  In the last year this has been 45 to 50 percent of the entire market.  This is not normal.  What is happening is the desire for cheap real estate and sidelined money has pulled in countless people.  This does not mean the market is healthy simply because hot money is flowing in.  Similar circumstances surround the overinflated Chinese real estate market where over 60 million apartment units sit empty.  Yet these all cash investors are starting to come to the stark conclusion that prices may be low for a reason similar to the Detroit market.  The underlying economy has shifted at a structural level.
Many of the good jobs in Phoenix were directly tied to the housing market.  Take the construction industry for example: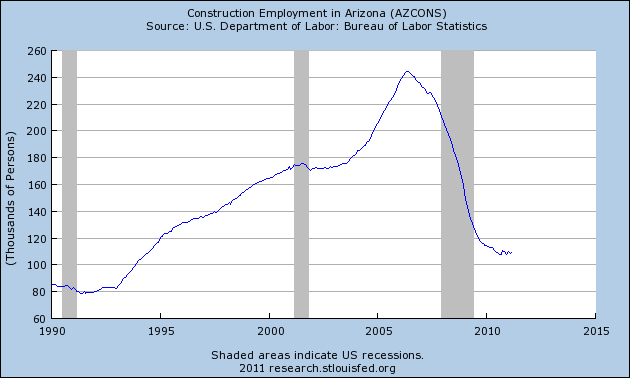 It is hard to look at the above chart and somehow conclude that the underlying economy is now healthy.  It is not.  Much of the money flowing in includes many who are cash flow investors but now there is a glut of rental homes.  This happens when half the purchases over a year came from all cash buyers.  This massive competition has also ironically pushed prices lower: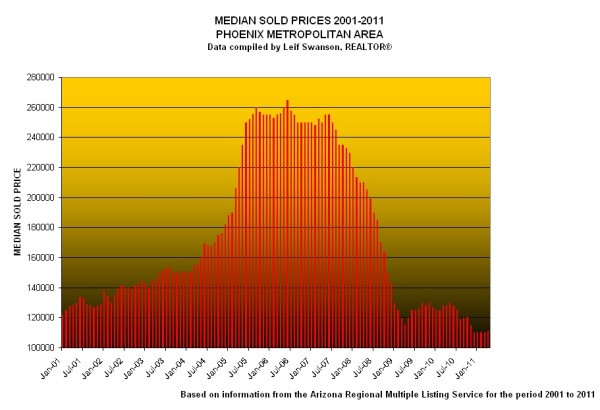 Source:  Leif Swanson
Home prices are now back to late 1990 levels.  Yet things are different in 2011.  The price of energy is much higher and with lower incomes in the state households can only support certain prices regarding home purchases.  Back in 1999 oil prices were at $20 a barrel: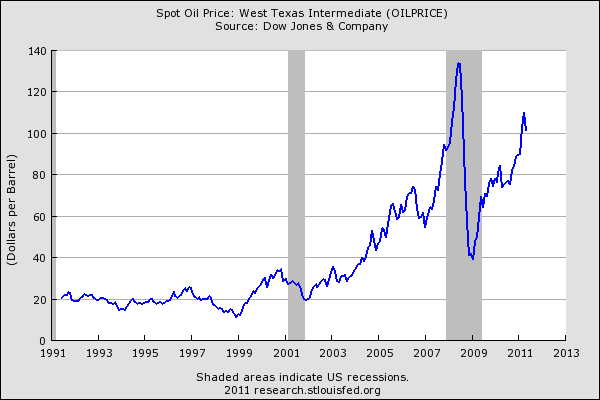 Today the price is well over $90 a barrel.  Keep in mind over the last decade middle class incomes have fallen or remained stagnant in some markets.  So considering these variables it is safe to conclude that home prices should actually be lower than their late 1990 levels.  More disposable income is being eaten up by the following:
-Oil

-Utilities

-Healthcare

-Education

-Food
The fact that the Federal Reserve is artificially keeping interest rates lower is a moot point because this is only a stop-gap measure.  It cannot go on forever and also short circuits the desire of the market to push rates up to compensate for the real risk in the economy.
And the issues experienced during the bubble days will be tied up in court for years to come:
"(AZ Central) The lawsuit's plaintiffs argue in a complaint filed in May 2010 that the three large professional-services firms knowingly helped Mortgages Ltd. and former investment partner Radical Bunny LLC defraud investors.

It also argues that the legal and accounting firms should have reported the fraud to investors and legal authorities.

According to investors and court records, Mortgages Ltd. collected more than $700 million from hundreds of private investors in 2006 and 2007, in part by making false claims about the company's financial health."
If this is the mess in residential real estate you can only imagine the problems with commercial real estate in Arizona.  The disaster is of historical proportions but of course little is reported on this.  Unlike the days of the bubble, there is little reason to focus on what is happening to middle class families now being swept away in another aftermath of Wall Street excess.  If you want to get a sense of the overall economy in Arizona just look at individual income taxes collected by the state: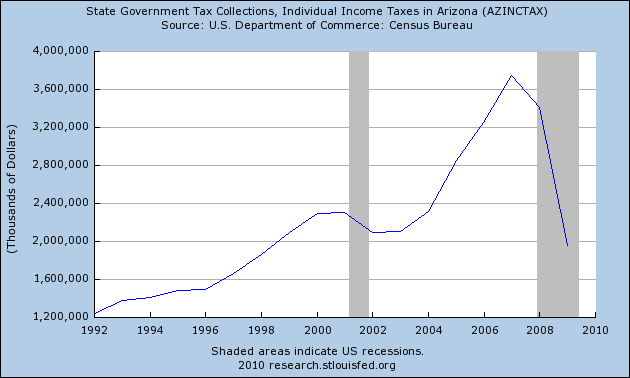 Arizona is collecting as much in individual income taxes today as it did in 1998.  Don't expect any quick recovery here and investors beware, this might be a structural change.  Home prices are down over 50 percent in a few short years and this is no accident.

If you enjoyed this post click here to subscribe to a complete feed and stay up to date with today's challenging market!