Doing The Housing Math on the Ed McMahon Home: Facing Potential Foreclosure in Beverly Hills.
Ed McMahon is a household name with most American families. His jovial attitude and his Publisher Clearing House awards are etched on the minds of many Americans. The idea of him knocking on your door and presenting you with an oversized check is at the core of the American dream jackpot. One would associate wealth when it comes to Ed McMahon. In another demonstration that the housing market is touching every niche of the U.S. housing market the Wall Street Journal reports that Ed McMahon may be facing foreclosure to no other than Countrywide Financial:
"(Wall Street Journal) ReconTrust, a unit of mortgage lender Countrywide Financial, on Feb. 28 filed a notice of default on a $4.8 million Countrywide loan backed by Mr. McMahon's home. The notice was filed with the Los Angeles County Recorder's Office but hasn't previously come to light. According to the filing, Mr. McMahon was then about $644,000 in arrears on the loan. It isn't clear whether Countrywide still owns the loan or is acting on behalf of investors who acquired it. Public records also show that Mr. McMahon had a separate home-equity line of credit from Countrywide of up to $300,000 secured by the same house.
Mr. McMahon's home has been on the market for about two years, his real-estate agent Alex Davis said. Mr. Davis said the price had been reduced, but he couldn't immediately provide details. The Christie's Great Estates Web site, which includes homes listed by Mr. Davis, lists the asking price at $5.75 million and says it has a canyon view and a master-bedroom suite with his and her bathrooms."
Let us run some quick hypothetical math on this place. First, let us assume that the $4.8 million loan is a 30 year fixed at 5.25%:
$4,800,000 at 5.25% PI = $26,505 per month
Taxes and Insurance = $5,200 per month
Total Monthly outlay = $31,705
Yearly outlay = $380,460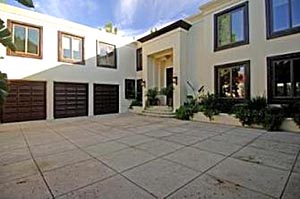 The Wall Street Journal also mentions that he is $644,000 in arrears on the loan. Since the home has been on the market for nearly 2 years, we can assume that financial troubles started a few months back. We are told that Ed McMahon suffered an injury 18 months ago and hasn't been able to work since. Given the above monthly payment and the amount in arrears, we can see that our numbers are rather close:
$31,705 x 18 = $570,690
Now the difference could be in the amount of time or also the rate on the note. We are putting an incredibly low rate which can be more in the ballpark of 6 to 7 percent which will then come in line with the $644,000 arrears amount. Yet we also find out that there is a home-equity line of credit for $300,000 on the place. Clearly money troubles hit hard for Ed McMahon. I'm sure that Ed in most likelihood has health insurance so it is highly unlikely that it is the medical cost that has put him in trouble on this home. It is more the fact that he is paying around $31,705 a month simply to keep the place. The amount of a per capita worker in the U.S. is his monthly mortgage payment. Unless a huge amount of money is coming in you can see how quickly things can change unfortunately.
The Wall Street Journal reports that the home is currently on the market for $5.75 million in a posh Beverly Hills neighborhood. However I went directly to the listing site and found that it was listed at $6.25 million; maybe the numbers haven't been updated since news broke this week about this story. Given that the home has been on the market for 2 years, you can understand how difficult it is to sell really high end properties. Let us look at the Zillow Estimate: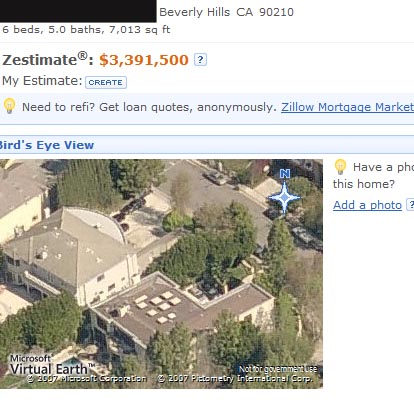 Zillow currently prices the home at $3.39 million; a far cry from the $5.75 million currently being asked and certainly much lower than the $4.8 million + $300,000 notes secured on the property. Let us assume a 6 percent commission:
$4.8 million
$300,000 HELOC
$345,000 (6% of $5.75 million)
__________
= $5.445 million
The current listing price is simply looking to break even. But what is the current median price for the famous 90210 area code?
Beverly Hills 90210
April 2008 Median Sale Price $2.11 million
Down -12.8% on year over year basis
Based on 10 sales for the month of April of 2008
If the 90210 area code is not immune to the housing bubble bursting then no housing market is safe in the current environment.

If you enjoyed this post click here to subscribe to a complete feed and stay up to date with today's challenging market!