Educated and unemployed – majority of unemployed Americans attended some college. Top degrees in fields with little employment demand.
The higher education bubble is racing along to a tipping point especially when the value of a college education is now being questioned on multiple fronts.  One of the more prominent arguments being thrown around is the return on investment or value of a college degree especially when the costs of attending a private institution reach upwards of $50,000 a year.  The median household income in the US barely makes that amount to begin with.  The issue stems with the number of Americans diving into ludicrous amounts of debt to finance their educational journey.  Another recent revelation highlights another disturbing trend in that those with some college education dominate the ranks of the unemployed.  In other words, those without a college degree have higher employment prospects in the current economy.
Educated and unemployed     
A troubling chart was recently released analyzing the unemployed in the United States.  The chart is startling: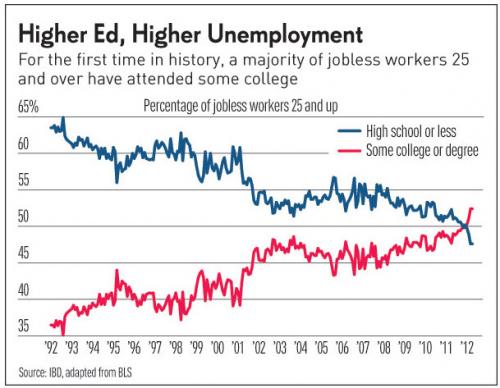 Source:  IBD
What you are witnessing is the dilution of a college education.  With millions attending for-profit institutions that carry little economic value once students graduate and saddle them with tens of thousands in debt, you have a large number of recent graduates with degrees that carry little value in the marketplace.  At the same time, the cost of going to college has far outpaced the overall inflation rate: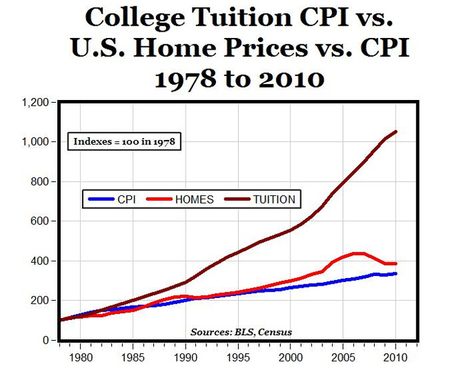 We all know the repercussions of the housing bubble popping but the cost of higher education has far outpaced even that bubble.  This is an enormous bubble and the fact that the majority of the currently unemployed have some college education is troubling.  What is more difficult to swallow is that many are young Americans who took on the brunt of the college inflation.  It is a recipe for major economic upheaval.  You have those with the least amount saved and the highest levels of debt unable to find work in this economy.
The prospects of finding work in this economy are tough.  Certain sectors are hiring including those in some engineering specialties, healthcare, and the sciences.  Yet the top degrees being pushed out do not meet these demands in the currently weak economic market.  Look at the latest data for college graduates: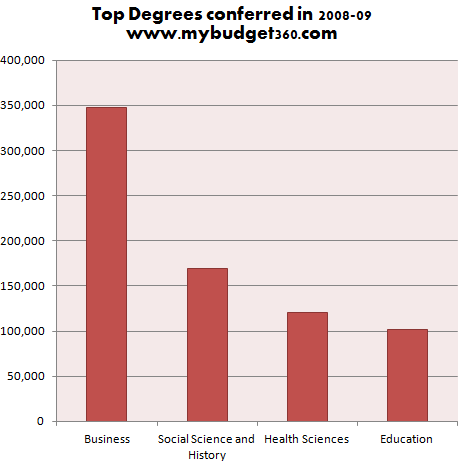 Source:  National Center for Education Statistics
The top field was in business.  Yet there is a big difference from say getting an accounting degree and getting a degree in marketing.  The second largest degree section is the social science category.  It will be hard to land a job with mediocre grades and a degree in sociology.  This isn't to take away from any field but look at the above chart and you see the saturation of graduates for each field.  If the top fields for hiring are engineering, healthcare, and other sciences look at the pool of gradates that are coming out into the job market.  It would be one thing if students were pursuing these degrees with little debt but instead are following their educational endeavors by going into insane levels of student debt.
"(Investors) For the first time in history, the number of jobless workers age 25 and up who have attended some college now exceeds the ranks of those who settled for a high school diploma or less.

Out of 9 million unemployed in April, 4.7 million had gone to college or graduated and 4.3 million had not, seasonally adjusted Labor Department data show.

That's a swing of more than 2 million since the start of 1992, early in another jobless recovery, when 4.1 million who hadn't gone to college were jobless vs. 2.3 million jobless who had gone."
Those least able to afford the college debt are the most likely to be unemployed.  Welcome to higher education circa 2012.

If you enjoyed this post click here to subscribe to a complete feed and stay up to date with today's challenging market!