Inflation over 270 years: It is hard to feel the tornado of price erosion when you are standing in the eye of the financial storm.
People tend to be creatures of habits. It always intrigues me how most of the people I speak with seem to already assume that prices will always go up. It is the default life position. They know the sun will rise, grass will typically be green, and prices over time will go up. While some are based in natural law, inflation is and will always be a human made condition. So it is important to step back from the day to day operations that guide us and actually look at where prices stand today in relation to history. I think most in the US really don't have the fear of say South America or Europe when it comes to inflation because they have never witnessed a full crisis driven by out of control money policies. Today, we are told that inflation is low yet when we actually step back, inflation is already eroding the purchasing power of the middle class dramatically. It is usually helpful to look at history as to learn from our past.
270 years of inflation
I think we can learn a lot from looking at data. While we can learn a lot from history, you will also realize that people are still governed by greed, cronyism, and poor judgment. After all, the Great Recession was the worst financial crisis in the US since the Great Depression. Did we not learn the lessons from the past? Life is a live action situation and inflation is one of those components.
I found this chart to be extremely illuminating: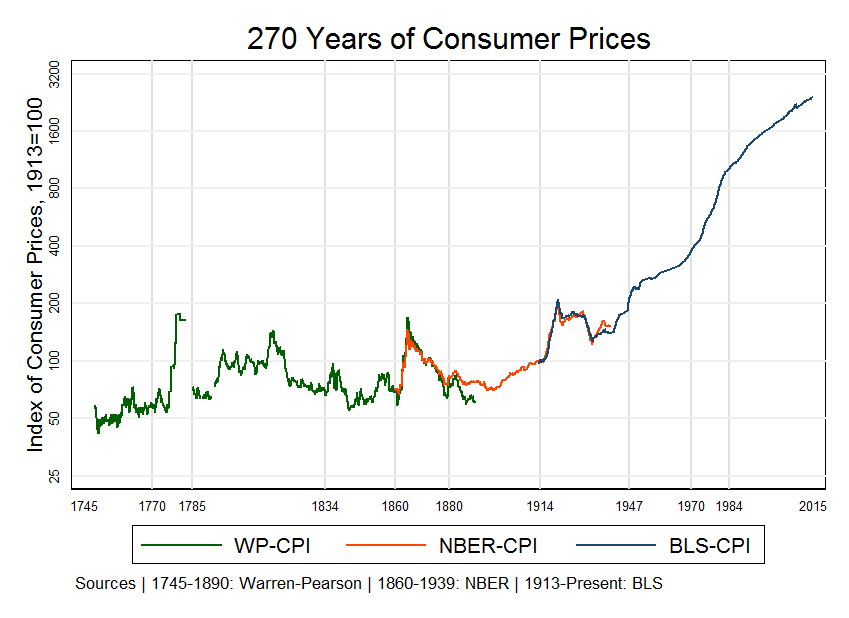 What this chart highlights is that having generally rising prices is actually a modern condition. From 1745 to 1913, consumer prices traded within a tightly controlled range. What happened in 1913? The Federal Reserve came into existence. Since that time, when money or the concepts driving money where placed into the hands of the few, a clear jump in consumer prices occurred. Is this good? It really depends on who you ask. Keep in mind that the Great Depression happened after the Fed was established.
You will also find that many items in our society are now out of reach for those who actually want to save. For example, many young Americans simply cannot afford college without going into some form of student debt. The rise in tuition seems to ignore any hiccups that come with a regular economy: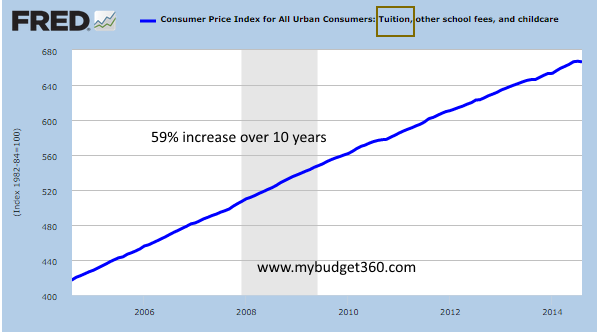 In the last decade, the regular cost of tuition has gone up 59 percent. Yet wages and household incomes have gone stagnant. College enrollments continue to grow and most middle class jobs require formalized training (i.e., computer science, engineering, healthcare, accounting, etc). So with limited resources, students go into debt and the reasoning actually makes sense. However many pay high prices for fields that may have lower salary ranges. The blue collar workforce has been decimated and we have a smaller middle class and larger portion of our population working in the low wage segment of our economy.
So it should be clear that inflation has hit college tuition dramatically. But you also see the rise in costs with automobiles, housing, food, and healthcare. The debt machinery is back to providing subprime auto debt for people to purchase a deprecating asset when their incomes are inadequate. The Fed and central banking for the most part, has created an army of people addicted to debt. Debt is now the language of financial power. It makes sense since debt instruments are only provided by banks. So it has been a solid shift of power.
The chart of consumer prices going back 270 years is very telling. Especially how consumer prices rising suddenly became a normal part of the economic atmosphere right when the Fed came into power. All you need to do is look at the cost of housing, food, healthcare, and education and you will quickly realize that inflation is very much a part of our modern economy. But that doesn't mean that somehow this is the default position or that it is necessarily good. The shrinking middle class might have something to say about the erosion of their purchasing power.

If you enjoyed this post click here to subscribe to a complete feed and stay up to date with today's challenging market!