Massive Market Volatility is not a Good Thing! Biggest Percent Gains and Losses Occur in Economic Crisis.
I am amazed at how many people think that suddenly with a 10 percent gain on Monday that somehow the market is now in good shape.  This could not be further from the truth.  Massive percentage swings occur during economic turbulent times.  You do not want to see 10 percent up or 10 percent down days.  What you do want to see is a market that is steadily moving up based on earnings reports and an economy that is growing at a healthy pace.
During this week, the market had the worst consumer confidence report ever.  The rating came out at 38 when the market was expecting 52 which was already a horrible number.  The fact of the matter is the middle class American is getting hosed from every front as if Wall Street was using multiple fire hydrants to pump and drain their problems onto the taxpayer.  This bailout of the financial culprits who caused this mess now looks to have a provision of allocating a large number of the fund to compensating executives.  Compensating executives?  They should get zero compensation and we should actually be putting criminal provisions.  To allocate compensation is an utter joke in the face of the economic pain being faced by the majority of the country.
For those that think economic market volatility is good let us look at some historical numbers for the Dow: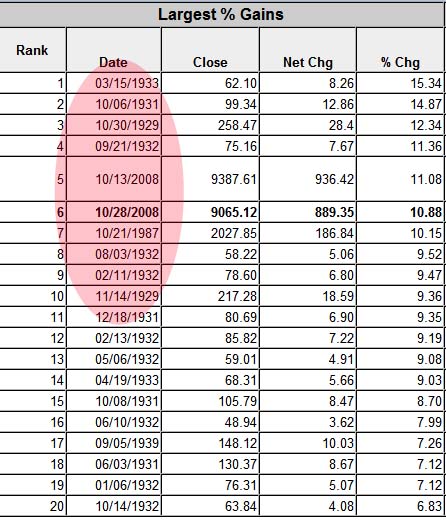 Out of the top 10 daily percentage gains in history, 7 occurred during the Great Depression, 1 during the 1987 market meltdown, and 2 during our current crisis.  In fact, out of the top 20 daily percentage gains in history 17 occurred during the Great Depression.  Remind us again how massive upswings are good again?  They are not.  They signify fear and massive movements in and out of the market.  The average investor doesn't even stand a chance at the moment.  Even with these massive up swings, where does the Dow stand from the peak reached last October?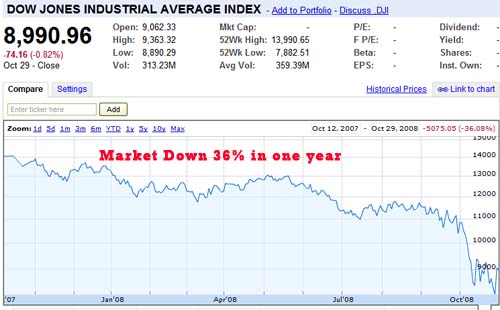 Even after the historical upswing, the Dow is still down a stunning 36 percent in one-year.  Keep in mind this is also factoring in that only a few weeks ago A.I.G. was removed from the index of 30 stocks and replaced with Kraft.  What a convenient time.  If A.I.G. were still in the mix, it would be lower.  So now we've seen the top up days.  What about the Dow's worst days ever?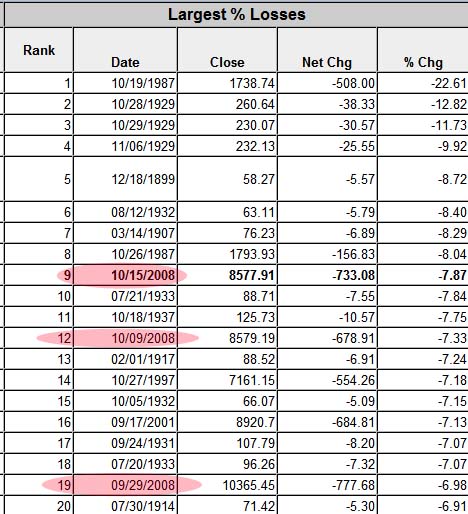 Out of the top 20 daily percentage down days, 9 occurred during the Great Depression, 2 occurred during the 1987 crash, 1 in 1997, 1 after 9/11, 1 in 1899, 1 during the 1907 panic, 1 during 1917, and 3 in our current crisis!  Think about that, over 100 years of history and the only time in history that had more volatility was during the Great Depression.
You also have to keep in mind that the market crash hit in October of 1929 but the bottom was not reached until 1932.  If we once again look at a 5 year chart of the Dow, it looks like the bottom fell out in September of 2008: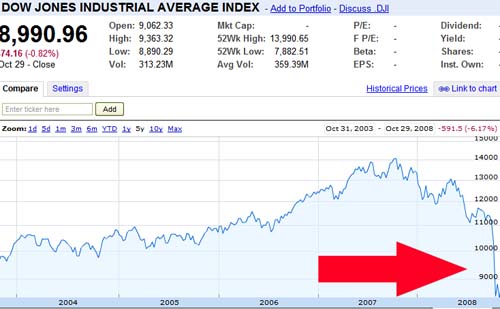 So even though a 10+ percent jump in one day may feel like an injection of cocaine and provide immediate relief, the longer term consequences are much more dire.  You do not want the economy operating like a maniac going all over the map.  Employment is rotten, earnings are in the dumps, state budgets look like a house party the morning after, and employers are still cutting jobs.  Oh, and our Fed just slashed rates again throwing the U.S. Dollar under the bus once again to appease his central bank masters.  Oil shot up in tandem.  These are the guys that are supposedly protecting us?  Time to get these folks out of political power.

If you enjoyed this post click here to subscribe to a complete feed and stay up to date with today's challenging market!