The Miseducation of the California Housing Market: 3 Reasons Why California Housing Still Has 3 Years Before Hitting a Bottom.
California housing has been an enigma for most in terms of pricing.  How in the world did the median price for a California home reach $597,640 at the peak of the housing bubble?  That is a question that historians, economist, and writers will need to answer once the ashes are left.  But we are still in the burning flame.
California wasn't always an expensive state.  If you ask most people they will tell you, "California housing has always been expensive!" but this in fact is not true.  In fact, we only need to go back to 1970 to see the last time that the median US home price was equivalent to that of California: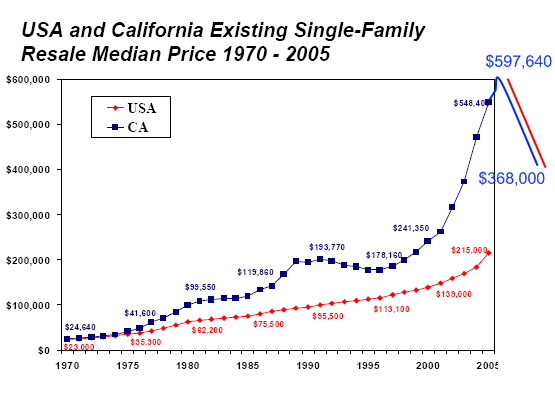 So what happened to send prices so high?  Obviously the population of California has been exploding since that time:
California Population 1970: 19,953,134
California Population 2008: 36,457,549
So the growth in population certainly had something to do with it.  In addition, prime locations, the weather, the legend, and glamour all played into the idea of prime real estate.  Yet the mistake that is made in each bubble we have here in the state is that of contagion.  That is, assuming every ancillary area is going to do well simply because it is close to Santa Monica, Newport Beach, or La Jolla.  This seems to be a mistake always made.
If you look at the chart again, you'll also see the late 1980s early 1990s bubble which also burst.  However, that bust came because of a recession followed by falling prices.  This is the inverse.  Bursting housing prices have led to this economic calamity and this thing is nationwide.
The C.A.R. also has a data set for California: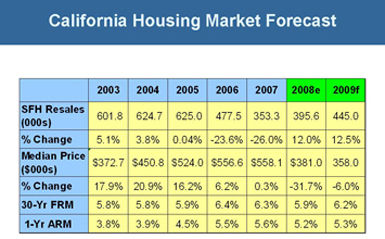 Prices simply went into unsupportable levels.  We have a 17%, 20%, and 16% yearly increases on a consecutive basis which sent prices from $372,700 to $524,000 in 3 years.  There is no way that is sustainable especially when incomes did not follow.
Let me give you 3 major reasons why California will not see a bottom until 2011.
Reason #1 – Employment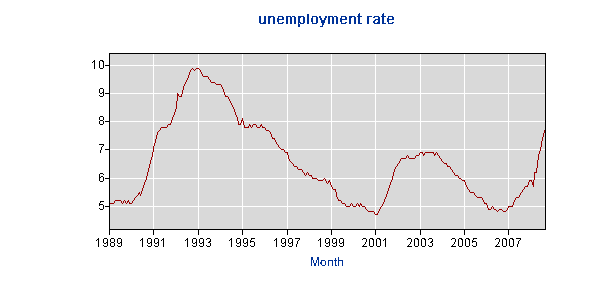 First of all, the California unemployment rate is one of the highest in the country.  The last time we had a 7.7% unemployment rate was in March of 1996.  California is already in a deep recession.  The fact that the Governor is going to call a special session later in the week is troubling.  Why are they calling a special session especially when they just finished hashing out a budget?  Well revenues have fallen off the deep end and we now have a $10 billion short fall…again.
The reason employment is so important is because any talk of buying a home is muted if people don't feel secure in their jobs.  The fact that California had so many people dependent on the housing industry is troubling.  Jobs in:
Construction
Real Estate Agents
Brokers
Finance
Insurance
Furniture
Household Electronics (i.e., Best Buy and Circuit City)
Once the high paying real estate industry jobs are gone, they are not coming back and certainly not at levels seen at the peak.  Now why is this problematic?  Well first, we are still technically in no recession.  But even once a recession is over, peak unemployment isn't reached for about 2 years.  Take a look at nationwide unemployment and our last recession: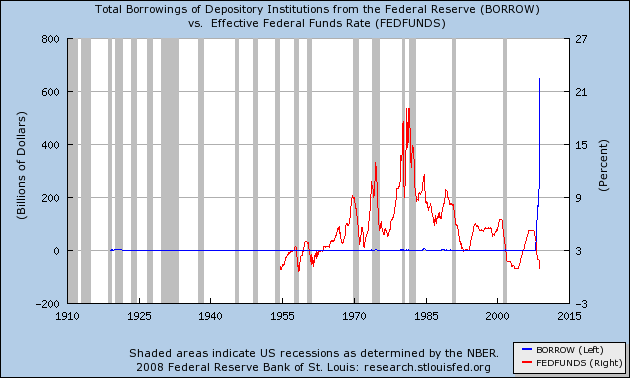 So assuming that the 4th quarter GDP is negative which all signs point to this, the recession will have officially started in July of 2008.  Meaning, peak unemployment will not hit until the middle to late 2010 assuming the recession is done quickly (which I doubt).  Now given that California is more reliant on housing, how long will it take us to bottom out?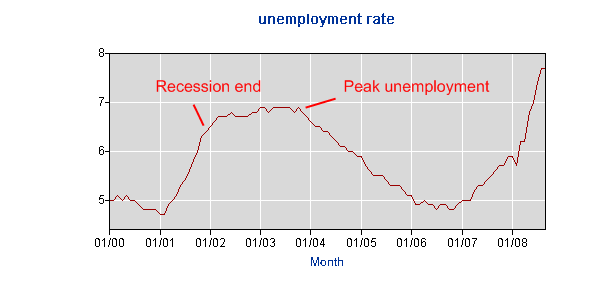 Given the above chart, California employment tracked the nation numbers seeing a peak reached until the end of 2003.  This time, we probably should expect this to last longer in the state for a couple of reasons.  We had a bigger housing bubble, more problems with our state budget, and heavy reliance on the real estate industry.
Reason #2 – Inventory
There is an insane amount of homes on the market for sale in California.  According to DataQuick, 40,317 homes sold in September of 2008.  Of the homes that sold in September a stunning 51.1% were foreclosure resales.  Basically California is trying to sell as much as it can as quickly as distress sales are coming in.
In addition, the data released by DataQuick shows the median price for a California home at $283,000.  They calculate their numbers different from the C.A.R. and DataQuick had their peak at $505,000 for the state.  Either way, we are quickly approaching a 50% half off sale.
So given this amount of sales, how much inventory does California currently have?  That is the real challenge.  I went through ZipRealty and gathered the current data for each major metro area in California:
Greater L.A. and San Diego:              127,064
Central Valley South:                         15,321
San Francisco Bay Area:                     37,098
Sacramento, Central Valley North:     24,420
Eureka Area:                                       200
Total Estimated Homes for Sale:        204,103
*Data as of November 4th
Keep in mind this doesn't cover all areas but the largest areas, so it does give us a representative sample.  Keep in mind, this data doesn't include a large number of REOs and many lenders are now modifying loans so these are in limbo since many will become REOs.  How many REOs are on the market?
September 2008
Notice of Defaults:     21,665
Trustee Sales:              20,510
REO:                           27,373
Given that nearly 90+% of Notice of Defaults are going into foreclosure, the peak sale month is essentially just keeping up with the distress sales hitting the market.  That is why over 50 percent of sales last month were foreclosure resales.  Even if we ignore the distress sales, which is hard to do but try for a second, there is 5 months of inventory on the market.  Eliminating the distress sales, we are over 10 months of inventory on the market.  Until we hit a 5 month inventory level without distress sales, then we can safely assume there is a bottom approaching.
How can you even begin thinking there is a bottom when we are entering the slow selling season and the number of sales is less than the number of distress properties coming onto the market?
Reason #3 – Credit
We keep hearing about the credit crisis now getting better since banks are flooded with money.  Oh really?  You wouldn't know that by looking at mortgage rates.  Take a look at the rate sheet for Wells Fargo: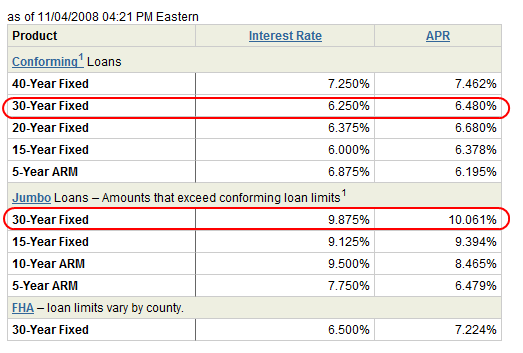 Take a look at those jumbo rates!  Over 10%!  And you wonder why the high end market in California is simply sitting idle while cheap foreclosures falling under the $417,000 conforming loan limit are selling.  And even the current rate is still high given that the Federal Reserve is back to a 1 percent rate and the U.S. Treasury has essentially given banks loads of capital.  All they are doing is hoarding the money since they sure aren't lowering rates.  Remember back in the day when Alan Greenspan flooded the market with easy credit and all was good?  Some 30 year fixed rates hit 3.75%!  We are nowhere near that.
The Fed this time is back to 1% yet mortgage rates aren't responding.  Why?  Because they are actually operating in reality now.  They are now checking income and guess what?  Folks don't have the cash.  Even with modest 10% down payments the market has come to a screeching halt.  Think about it.  The median household income in California is slightly over $60,000 yet the median price is $285,000.  They would need $28,500 saved up to purchase a home.  Given that after taxes a family making $60,000 a year is pulling in $3,500 to $4,000 tops a month, they would need to save $2,375 a month for one year or $1,187 for two years.  Given this economy do you think people have that disposable income?
Even if folks start today (good luck with our negative savings rate) they would have enough in maybe 3 years.  At that rate they would need to save $797 a month to have the downpayment.  That is more doable.  This is how people bought homes in the past.  We are going to have to learn to do it that way once again.  At the earliest, we won't see a bottom until 2011.

If you enjoyed this post click here to subscribe to a complete feed and stay up to date with today's challenging market!