Largest for-profit sees half of its students vanish in last five years: For-profits under fire as value comes into question.
Many prospective students are starting to become savvier when it comes to looking at colleges.  For-profit colleges largely rely on federal funding and market to lower income Americans.  There is little oversight for the colleges in producing any sort of measurable result.  Many students are simply saddled with massive debt and a degree that has little value in the marketplace.  Yet it does seem like the tide is turning with some for-profits.  The University of Phoenix, the largest for-profit in the country has lost half of its students since 2010.  It is a big deal when you once enrolled 460,000 students and are now down to 213,000.  And it certainly wasn't because of advertising.  In 2009 the school was spending around $100 million a year in marketing.  With $1.2 trillion in student debt outstanding this is a telling trend.  Is the University of Phoenix reflecting a bigger change in for-profits?
The for-profit world
For-profit colleges offer two-year, four-year, and graduate degrees in virtually every discipline.  In many cases for-profits are going after a similar crowd that would be aiming to enter a community college.  But community colleges do not have the marketing prowess of the for-profits.  While the University of Phoenix saw enrollments halved since 2009, the for-profit market bounced back recently in stopping the outflow of students:
"(Hechinger Report) That for-profits overall have stemmed the outflow of students better than public community colleges have speaks a lot to their marketing prowess.  Not only are they defying demographic and economic trends, they're managing to overcome bad press about saddling students with high debts and offering few professional prospects. They're also overcoming their own price tag. The average annual tuition this academic year at a for-profit college is $15,230, compared with $3,347 at a community college, according to the College Board."
Take a look at this chart: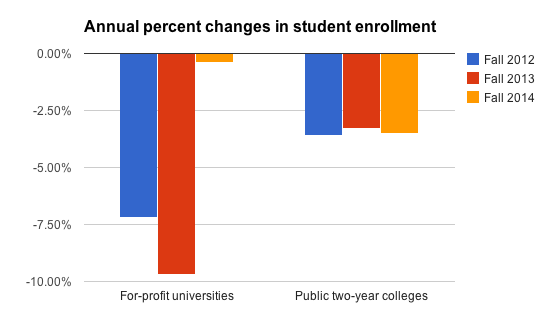 For-profit institutions were getting smashed in 2012, 2013, but somehow stopped the drop in 2014.  Two-year colleges which are much more affordable are still seeing drops in enrollments thanks largely to demographic changes.  So why are for-profits bouncing back?  One point being made is that for-profits have retooled and are getting better with their advertising.  That might be one reason.  It can also be there are more players in the marketplace.  But when you have your biggest player seeing enrollments drop by half, you have to ask why.  Take a look at this chart: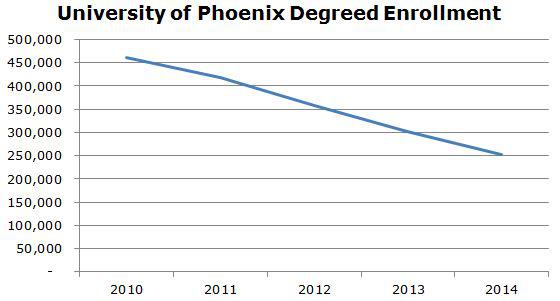 Source:  Seeking Alpha
That is a big drop.  Americans are saddled with $1.2 trillion in student debt.  That is a massive amount.  One of the reasons why the University of Phoenix is seeing a big hit is that many nonprofit institutions are now competing in the online marketplace at a much cheaper price point:
"(WaPo) The for-profit higher education sector remains challenged, with questions about its quality and its ability to compete with better-known nonprofit schools increasing their online offerings."
For what it is worth, many for-profits jumped in on the online world before it was "cool" to do so.  Sure, many were largely focused on making it ridiculously easy to enroll and went soft on the educational outcomes but online is now a big part of learning.  Many students even in traditional educational schools are now taking online classes as part of their curriculum.  And why shouldn't they?  Most of us are continually learning in the online atmosphere.  Learning just doesn't happen in a brick and mortar school.
The big hit being seen with for-profits is that they were largely focused on numbers before quality.  Many are now chasing the quality aspect but something is definitely happening in this market segment.

If you enjoyed this post click here to subscribe to a complete feed and stay up to date with today's challenging market!