Americans now spend more on drinking and eating establishments than they do at grocery stores. Over 17 million kids went to college to be waiters or flight attendants.
There are many reasons why so many people now work in the low wage sectors of America.  As it turns out, the eating habits of Americans have changed dramatically.  Only in the last couple of years have Americans spent more on eating out than they do on actual groceries.  Too bad the median annual pay for waiters and waitresses in 2015 was $19,250 with tips included.  Companies still haven't figured out how to outsource servers but our manufacturing base that once provided millions with good paying jobs is completely decimated.  It also may have to do with a large number of young Americans living at home.  Since homeownership is on the decline with the young, discretionary spending on eating out is up.  Way up.
Spending on eating out
It is an interesting cross point that for the first time in a generation people are spending more on eating out than they do on groceries.  Are Americans just not cooking as much?  Is there a preference simply for eating out?  Or is it because the rise of the two-income household leaves no time for cooking?
It is probably a mix. But it might also be a part of the culture where people now feel as they should eat out more often.  Here is the data: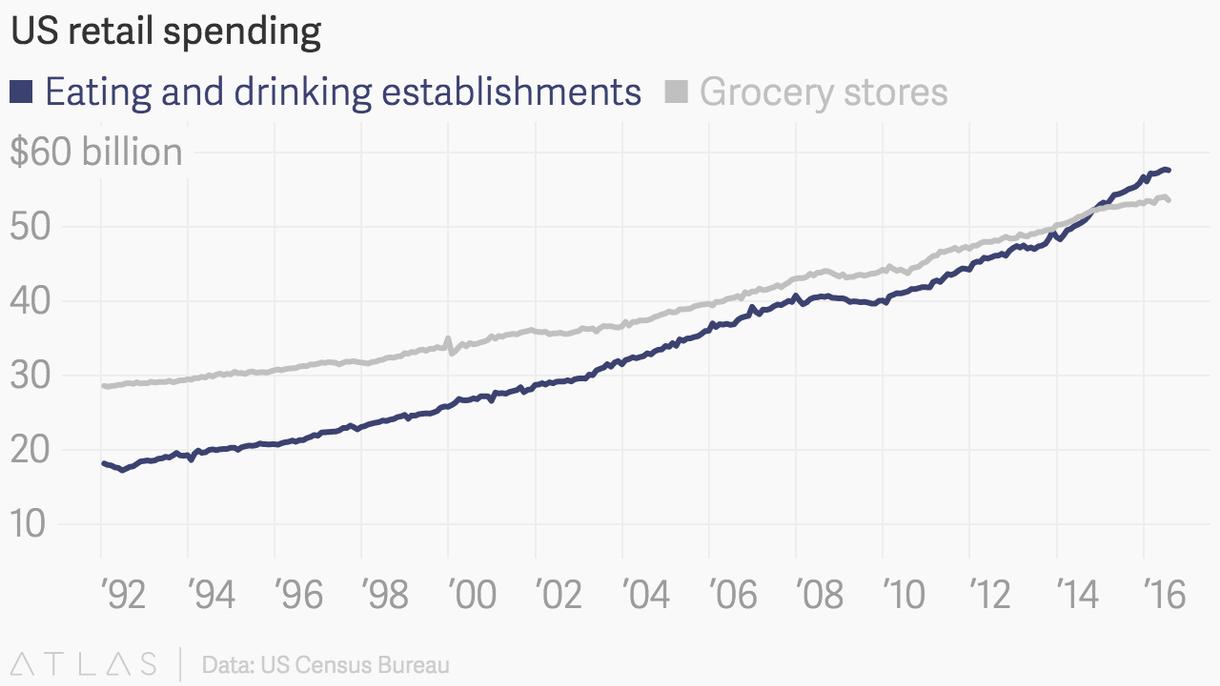 Now I don't want to sound like I'm an old timer here but when I was growing up, going out to a restaurant was a special event.  We didn't grow up with much so going out to eat was a big deal and outing.  Yet today, it simply seems like everyone is going out and there is also the rise of massive numbers of fast food outlets that don't require much money too.  The reasons may be many here.
The bigger issue is that our growing service sector is incredibly low paying and seems to be one of the fields in the U.S. that is booming.  It also seems to be indicative of how our country is being split out.  The few owners of the food establishments are likely doing very well and the massive army of servers are barely scraping by one step above poverty.  This isn't to take one side here but where is the middle?  The middle class is now a minority in this country.
As it turns out, 17 million kids went to college to become waiters or flight attendants: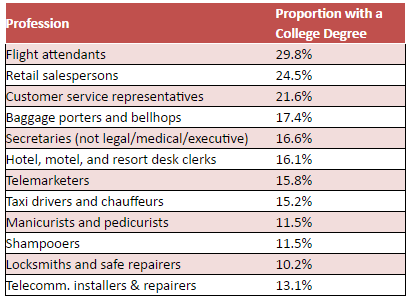 Source:  BLS
And with total student debt zooming over $1.4 trillion, you have to wonder what is going on here.  Part of what I feel is happening is that people want to pay for an "experience" that they simply do not want to miss out on.  For example, the "college experience" now means more than an education.  It also means massive stadiums, state of the art gyms, and student centers that rival theme parks.  Then you have people having the Starbucks experience where they drop $5 on a cup of coffee they could make at home for $1 or less even.  In the end, many simply cannot afford to have all of these experiences but are deep in debt trying to keep up (thank you credit cards).  At least getting drunk and lit can take your attention away from the real economy.

If you enjoyed this post click here to subscribe to a complete feed and stay up to date with today's challenging market!