Deleveraging from one bubble to another – $6.2 trillion in mortgage debt was added between 2000 and 2008. Since the peak in 2008 $1.3 trillion in US household debt is gone but another bubble is brewing hidden under the rubble of the busted housing market.
There is some interesting data on the deleveraging that is occurring with the American household.  Since the peak in Q3 of 2008, US households have lowered their outstanding debt by $1.3 trillion.  It is important to understand how this deleveraging is occurring.  First of all, Americans are largely paying down existing debts much faster and are no longer on a debt binge like they were pre-2007.  Yet a significant amount of the deleveraging has occurred via mortgage defaults.  So while lower debt is a good sign, it is important to understand in what context this is occurring.  Another point that will be highlighted is the amount of student loan borrowing in the US household equation.  This segment of debt was untouched by the recession as younger Americans financed their college educations through more expensive debt.  After a few years, Americans have pushed off some $1.3 trillion in household debt.  Let us examine how this debt weight was lost.
Removing $1.3 trillion in household debt
Without question most of this reduction in debt has occurred because of mortgages being written off thanks to the housing bubble popping.  Yet another part of the equation is that Americans have tapered off their borrowing ways and are not back to pre-recession levels.  It is likely that this is a structural change given that most of the previous decade's borrowing came courtesy of a once in a lifetime bubble.  Let us examine how this debt was removed via the housing process: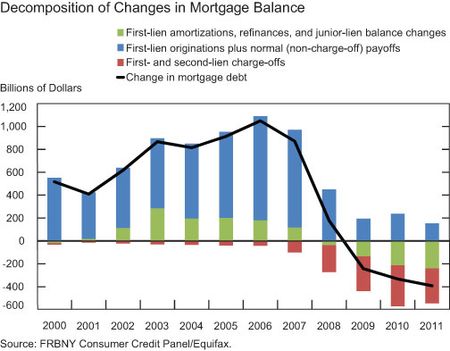 The big increase in US household debt from 2000 onwards was largely based on massive growth of mortgage debt.  In 2000 outstanding mortgage debt went up nearly $600 billion.  It dropped a bit in 2001 likely in line with the tech bubble bursting.  After that, it was bubble city yet again.  In 2002 it was well over $600 billion.  From 2003 to 2005 it ranged in the $800 to $900 billion category.  In 2006 it went over the nutty $1 trillion mark and even in 2007 it was over $900 billion.  Trillions of dollars added in mortgage debt thanks to the housing bubble.
To be exact, a stunning $6.2 trillion in mortgage debt was added between 2000 and 2008. 
Yet in 2008 even with problems emerging net mortgage debt went up.  Only in 2009 through 2011 did we see actual mortgage debt go down.  $241 billion in mortgage debt was paid down and as you can see from the chart above, a large amount of mortgage debt went away because of the housing bubble bust.  All in all $968 billion in mortgage debt has been written off from 2009 to 2011.
Underlying all of this of course is that banks have dealt much better from the bust since the Federal Reserve has helped banks directly with countless programs and bailouts.  For example, home values are down over 30 percent from their peak.  However banks have not come close to adjusting mortgage debt by 30 percent.  Even the chart above reflects this trend and demonstrates that most of the deleveraging has occurred on the balance sheets of US households.  Part of this has come from lower mortgage rates as well.  U.S. mortgage rates are down from August, touching 3.77 percent APR for a 30 year fixed mortgage
The growing student debt
While practically all areas of consumer debt fell once the recession hit, student loan borrowing continued unabated: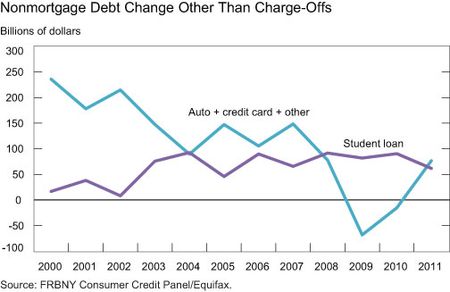 While the bubble in housing clearly has caused massive deleveraging in household debt, the higher education bubble continues to rage on.  You have mixed signals being thrown out to students that yes, education is going to make you more money in the long-run but this kind of generalist advice provides very little guidance.   There is a big difference between what career you choose and also where you go to study.  It is insane that some poor quality institutions are charging students $50,000 per year and the only way this can occur is via the student loan system.  Think about the fact that US households are essentially earning what they did in 1995 yet the cost of going to college has gone up even quicker than housing did during the peak of the bubble.
While it is true that US households are in the painful process of deleveraging, banks are once again levering up and speculating in all sorts of markets.  The Federal Reserve is essentially handing out free money to member banks so they can continue to speculate in whatever they see fit.  Of course the unforeseen changes are coming via hidden inflation and a declining standard of living.  Need we remind you that the Fed was largely at the core of the initial housing bubble?  With no real changes to the financial system the Fed is essentially funneling billions of dollars each month into the housing market to try and re-inflate asset values.  US households have a firm grasp on what is happening with over 46.5 million Americans on food stamps and nearly half of Americans too poor to pay any Federal income tax.

If you enjoyed this post click here to subscribe to a complete feed and stay up to date with today's challenging market!