The next bailout will be with student loans: White House takes first steps in allowing a bankruptcy option for student debt. $1.2 trillion in student debt outstanding.
It truly is absurd when you hear people moralizing that people should pay their student debt when virtually every other debt class can be discharged through bankruptcy.  You can go to Las Vegas, run up $50,000 in credit card debt for a wild night, and if you are unable to pay it back, no problem.  Sure, your credit is ruined but no one is going to garnish your wages.  Can't pay your mortgage?  Foreclosure.  Can't pay your auto loan?  Repossession.  Can't pay your student debt?  Lifelong debtors' prison for you.  Student debt is the largest non-housing related debt class in the US.  It makes sense that bankruptcy should be an option here.  There is one problem, however.  Most of the debt is government backed meaning the bill is going to be taken on by the government (aka the people).  This is something that should have been done over a decade ago when total student debt was $200 billion, not $1.2 trillion like it is today.  However, rising delinquencies show something needs to be done here.
The push for discharging student debt   
There is now serious talk to get student debt discharged via the bankruptcy process.  Good timing for the 2016 election given a massive number of Americans now carry student debt:
"(WSJ) WASHINGTON—The White House is weighing steps to make it easier for Americans to expunge certain student loans through bankruptcy, opening the door for student debt made by private lenders to be treated on par with credit-card debt and mortgages.

Federal law prohibits student loans, from private lenders and from the U.S. government, from being wiped out in bankruptcy, except in rare circumstances. Other forms of consumer credit such as mortgages, credit-card balances and auto loans face looser requirements for being discharged in bankruptcy."
This of course makes total sense.  The legislation can be made to circumvent fraud (i.e., those going to medical school and having high earning prospects only to not pay their debt).  However, these will likely be rare cases.  Today, we have many that got lured into for-profit paper mills and have a degree that is not even worth the paper it is printed on.  These institutions are the subprime lenders of the college world.  You also have many paying too much for a degree that doesn't produce a good income in the marketplace.  Take a look at how quickly college tuition has gone up: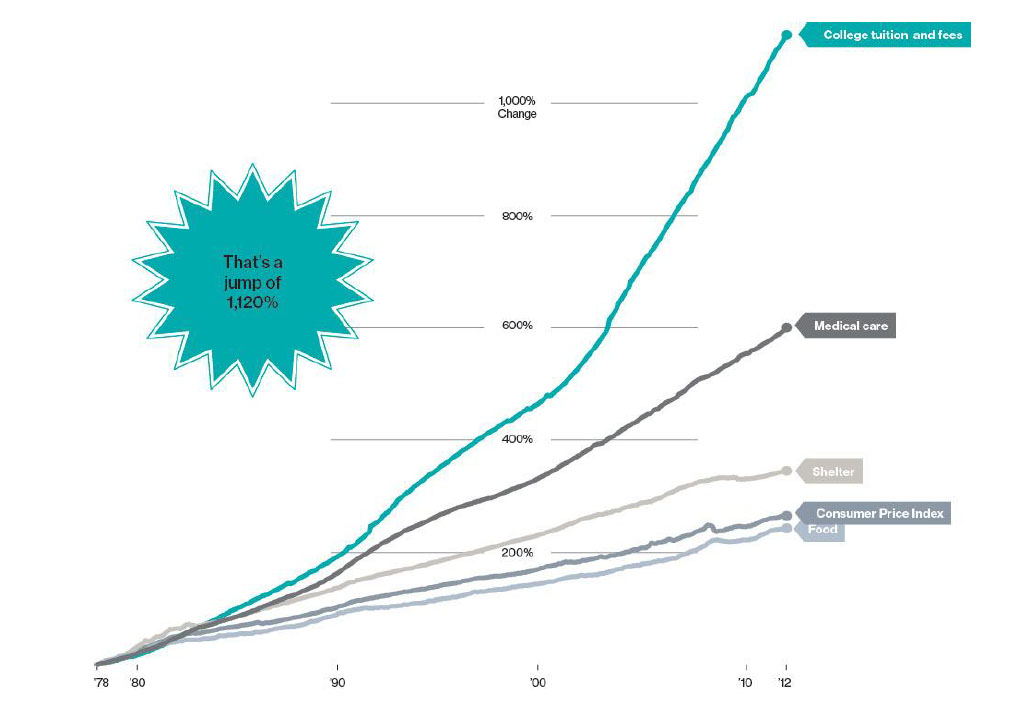 This is absolutely ridiculous and has only been able to happen thanks to government loans backing this industry and of course, banks and colleges loving the extra income.  If you decide to go to a questionable school and have no income, great.  The government has tons of financial aid for you.  But who really is benefitting here? Many of these schools have no standards that they have to meet or even show their career placement results.  Many of the for-profits have been shown to spend more of their budget on marketing than on actual instruction.
Thanks to this booming trend, we now have $1.2 trillion in student debt outstanding: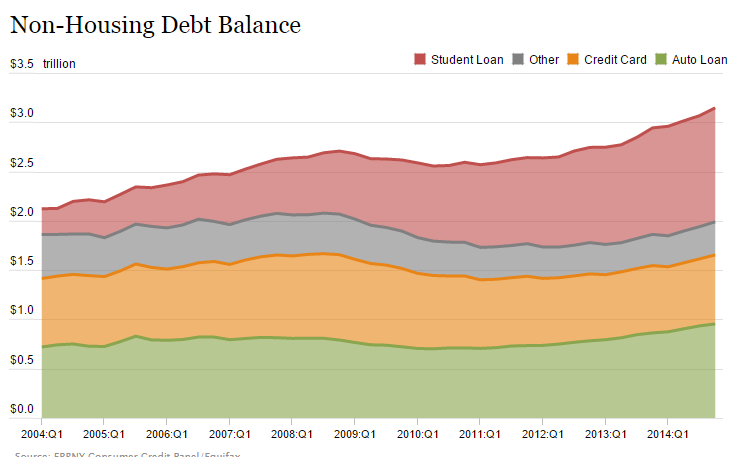 Source:  Federal Reserve
Here is a story from Sunne from New York:
"I have been paying my students loans since about 1997, a year after I graduated from college. Its been over 13 years and my student loan debt is still the same! In fact, it is about $2000+ more than before! How is this possible? I've been paying close over $200 every month and I still see no progress. I tried to lower my high interest rate of 8% but I have had no luck because I took the horrible option (it was good option at the time, at least I thought) to consolidate my loans. I was getting 3 different bills for one loan! So it was very confusing. Now, I am stuck with a high interest rate. And to me, it looks like I will never be able to pay my loans back. Its like a forever bill of interest! Because I am a teacher, I thought I would be able to do the loan forgiveness, but since I graduated a year earlier (I believe) I do not qualify. This system is messed up! You would think being a teacher should qualify for some sort of loan forgiveness since it is community service in a lot of ways.

I just wish I knew a way of getting this loan monkey off my back!"
This is another absurd part of the issue.  We are offering 0 percent credit card offers, nothing down options for buying cars, and artificially low rates to buy homes.  But for student debt that is fully backed by the government?  Rates are high!  This simply does not make sense and shows our priorities as a nation of debtors.  Many people graduating college are coming out with mountains of debt and are only finding work in the growing low wage economy that is booming.  Many young people can barely afford their college payment, let alone purchase a home (this is also a reason for the drop in the homeownership rate).
The bankruptcy option makes total sense and needs to be written intelligently.  It is politics at its best.  More Americans are going to college and graduating with student debt.  Like Social Security, talking to this base just makes sense.  But nothing comes free.  Someone will have to pay for this.  It'll simply be another bailout but of course, the big winners will not be those needing most of the help.  Like most subprime borrowers, most were booted from their homes while banks ate up all the profits and recouped losses via bailouts.  They used the sad story of the struggling homeowner but that owner is now out of a home (and bank profits are at records).  Will that student in need of help really truly benefit from a bankruptcy?  Bankruptcy is not as easy as people think.  The process is more intense than what the financial industry had to go under for causing the Great Recession (in fact, nothing really happened and they were given even more power).  This is something that should have been considered long ago.  Now with $1.2 trillion in student debt outstanding, some additional pain is going to hit the system.  Then again, this is how much debt our nation has:

As a nation our total public debt is $18.15 trillion and growing.  Do you have any doubts we as a nation are addicted to debt?  The bankruptcy option for student debt (like it exists for mortgages, credit cards, auto loans, etc) just makes sense.  Of course, all we have is talk and nothing has happened so far.

If you enjoyed this post click here to subscribe to a complete feed and stay up to date with today's challenging market!