Debt bubble amnesia – 40 percent increase of Americans with accounts in collection in the last decade. System still heavily reliant on extreme consumption.
The debt hangover is still giving the nation a deep headache.  For example, in 2003 10 percent of Americans had an account in collections.  Today, it is more than 14 percent.  The addiction to debt is both troubling but what is more surprising is how little was learned from the financial crisis.  The stock market is pretending as if the European debt crisis was solved, that emerging markets had no growth challenges ahead, and that somehow we have solved the fiscal cliff with no actual work.  Or can it be that those on the economic margins are simply not able to articulate their voice in a media that is largely controlled by those who can afford the largest microphone?  In the last year, you would have been lucky to hear about the 1 out of 7 Americans on food stamps to count on one hand on network television.  The bill is coming due and it is going to get harder to simply ignore.
Consumption and debt
Our economy is still being driven by massive amounts of consumption: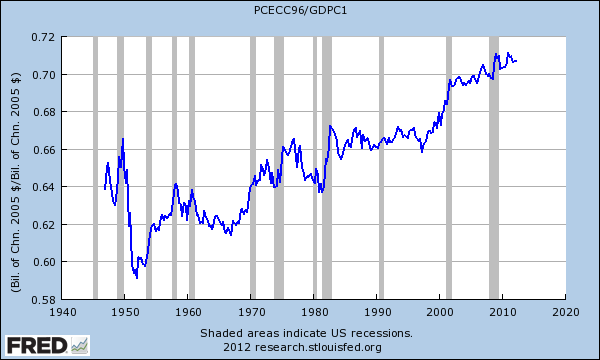 Consumption accounts for more than 70 percent of our GDP.  Yet as we are painfully aware much of this consumption was enjoyed with money many did not have.  Because of that we have a massive number of Americans with accounts in collections: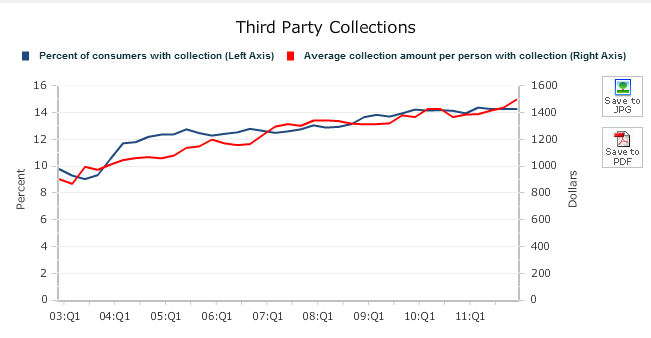 The typical amount in collection has risen by over 50 percent in the last decade although wages have gone absolutely nowhere.  A third of Americans have no savings at all so paying even a small amount back is going to be problematic.
The issue at hand is that you have the US and Europe serving as the source of major global consumption while emerging markets are providing a growing number of goods to feed the machine: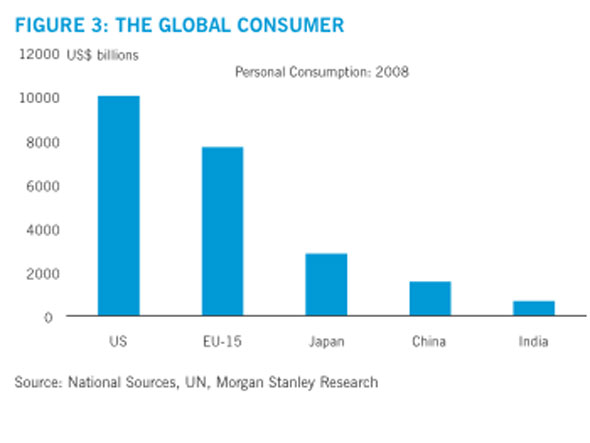 The emerging markets simply do not have enough internal consumer demand to withstand a spending slow down from Europe and the US at the moment.  Yet this is what is exactly happening at a very inopportune time.  There has been no sensible plan put forward to deal with the European crisis.  Next month more charades will be played but in reality you have massive amounts of debt that will never be repaid.  You have places like Spain and Greece with 25 percent unemployment.  That is depression like.
Median household income growth has stalled out for well over a decade: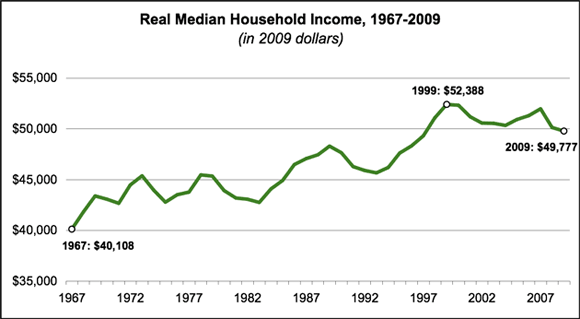 Yet the cost of the following items has soared in the last decade:
-College tuition

-Energy

-Food

-Automobiles

-Healthcare
So in the end, Americans are having to spend more for the same amount of goods.  You also have some money leaking out courtesy of the student debt bubble.  Once those excess funds are disbursed, some are spending the funds in non-school related items:
"(TIME) My colleague Meghan, also a recent grad, mentioned classmates who had purchased flat-screen TVs, sound systems and trendy decor for their dorm rooms. I heard from various people about kids using student loans to pay for expensive spring-break trips, clothes and, a common refrain, "partying." These students will be paying high interest rates for purchases they probably won't even remember in five years."
How many iPads, laptops, TVs, or other non-essentials were purchased with student debt?  Clearly some of this money flowed back into the economy and not in what one would consider mission critical segments of the college experience.  To a much lesser degree, you see similar sectors benefit just like we had with people tapping out their home equity to take vacations or spend it on non-housing related goods.  The issue is this money needs to be paid back (refer to near record number of Americans with an account in collections).  Are we already suffering from a debt bubble amnesia?

If you enjoyed this post click here to subscribe to a complete feed and stay up to date with today's challenging market!