The debt spending binge: Household debt has surpassed record levels reached during 2008 Great Recession.
Debt spending is once again keeping the economy afloat.  People are leveraging future income on buying items today on the basis that the economy is not going to have a hiccup.  On some reports you see pundits mentioning that delinquencies remain low.  Well things were fine too before the Great Recession hit.  Once again we are teetering on the brink of a solvency crisis should the economy have a slight turn.  People are living beyond their means and banks are gaming the system once again.  A recent report by the New York Fed shows that household debt has now reached a new record.  What is more problematic is much of the debt increase is coming from student loans, auto debt, and credit cards.
Going to brink of debt
Household debt has now crossed another line in the sand breaking the previous record reached during the 2008 financial crisis.  People are taking on mountains of debt and the debt being taken on this time is even more problematic.
First let us look at this new record: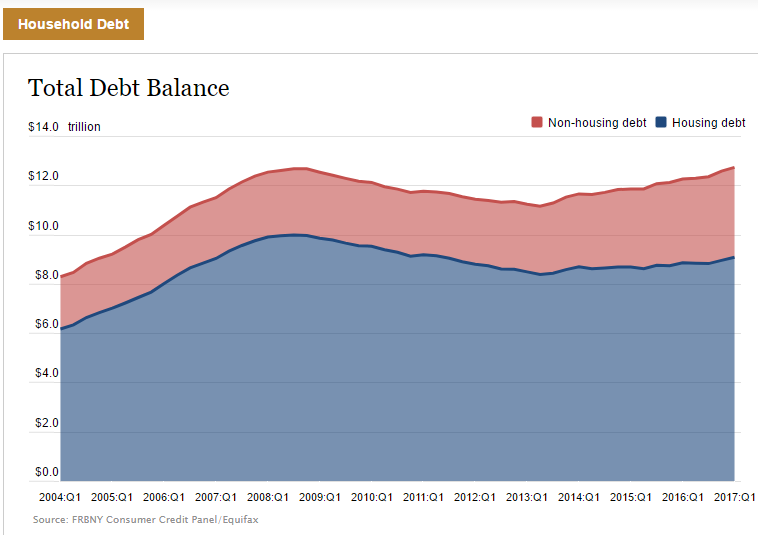 Source:  NY Fed
Total debt is now at $12.7 trillion.  But here are the important numbers:
Q3 2008
Housing debt:                    $9.99 trillion
Non-housing debt:          $2.69 trillion
Q1 2017
Housing debt:                    $9.08 trillion
Non-housing debt:          $3.64 trillion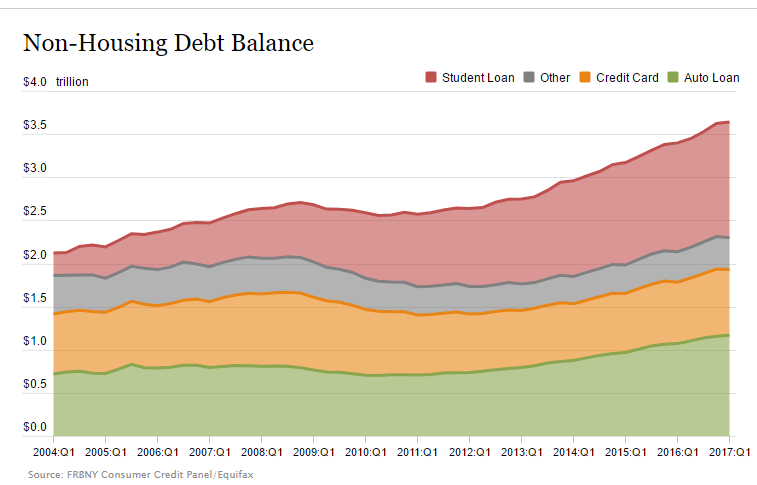 This is critical to understand here.  Housing debt is actually down from the previous peak by $910 billion.  However non-housing debt is up $950 billion.  This is even more problematic for wealth building for Americans since most derive their net worth from home equity if they do own.  We have broken down why most Americans are too broke to buy a home.
The massive growth in non-housing debt is based on items that don't build equity.  Auto loans definitely do not help and credit cards essentially spend out future income.  Going to college is good but at what cost?
This shift from housing to non-housing debt just means the solvency crisis of this upcoming correction is going to look different.  This debt spending is simply a continuation from the last crisis where the middle class is trying to cling onto their lifestyle by spending money they do not have.
A new record in debt brought on by items that don't inherently build equity.  This is going to go well.

If you enjoyed this post click here to subscribe to a complete feed and stay up to date with today's challenging market!