Too damn broke to afford a house: Americans are largely missing out on home equity gains and there is little they can do about it.
The housing market is once again too expensive for most American families.  During the last housing bubble, many Americans were able to partake in the mania and enjoy equity gains even if they were as fleeting as a petal in the wind.  This time around most of the gains are going to investors and large institutional buyers that have crowded out the regular buyer.  This is a first in history at least on this large of a scale.  The homeownership rate is the lowest in a generation as many young people saddled with student loan debt are living at home.  Home prices surging with incomes being stagnant is a recipe for problems down the road.  We recently saw a report showing total wealth in the U.S. is at a record level again.  Too bad most of the gains are in the hands of the very few.  And even fewer Americans own homes today.  Why?  Because they are too damn broke to buy a home.
Erasing a generation of homeownership
We are taking the homeownership rate into a time machine that leads us back to the Johnson Administration.  Many are too young to remember this but the reality is, the cornerstone of the American dream is largely becoming a fantasy.
Here is a chart showing the homeownership rate: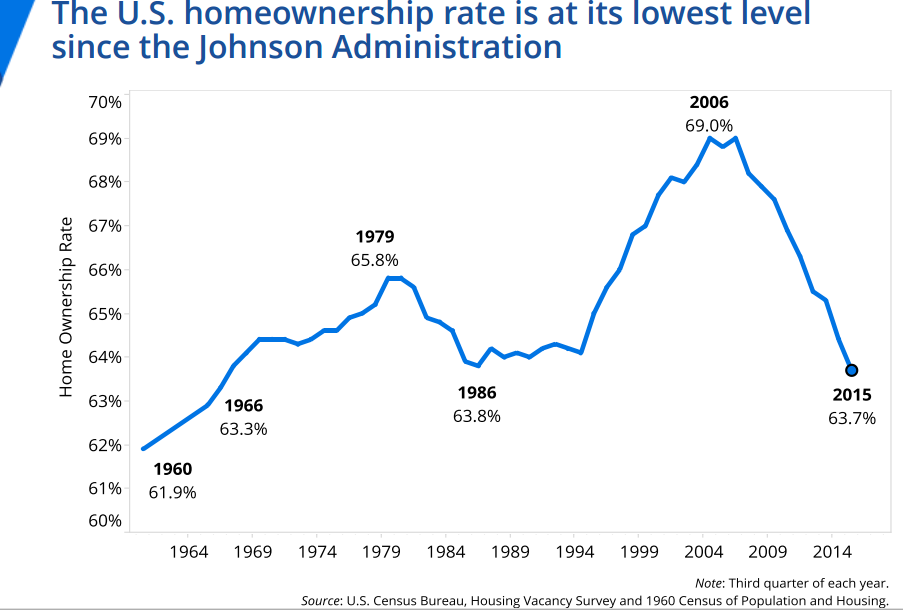 While fewer Americans are able to afford homes, home prices are doing this: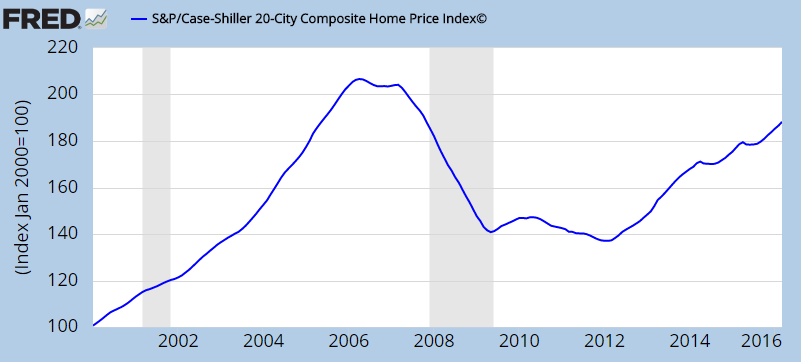 Fewer Americans own their homes.  In many cases, there are now millions of additional property owners that are large investors.  These were the big buyers during the crisis – a crisis largely developed by our financial institutions creating ridiculously risky products.  These same institutions bought up the homes while people were being booted out of their homes.  Now they are reaping the rewards and this is on the backs of those bailout funds.  Weren't the bailouts here to assist regular families?
Americans are too broke to buy homes because the current system would rather they be in deep debt with auto loans, student debt, and credit card debt.  At least with a home, you do build up some equity over time.  But in a low rate environment, big investors are chasing yield wherever they can find it even if it means crowding out regular families from buying homes.
Even places like Boulder Colorado are seeing home prices that look like Vancouver or New York:
"(Denver Post)  The average list price for a four-bedroom, two-bathroom house in Boulder has crossed above $1 million, a rarefied altitude that places the city among the country's most expensive housing markets, according to a new survey from Coldwell Banker.

Each year the real estate brokerage firm surveys list prices on that home type, popular with growing families, and offers comparisons across different areas."
Yet the typical American family isn't earning more.  Right now you have big money inflating multiple markets across the world.  This crowding out effect is basically hurting the majority of people in the form of higher rents and home prices.
The American dream is difficult to achieve when you are broke.

If you enjoyed this post click here to subscribe to a complete feed and stay up to date with today's challenging market!