Almost Half of Americans Endure at Least One Aspect of Poverty: The Hidden Recession Continues to Hit Americans Hard.
Poverty is portrayed in a very simplistic fashion in the media.  It is usually something that impacts other people far removed from your immediate family.  However, poverty is incredibly widespread.  This shouldn't come as a surprise.  We already know that half of the country lives paycheck to paycheck and is simply one small emergency from being out on the streets.  We also know that in 2015 45,000,000+ people were assisted by food stamps.  The number is still incredibly high but this year, nearly 1 million will lose access to food stamps because of how the unemployment rate is reported.  Poverty is very real.  The Brookings Institute just did a study and found that virtually half of Americans have endured some form of poverty.  The report runs counter to the "great recovery" narrative.
The impact of poverty
Poverty first needs to be defined.  Usually, poverty is defined by the most simplistic measure which is low income.  However, there are a few other measures that correlate with poverty as well:
-Lack of education
-No health insurance
-Poor area
-Jobless family
It is good to see a survey that looks beyond income.  Let us see how many Americans have endured some form of poverty?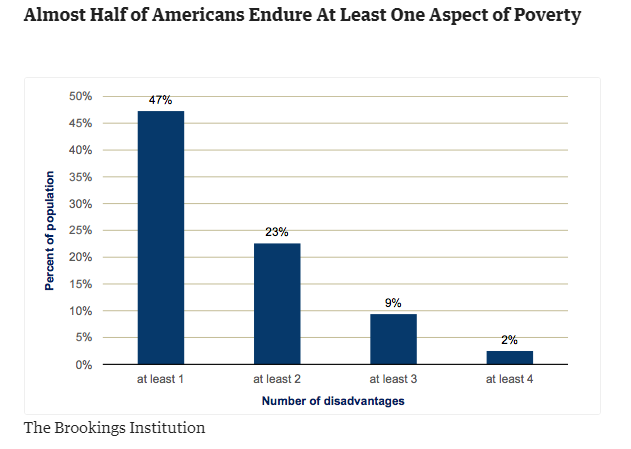 This is very telling but also highlights why people are so frustrated with the current economy even though all other figures would signify a healthy market: low unemployment rate, stock market near all-time highs, and record home prices.  Yet many Americans are not participating in this recovery.
Here is the actual breakdown of what Americans have endured: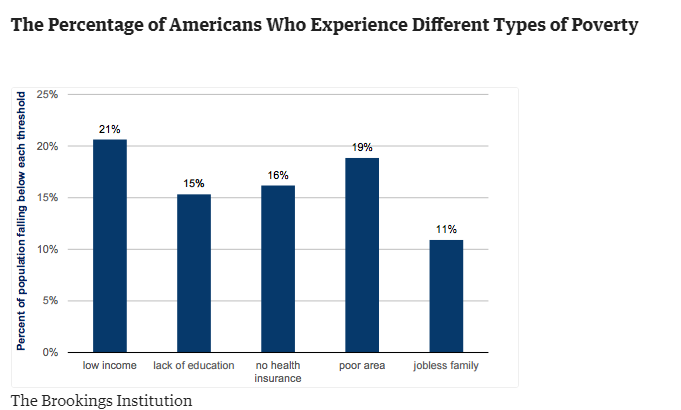 Poverty is a complicated thing.  Poverty is more than simply having a low income.  Many areas in the country also lack opportunity or access to good schools.  People can become trapped in a cycle.  The idea of trickledown economics is simply not registering for most.  As we highlighted, many Millennials that are doing well are doing well because they came from families that were already in a good position.  The idea of economic mobility is becoming tougher in an economy where the middle class is a minority.
Making poverty look better by ignoring the poor
I've written many articles on the immense number of Americans on food stamps.  Recently there has been discussion on the number of food stamp members dropping as a sign of everything being better.  That might be one part of the reason but another is a repercussion on reporting and artificially low unemployment rate.  Many people are losing food stamps because of this:
"(WaPo) As many as 1 million Americans will stop receiving food stamps this year, the consequence of a controversial work mandate that took effect this week in 21 states as the economy improves.

The revival of the mandate, which was hotly debated when adopted in the 1990s, is reigniting a discussion among policymakers and advocates for the poor about the fairness and wisdom of the social safety net in the new U.S. economy."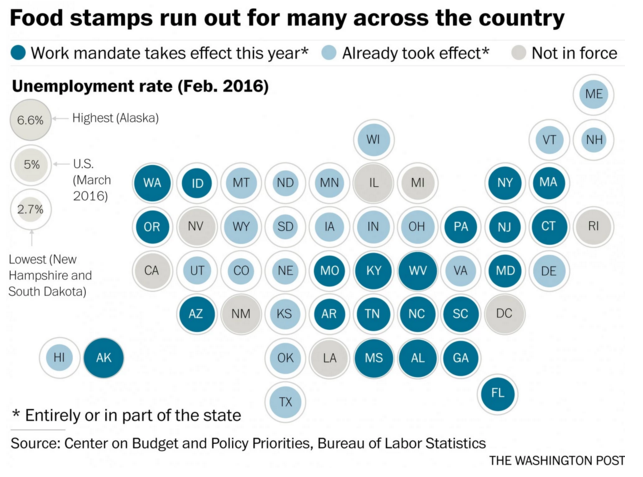 The mandate is modest yet many are simply not finding jobs even in the low wage economy.
"But not all are able to find work. Among those affected is Danny Lamb, a 41-year-old former factory worker in Pittsburg, Kan., who said he has been spending his days filling out employment applications for several weeks. He has no degree and two lame knees, from injuries he suffered playing linebacker on his high school football team, that restrict the kind of work he can do.

Recently, though, Lamb was deemed , and since his 8-year-old son lives with the boy's mother, Lamb legally has no dependents.

No employers have shown any interest in him."
It is good to see some press on this issue.  The reality is the economy is still in tough shape for many Americans.  And as recent research has found, nearly half the country has had a taste of poverty at some point.  Yet what do we expect now that the middle class is now a minority?

If you enjoyed this post click here to subscribe to a complete feed and stay up to date with today's challenging market!