The Ports of America: Long Beach and Los Angeles Ports see Massive Drops in Cargo. The Concrete Mouth of Consumerism.
The port of Los Angeles and Long Beach are the two busiest ports in the United States.  The port of Los Angeles is located in San Pedro Bay which is only a few miles away from the port of Long Beach.  Make no mistake, these two ports are incredibly busy ports that provide the spine to a large portion of consumption goods used by many Americans.  The port of Los Angeles employs 16,000 workers directly and sits on 7,500 acres.  The port of Long Beach is situated on 3,200 acres.
The port of Long Beach has 7.31 million twenty-foot equivalent (TEU) coming in each year (data from 2007).  The port of Los Angeles has 7.3 million TEU coming in (data from 2005).  Combined both ports bring in roughly $300 billion worth of cargo each year.  That is a massive amount of goods coming in.  So it is a good barometer to look at the data of the ports to see how consumers are dealing with the economic crisis hitting our country.
The goods range from low priced goods to expensive luxury cars.  The range of products are wide and diverse.  Let us take a look at some port stats for the current year:

This is a significant drop in the amount of loaded TEUs coming into the Long Beach port.  If you look at the February numbers, they are off by 40 percent.  What this means is there has been a contraction of goods by nearly a half.  These TEUs are more recognizable as big rigs and trucks on the roads of America.  A drop by half shows the demand destruction for many goods on the market.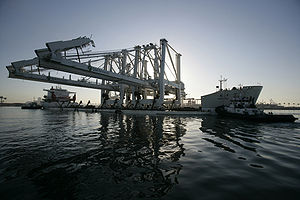 The top trading partners for the port of Los Angeles are as follows:
China – $68 billion
Japan – $24 billion
Taiwan – $10 billion
Thailand – $6.7 billion
South Korea – $5.6 billion
What this means is you can expect to see massive pull backs in these countries as well since we are large trading partners with them.  It would only make logical sense if demand is off by half, that we would see contractions ripple through the global economies especially those in Asia.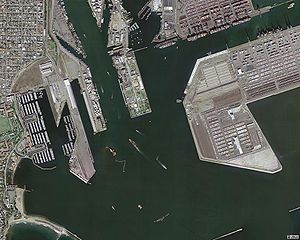 As mentioned before, these ports support many jobs in the region.  The City of Long Beach through its port supports more than 30,000 jobs (roughly 1 out 8 jobs).  With Los Angeles, the port operations support more than 230,000 jobs in direct and ancillary services.  Hundreds of thousands of jobs depend on the ports and this demand destruction will only put more pressure on a state of California where the unemployment rate is already at 10.1 percent.
The remedy is simply buying more stuff yet the driving force of consumption is waning.  That is, Americans need to be buying more stuff but buying stuff is what brought on this economic contraction in the first place.  The ports are significant early indicators of how things are going.  This massive drop is very telling.
I think many fail to look at the ports because they are really under reported in the media.  Yet these are the doors to the consumption of Americans.  If you don't have guest coming to the party, then why buy lots of food?  These ports, number one and two in the nation give us a first-hand look at what is occurring on a global scale.  Until these numbers rebound, talk of a stabilizing market is largely speculation.

If you enjoyed this post click here to subscribe to a complete feed and stay up to date with today's challenging market!