Total California Housing Inventory 159,898: Or is it Higher? Foreclosures and Playing with Actual Inventory Numbers.
Many readers to this site know that I am fascinated with trying to get an actual overall housing inventory number for the state of California.  Conflicting reports, REOs, and inventory that doesn't show up on the MLS makes it very difficult to get a handle on what is going on in the market.  We do know however that nearly half of all sales in California are made up by foreclosure resales.  That is, homes that have already gone through the rather lengthy foreclosure process.
There are various ways on trying to arrive at current inventory rates.  One is to use MLS listing sites and run a quick check on all the counties in the state.  This can be cumbersome and some MLS sites may not have all the data for certain counties.  Movoto.com puts out a monthly report with sales prices and inventory numbers.  Here is a glance at the current inventory in California: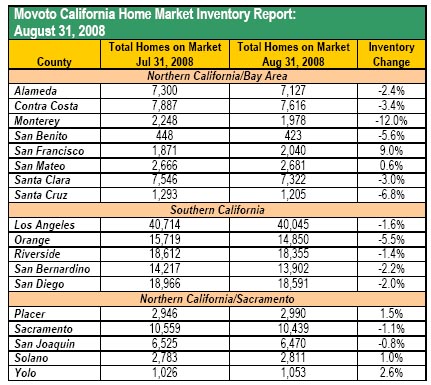 Pretty straightforward right?  We tally up all the counties and we see that California has 159,898 homes currently for sale on the market.  But hold on a second.  In mid August we did a quick report trying to get an inventory breakdown for California by gathering data from ZipRealty.  Here is what we found:

As you can see, at a minimum in that query we found inventory at 219,482.  So what gives?  Let us do a quick check.  For the 6 counties in Southern California Movoto tells us that there are 105,743 for August.  Yet from the ZipRealty data we gathered 118,062, a difference of 12,319 homes in Southern California alone!  I'm not trying to say one is better than the other but this is why California is having the problems it is having.  There is no one central hub for information to find this data and it makes monthly inventory data somewhat suspect.
That is why looking at sales and price is a better indicator of the current health of the market.  Given that many REOs are simply not making their way onto the bottom-line of many of these inventory reports, you can rest assured that there are many distressed homes in California looking to be sold.  Last month, we had this distressed data:
August 2008 California
Notice of Defaults:     36,373
Notice Trustee Sales:  12,506
REOs:                         23,406
Total:                          72,285
If we are to take the 159,898 number as current inventory, in one month we've had nearly 50% distressed action to counter any sales that occurred during the month.  This is only going to get progressively worse as we are entering the option arm and Alt-A fiasco that will send the California economy into a mini depression.  Interesting how Lehman Brothers, the struggling investment bank mentioned today in their conference call that California may fall 50% from peak to trough when all is said and done.  Banks say the weirdest things when they are struggling.  Sometimes, they actually say the truth.

If you enjoyed this post click here to subscribe to a complete feed and stay up to date with today's challenging market!