Debt U – 4,800 colleges and universities in the U.S. and many are putting students into massive amounts of debt. The higher education bubble is getting to a point of bursting.
A few months ago a troubling milestone was passed.  In the United States college loan debt outstanding has surpassed credit card debt.  As of June 2010 $829 billion in student loan debt was outstanding compared to $826 billion in credit card debt.  Higher education by looking at a handful of metrics is clearly in a bubble.  The only question that remains is when will it burst?  Bubbles tend to go on longer than many people expect (i.e., the housing bubble) but when they burst they carry long-term ramifications for the economy.  Bubbles have unique sociological phases that they go through.  For example, at the height of the housing bubble people started questioning whether home prices were really worth it.  When people woke up from their sleepwalking and questioned ancient mantras like real estate never goes down, then the bubble implodes either by the sheer size of debt or by people shunning the market completely.  In education, the mantra has always been "going to college is worth it no matter what the costs" but the costs are now so high that we do have to question whether college is worth it.  Let us take a look at a few reasons why higher education is in a bubble and why it will certainly pop.
Even lower ranked schools charging extremely high prices
According to the U.S. Department of Education there are over 4,800 colleges and universities in the United States serving over 18,000,000+ students.  When even going to an elite school isn't a guarantee of a promising future, you have to ask how many of the other lower ranked colleges are doing?  For example, I pulled up some of the lower ranked schools that are tiered off in the liberal arts category: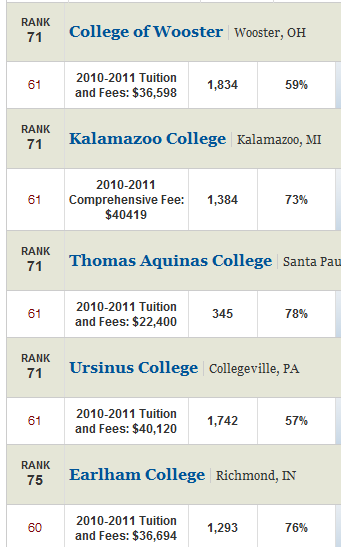 Source:  U.S. News
Even a school that is ranked 71 only in the liberal arts category is still charging $40,000 a year.  Many of their graduates won't even make that much on their first year out.  You can go lower on the list and you will find similar trends and patterns.  College costs have gotten out of control.  This is similar to the housing bubble where any house in any area regardless of quality went up in price just because it was a house.  Colleges have now experienced the biggest bubble of all time even outpacing the housing bubble in terms of percentage increases.  Higher education is merely the last bubble to burst.  The real estate bubble has popped and so has the credit card bubble.
A college degree for many is not translating to a good paying career
There was an interesting article showing details of some of the lower paying fields in our country but also, how many of those people actually had college degrees.  The chart is fascinating: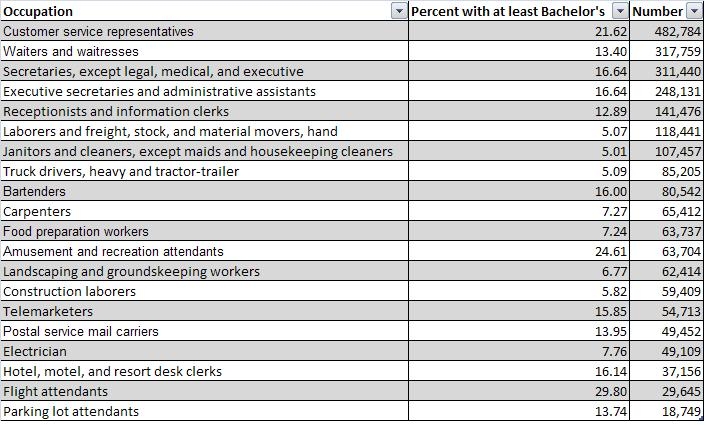 Source:  Ben Casnocha
I found it interesting that 21 percent of customer service representatives have at least a bachelor's degree (if not a master's or a Ph.D.).  This is clearly a field that doesn't require a 4-year degree but 1 out of 5 people in this industry have a 4-year degree.  How many of those are in student loan debt?  The implicit assumption with college has always been that it would provide you at the very least, with a job that would allow you for a path to a middle class lifestyle.  That is clearly not the case.  Many in the college industry would argue that college isn't about getting a job.  Okay, I can agree with that.  But on the other side of the coin, it shouldn't cost a student $40,000 to $50,000 a year to attend either.
College costs have outpaced inflation
The reason more students are also going into debt is because they simply cannot pay for going to school: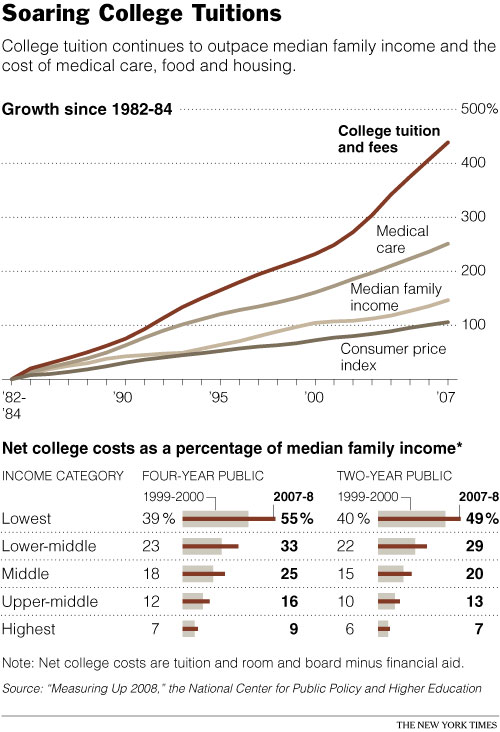 Source:  New York Times
Long gone are those days when someone could work the night shift and pay for college.  You always hear from older baby boomers how students need to suck it up and how they worked at the local retail store and paid their way to college.  This was possible when a semester of school cost $300 but even state schools are becoming more expensive: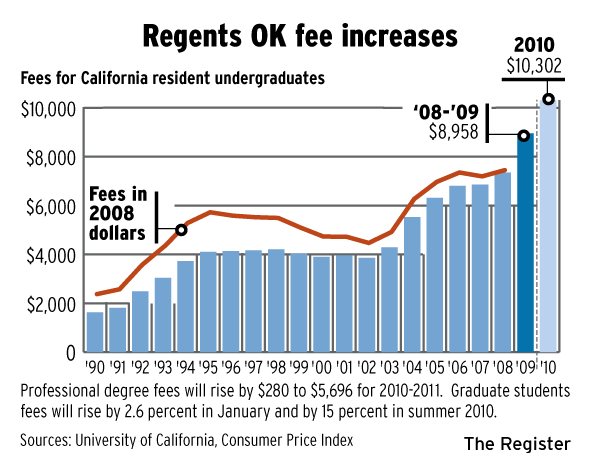 Take a look for the cost of fees at the University of California system.  No student working part-time is going to muster up $10,000+ for tuition while actually doing well in school.  The cost has doubled in nearly 5 years while the California economy is reliving the days of the Great Depression.  There is a real disconnect here.  The same thing happened in housing where incomes went stagnant for a decade yet the desire to buy propelled the housing debt bubble even further.  Yet at a certain point, you have to have the ability to service the debt.  Student loan debt is no exception.
Unemployment for college graduates
The unemployment rate for college graduates is the highest it has been in record keeping history: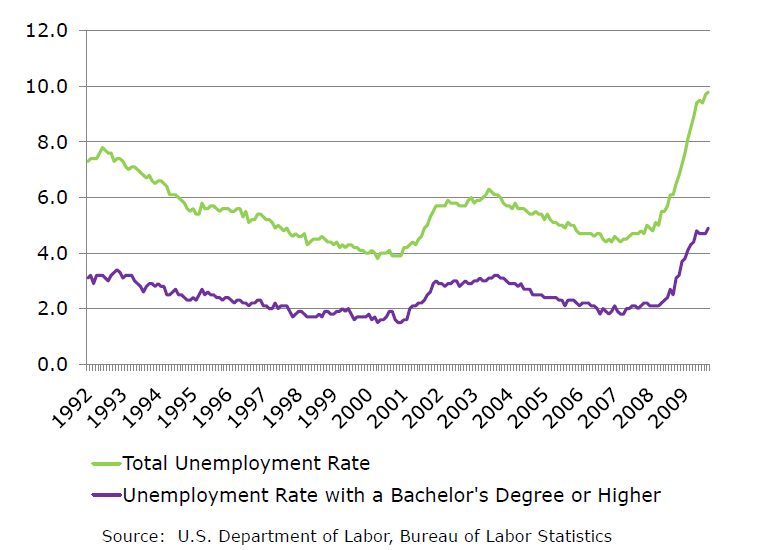 As we have seen in the previous chart, even those that are employed with college degrees might be working in industries that don't utilize or provide them with their "ideal" salary.  In fact, many that are working in their specified field are feeling the squeeze that is being experienced by the working and middle class.  The higher education market is in one giant debt bubble.  It will burst.  It actually is bursting with many students now entering into default.  Yet what this will do to the economy is hard to determine.
Even with the housing bubble, you saw predators come in with subprime loans and today, the for-profit education system is basically the subprime industry of college.  They use government backed money and provide a shoddy education for students unlikely to garner anything else than a piece of paper.  Do you really need to pay $20,000 a year for a degree that is absolutely worthless?  Why does the government even need to subsidize for-profit schools?  Why not require the for-profit school system to provide employment metrics since their big selling point is that they will get students a job.  At the very least this should be a requirement if they are to receive funding.
This is simply another ticking bubble that is reaching closer to an end.  4,800+ college and universities and how many are ranked in the top 100?  I wonder what the 4,799th ranked school is charging for tuition?

If you enjoyed this post click here to subscribe to a complete feed and stay up to date with today's challenging market!