The financial feeding of the massively indebted American: Consumer credit owed hits record, permanently high gas prices, and feeding empty promises with food stamp outlays up 600% from 2000.
Americans are now fully engaged, once again, in their consumption ways financed by debt.  To continue pretending that the middle class is not shrinking, massive amounts of debt are being pumped into the system once again.  Total consumer debt has reached another peak but the reason this has peaked is very troubling.  Over the last decade the fastest growing sector of debt has come from student loans.  The Fed has injected easy money into member banks and from our 2009 financial lows, debt is now trickling throughout the economy.  Yet, old habits seem to be a stubborn thing.  A few items now seem to be permanent fixtures of our economy.  Gas prices are stubbornly high, food stamp outlays are at record levels, and consumer debt rages on the fires of student loan growth.  In other words, the expansion is being driven by debt yet again.
Gas Prices
Those that say no inflation is present simply do not look at what is truly impacting the American consumer.  Take a look at gas prices: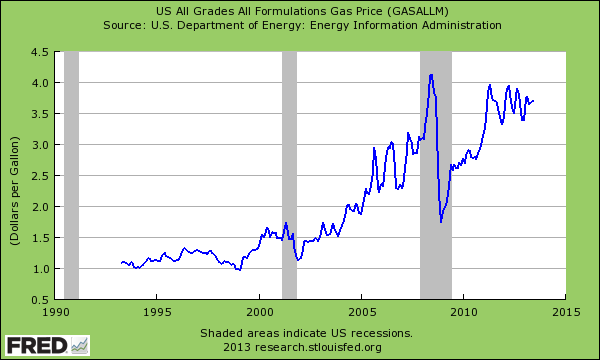 Gas prices since 2000 have gone from $1 a gallon to holding steady near $4 a gallon (a 4x jump).  In the meantime, household incomes adjusting for inflation are back to 1995 levels.  So a larger and larger portion of household disposable income is being consumed by gas.  Americans are largely a commuter nation thanks to suburbs so logically this would mean less money for spending on other things and gas is also used for heating, making products, and the transportation of goods so it trickles into other products.
We see growth in consumer debt substituting real income growth.
The rise in gas prices shows a more competitive global market and a weakening US dollar.  Of course banks try to convince people that a lower US dollar is good for you but just look at the longer term-impacts on things like gas.  Since we import a large amount of goods, your dollar is not going as far as it once did.  It is also becoming very clear that a large group of Americans are having a very hard time finding work or work that pays enough to co-exist in this new economy.
Food stamp outlays
The amount being given out in food stamps is 600% higher compared to what was being spent in 2000: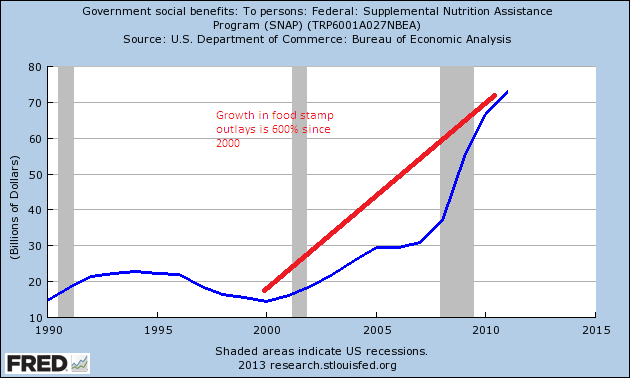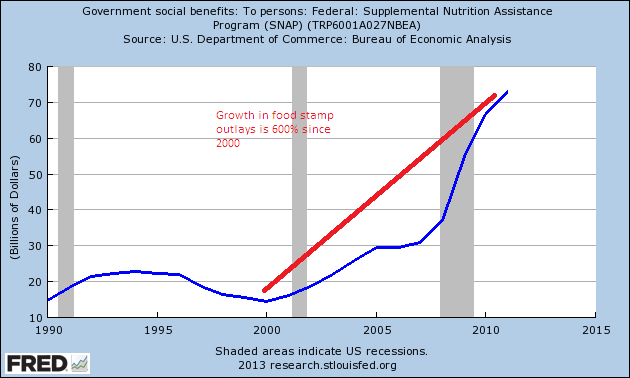 Does that even sound like a positive thing?  The amount being given out in food stamps is 600% higher versus 2000 food stamp payments.  That is an enormous amount that strips out any semblance of population growth.  1 out of 6 Americans are on food stamps being made up of 47.7 million individuals.  Where has this growth come from?  In large part, this growth since the crisis hit has come from people falling off of the middle class bandwagon and ending up on a lower economic rung.
When I look at economic reports it is very clear that once again most of our economic growth is coming from massive debt.  That is:
-People financing $30,000 automobile purchases

-People putting groceries on their credit cards

-People funding $30,000 to $50,000 a year simply to pursue a college degree

-People going deeply in debt to purchase homes
And this is simply on the consumer side.  You have banks taking on 10x to 20x leverage courtesy of the Fed's various bailout initiatives.  At the core growth is coming from a jump in debt.
Total consumer debt
So it should come as no surprise that total consumer credit owed is now at a peak again.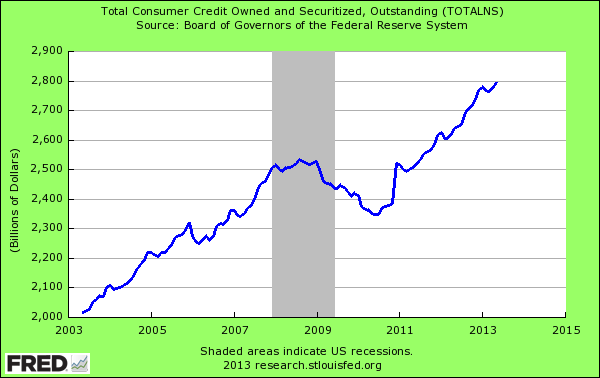 We are quickly on our way to $3 trillion owed in consumer credit.  As I have mentioned, a large part of this growth has come from student debt growth which is a big negative.  At least with even financing a car, you have a car to show for it where a large part of 4,000+ universities in the US are giving students a very poor education at a very expensive price tag (i.e., questionable for-profits lead the race here).
You should feel comforted that once again, our economy is being fueled by leverage brought on by debt.

If you enjoyed this post click here to subscribe to a complete feed and stay up to date with today's challenging market!