Subprime auto loans face mounting problems: With $1.1 trillion in loans outstanding we all know bad deals are made in good times.
Exuberance breeds bad decisions as inhibitions and due diligence get tossed out the window like dirty water.  This is exactly what is unfolding in the rampaging auto market.  The latest data from Fitch Auto ABS Indices shows that 60+ day delinquencies for subprime loans are now at 5 percent of all outstanding balances.  This is the highest it has been since 2008 when the financial crisis was wrecking havoc on global markets.  The issue we have today is that auto loan standards are deep in the toilet.  Essentially what happened in the housing market with no-doc and no-income loans is happening with the auto sector.  Part of this has to do with the pressure being seen in the industry since new cars are simply built much better and can last a long time. So dealers hustle out late model used cars which eat into new car sales.  So incentives are the name of the game and when incentives end you simply start giving out loans to anyone with a pulse.
Bad loans are made in good times
Bad loans are made in good times and we've been in a raging bull market since 2009.  People have short-term memories when it comes to recessions.  So it is more troubling that delinquencies are surging so high on subprime auto loans in a time when the stock market is near a peak, headline unemployment is near a trough, and everyone seems to think that no other crisis is on the horizon.
Just take a look at amount of auto loans floating in the system: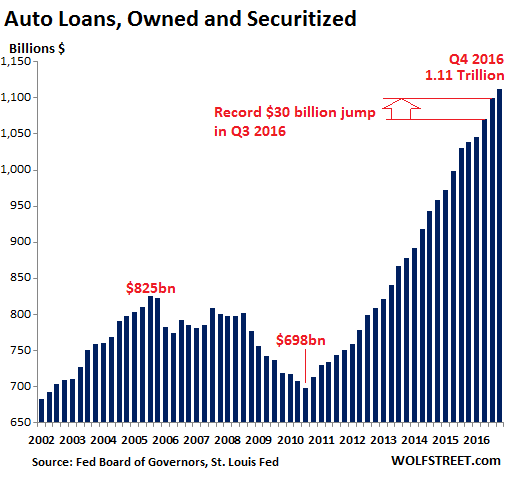 $1.1 trillion in auto loans are floating out in the system.  We seem to have forgotten that being able to service debt is the most important factor that keeps the credit system moving today.  Yet in the auto industry, subprime loans are facing some dramatic problems.
Just look at the problems that are being faced here: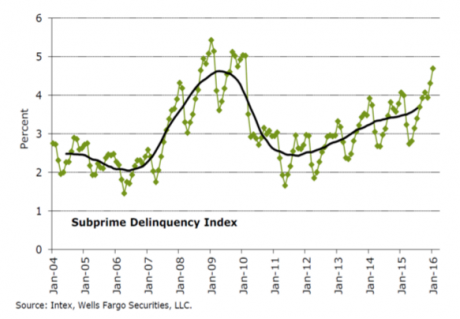 This is not good since subprime auto debt has been the engine that has kept the auto industry expanding since the financial crisis ended.  The amount of loans going into delinquency is going to cause some deep examination of underwriting.  The auto industry has to continually reinvent itself to keep consumers buying, even if those consumers are broke and falling off of the middle class bandwagon.  The industry is also a victim to its own success – cars are actually better and last a lot longer assuming you take basic care of them.  So the need to purchase a new car every five years has to do more with marketing than an actual need to replace the functional use of your five year old car.
It is shocking to see that total auto debt outstanding is now up to $1.1 trillion.  Combine this with the $1.4 trillion in student debt and you start to realize that we are simply addicted to debt once again.  Credit card debt is surging once again so the seeds that led us into the last credit crisis are once again firmly in place.
I had the chance to visit a car dealership recently.  Just browsing around and it was amazing how quickly they were willing to finance my purchase of what would be a $50,000 car.  Don't get me wrong, it was a beautiful piece of machinery but that is the median income of a US family.  And to finance that purchase just seemed out of place with a six year loan (72 months).
I understand the need to have a car but when it comes at the expense of having a stable financial future, you need to reexamine your wants versus your needs.  The fact that so many subprime auto loans are imploding highlights the problem with simply giving out loans to everyone.

If you enjoyed this post click here to subscribe to a complete feed and stay up to date with today's challenging market!