How much do Americans earn in 2015? A comprehensive look at household income and individual earnings. GDP disconnects from household income.
How much do Americans earn?  This is an important question to ask given our consumption based economy.  Each household has a propensity to spend and the ability to consume is largely derived by income.  Debt has made it easier for households to spend future wages but we need to find out two important reference points to measure the health of household income: total wages for households and that of individual workers.  What we are seeing is a growth in lower wage jobs and the cost of living eating into wages leaving a smaller amount of disposable income each month.  I'm still surprised as to how many Americans overestimate wages for US households.  The US is still the top economic country in the world but we are quickly seeing our middle class disappear.  Middle class is an ambiguous catch-all category but at the core, it means a family is earning enough for buying a home, putting your kids through college, and having enough in retirement that you are not begging on the streets in old age.  So how much do Americans earn?
How much do Americans earn?
There isn't one universal place to find the typical earnings for Americans at a very micro level.  So we are left looking at the three most readily available sources:
-1.  US Census data

-2.  Social Security data

-3.  IRS tax return information
With this information we can get a fairly good estimate to what Americans are earning.  It is hard to get a truly accurate figure because you also have people being paid in cash but with three sources of data, you can get a really good picture of the typical American when it comes to income.
First, let us take a look at US Census data:

Source:  US Census
This is the most comprehensive look at US household income data. According to the latest Census data the median household income in the US is $52,250. Of course inflation eats away at purchasing power and things like housing and college tuition are quickly outpacing wage gains.  Is this higher or lower than you would expect?  I find that the mainstream press tends to overestimate how much households earn.  Typically you will hear that a household earning "$250,000 is middle class" but by definition, they are anything but middle class.  The middle class is easily quantifiable making roughly $52,000 per year.
The next source we will look at is Social Security data: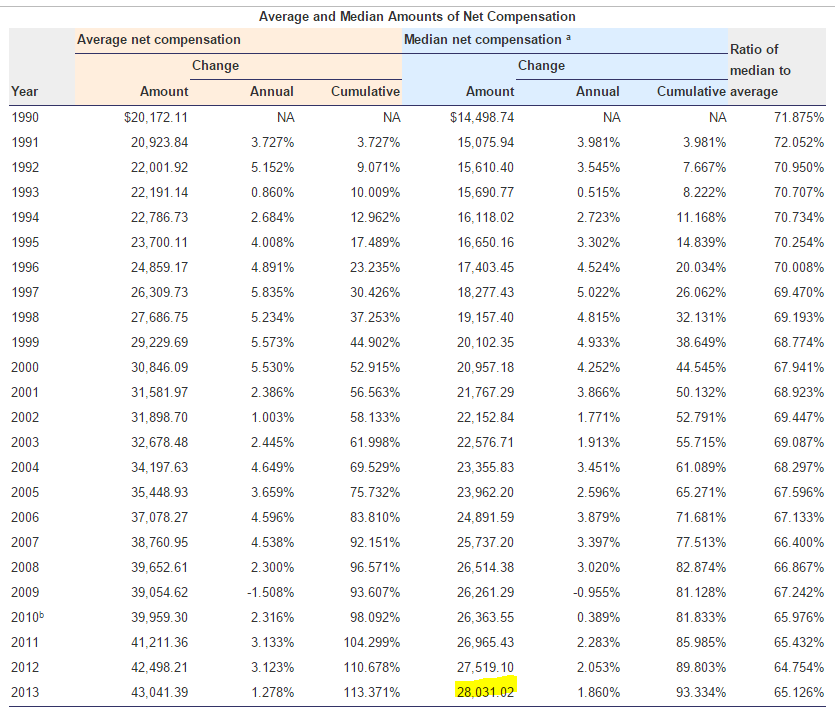 Source:  Social Security
The nice thing about this data is that it captures all workers that pay into Social Security which is the majority of the population.  It is also looking at real wages versus hypothetical figures.  What is useful about this data is that we can see how much is earned by individual workers.  According to Social Security data, the median net wage for a working individual in the US is $28,031.  That makes sense given the typical household income is around $52,000 and most households need two workers to make ends meet.  This has created a two-income trap for many.  Sure, more income is coming in but more is also going out, especially if a family has kids and needs to pay for childcare and college later in life.
Finally, let us take a look IRS tax data: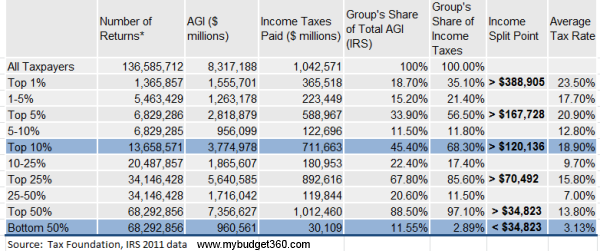 Source:  IRS
According to IRS tax data, the middle point for tax returns is $34,823.  This would make sense given there are many single households out there as well and with AGI, you are looking at lower figures thanks to deductions and adjustments.  67.8 percent of households make $70,492 in taxable income a year or less.  A household making $167,728 a year or more is in the top 5 percent of US households.  To make the top 1 percent you would need a household income of $388,905 or more.
So this should give you a good overview of what the typical American household and individual earns.  Why does it seem like many families are falling behind?  Part of it has to do with growth and productivity gains not making it into the wallets of workers: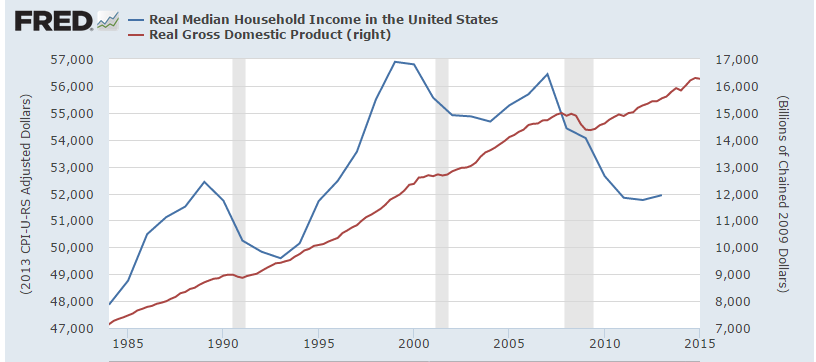 While Real GDP continues to grow at a steady pace real household income is back to where it was a generation ago.  I also tend to believe that this trend is understating inflation (this eats into wages) since the CPI doesn't track inflation all that well by using things like the owners' equivalent of rent instead of true housing values or making tuition a tiny portion of the basket (for many young Americans, college is the biggest expense).  For a consumption based economy asking "how much do Americans earn?" is a vital key to our long-term stability.  By looking at three independent sources, we can get a good estimate as to the income vitality of Americans.

If you enjoyed this post click here to subscribe to a complete feed and stay up to date with today's challenging market!