Record number of too big to fail banks: 59 banks in the United States now have over $20 billion in assets. Top 3 US banks hold $6.3 trillion in assets.
Remember when too big to fail was being uttered like "good morning" or some other daily phrase?  Apparently people have forgotten about the dangers of too big to fail and have allowed the banking system to grow like weeds in an unattended garden.  The previous peak of massive big banks was in 2004 when we had 54 banks with more than $20 billion in assets.  Today we are at a new peak of 59 banks.  These assets are being inflated thanks to the new property bubble that is catering to the investor class.  The majority of families are being pushed to the sidelines being crowded out in the housing market and then being offered 0 percent on savings accounts while banks speculate like wild banshees.  Too big to fail is back and not much attention is being placed on this.  People might be too busy struggling in the low wage economy to care about banks getting dangerously large.  We are now at a peak in regards to too big to fail banks.
The new too big to fail
If you remember in the last crisis, the problem was solvency and not liquidity.  A liquidity crisis can be resolved in short order since the overall balance sheet of an organization or bank is healthy short of immediate funds.  However, a solvency crisis is truly a problem because overall the organization is defunct.  This is why the Fed, the mommy bank of all member banks took the nuclear option and went into QE infinity mode and allowed banks to essentially borrow at zero percent and to offload junk assets to the balance sheet of the Fed, where much of these "dark" assets remain.
Too big to fail is back in fashion.  Take a look at the following data:

Just take a look at the assets at the top banks:
JP Morgan Chase:                            $2.5 trillion

Bank of America:                              $2.1 trillion

Wells Fargo:                                       $1.7 trillion
Combined the top 3 banks in the US hold $6.3 trillion in assets.  That is an enormous amount of assets and much of this is in the form of mortgage debt.  Mortgage debt is a liability to you but an asset to the bank (your equity is in the home assuming you are not underwater).  Unfortunately fewer Americans are able to purchase homes because the low interest rate environment has pushed investors into chasing yield in hard assets, including single family homes.  The net effect was to cause prices to surge and slam the homeownership rate lower.
The current market is also very unforgiving to savers.  Take a look at the average savings rate at Bank of America: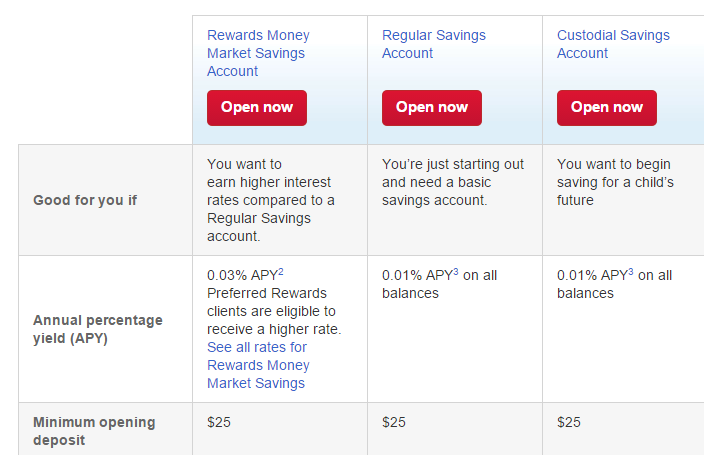 0.03% and 0.01%.  In other words, you might as well stuff your money into the mattress.  The overall inflation rate guarantees any savings you have will lose value.  If you believe that we have no inflation just look at the price of homes, college tuition, automobiles, and healthcare costs and you will realize that inflation is very real.  Banks finance hidden inflation via long-term debt financing.
We are now back in a model of too big to fail.  The giant banks are now even bigger.  They have made big risky bets hedged on the notion that low interest rates will be here forever.  Nothing is forever and too big to fail is not a good thing.

If you enjoyed this post click here to subscribe to a complete feed and stay up to date with today's challenging market!