The crisis in housing: Not enough homes are being built and rents are outstripping wage gains.
There is an economic crisis happening in the housing market.  The working class is finding more of their wages sucked into the housing financial puzzle. Stagnant wages combined with rising home prices and rents are putting a lid on household formation.  It probably doesn't help that many young families are caught in the low wage economy.  Before purchasing a home, you probably want to ensure a secure paying job.  Many are also reluctant to purchase given that they are already carrying a heavy burden of student loans.  The housing crisis is being heavily reflected on home prices, rents, and the lack of household formation.  When all of this is combined we find that construction spending is a small part of GDP when in most recoveries, it is a sizable portion of gains.
The lack of real estate construction
In most recoveries real estate construction tends to lead the way out.  As families see their wages increase, the animal spirits of the market are released and people start buying.  In many cases younger families are willing to take on a mortgage and buy a home.  This has been the case for a couple of generations.  Yet this time, it simply is not happening.
Residential construction as a percentage of GDP is still hovering near record lows even though this is supposed to be year six of our recovery.  The recession officially ended in the summer of 2009.  Take a look at this chart: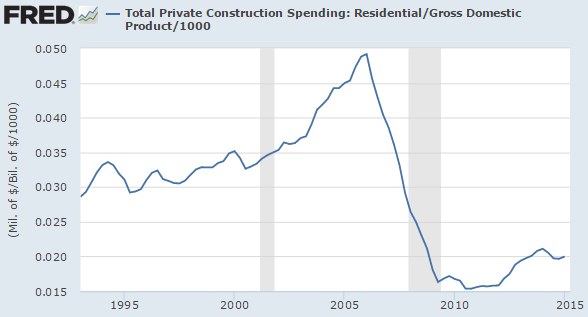 Why in the world is residential construction not picking up?  We have a growing population.  The stock market is near a peak.  Home prices are rising, rents are up, and jobs are being added.  The issue of course is that home prices are rising for the wrong reasons.  Home prices are up because of low inventory and investors buying in the market.  Rents are up for largely the same reasons.  And the reason we are seeing weak residential construction spending is because many of those new jobs are being added in the low wage segment of our economy.
Take a look at this chart showing wage gains and rents: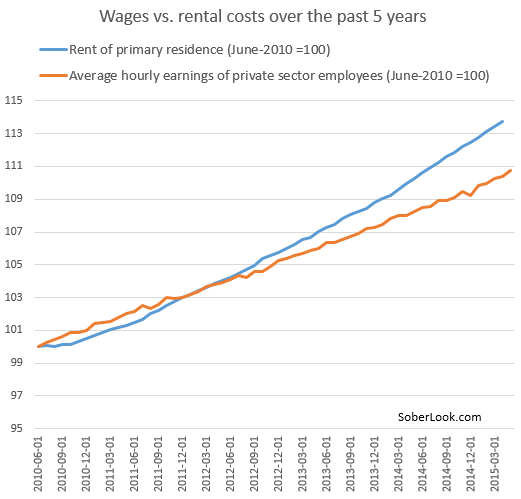 Big money from Wall Street started flooding the housing market in 2008 through 2013.  So it is no surprise that suddenly in 2010 and 2011 rents started soaring although wages were not keeping up.  All this means is that more money is being diverted to real estate.  This diversion isn't the same as the residential construction catalyst because when that happens, construction jobs tend to have a multiplier effect: a new home is built, the house needs to be filled with goods, and this tends to create a virtuous circle of spending.  In this recovery, rents are merely going up because of funny banking accounting and low inventory.  Investors dove into the housing market because of the Fed's low rate environment.  The hunger for yield seeking led many into single family homes.  This is a problem when the homeownership rate is falling and for most Americans, the bulk of their net worth is tied up in their home equity.  Keep younger families from buying, and you likely have many that don't even have a positive net worth.
Part of the issue for younger Americans is the massive amount of student debt.  It is hard to believe but there is now $1.36 trillion in outstanding student debt: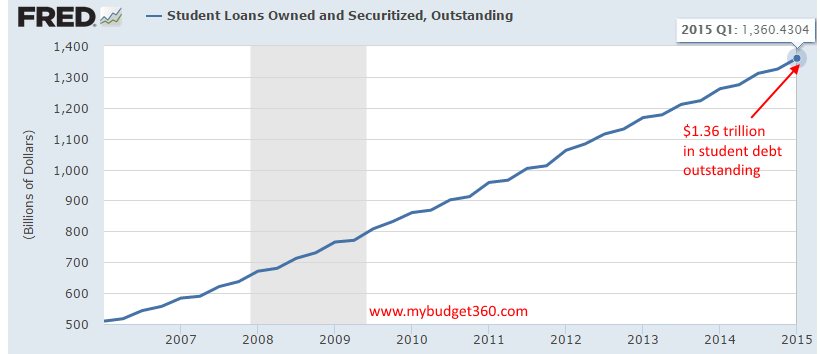 How many are avoiding buying a home because of this debt?  It seems like people are simply ignoring this housing crisis.  Some just tend to think that rising rents and home prices with no subsequent rise in income is somehow the standard way of doing things.  In fact, that is not the case.  This is a new trend.  But it is a trend brought on by cheap money in the hands of a few chasing after assets in the real economy.  This is why many surveys show that most Americans are not participating in this recovery.
Residential construction is simply not there like it has been in past recoveries.  Why build when your audience can't afford to buy?

If you enjoyed this post click here to subscribe to a complete feed and stay up to date with today's challenging market!