The looming retirement crisis: 10,000 baby boomers a day turn 65 and most are inadequately prepared for retirement. Half of elderly Americans in poverty without Social Security.
There is a very common number that is thrown out regarding baby boomers and retirement.  We consistently hear that every day 10,000 baby boomers hit the typical retirement age of 65.  This trend is expected to go out until 2030.  What is troubling with this narrative is the assumption that most have enough funds to actually retire.  The reality is that most will depend on Social Security as their primary source of retirement income.  When we examine net worth figures we find that the single largest asset for Americans is their primary residence.  It is good to have a paid off home in retirement but no income is generated from this.  You have taxes, insurance, and the costs associated with maintaining a home plus the costs of daily living: food, healthcare, and other expenses.  For many, the new retirement plan is a form of working until you pass away.
The looming retirement crisis
Americans do a very poor job of saving money despite being one of the wealthiest countries in the world (although wealth inequality is at record levels).  This partly has to do with our consumption driven economy.  People go into mind boggling levels of debt to purchase cars for example.  Many will take on subprime auto debt just to purchase a car that is out of their financial reach.  Retirement planning is a slow and largely boring process.  There is nothing exciting about setting aside a few hundred dollars per month for 40 years.
More than one-third of Americans report having less than $1,000 stashed away for retirement: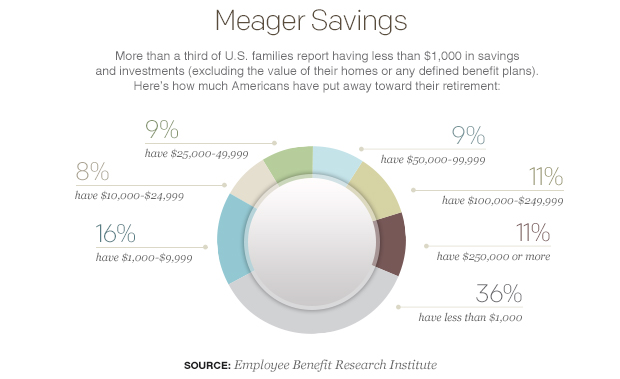 In fact 78 percent have less than $100,000 saved for retirement. 52 percent have less than $10,000 saved for retirement.  One large medical expense is enough to blow right through these savings.  And it is a fact of life that medical expenses rise as we go deeper into old age.  Is this really a crisis?
We also find that when we dig into Fed Survey research that most of the equity is tied up in real estate equity: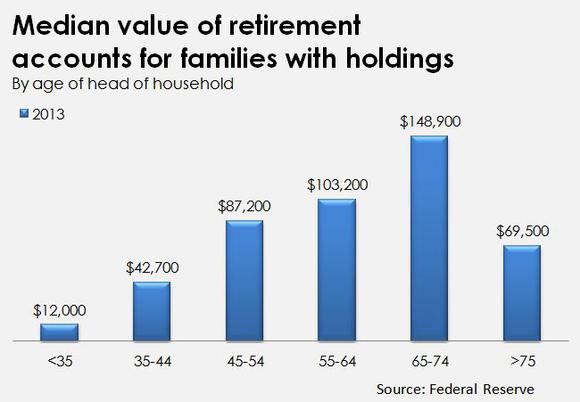 This might look good but you have to look at both charts together.  One looks at retirement savings and the other looks at net worth.  There is a massive gap between the two.  Why?  The Fed Survey data includes home equity into the net worth figure.  So this chart overestimates how prepared Americans are for retirement.  The reality is, most are not geared up for any sort of retirement.  Many will rely on Social Security as a way to fund their retirement: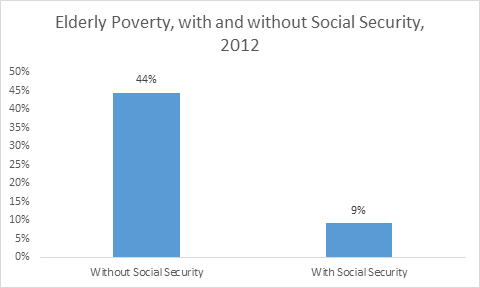 44 percent of elderly Americans would be in poverty without Social Security.  The system relies on a large and young workforce to keep cash flow net positive.  Here is a breakdown of this challenge: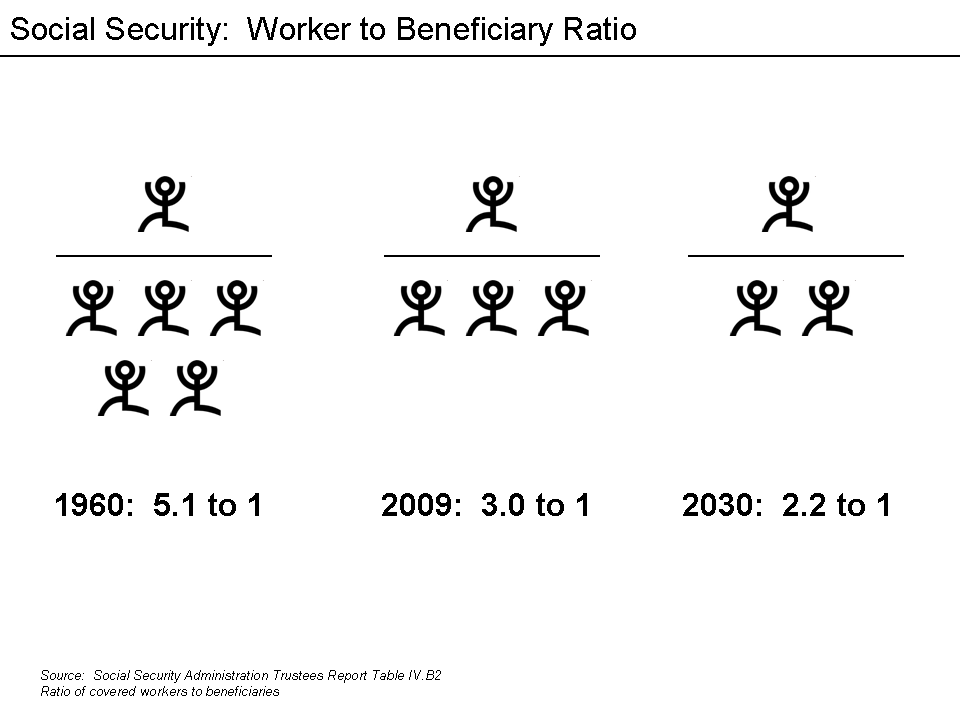 In 1960 you had 5.1 workers to each retiree.  Today it is closer to 3 to 1 and in 2030 it'll be 2.2 to 1 retiree.  What does it mean?  It will be harder to sustain this system especially when we are bound to encounter recessions along the way.
It is hard to imagine how going into deeper debt as a nation and at the individual level is going to resolve this.  Ultimately it seems like the topic is brushed aside and ignored until another crisis hits.  This is an important topic to discuss and explore but it is largely being ignored.  The fact remains that we have 10,000 Americans per day hitting the age of 65 and this trend won't end until 2030.

If you enjoyed this post click here to subscribe to a complete feed and stay up to date with today's challenging market!