The Housing Bubble Started in 1979: The 3 Stages of the Housing Bubble. From Birth to Bust. Housing Collapse is 30 Years in the Making.
Many would argue that the real estate bubble started in 1997.  At this point, residential real estate values in the United States disconnected from any economic fundamentals.  We have heard this argument many times.  Yet I am going to argue that the current real estate bubble started in 1979.
The real estate bubble started in 1979?  I know what you are thinking that this statement in itself is preposterous but hear me out.  Since 1945 post World War II, the Gross Domestic Product (GDP) of the United States had always had a higher value than all household residential real estate wealth until, 1979.  That means for 34 years or a solid three decades the production of the United States was higher than the value of homes in the country.  I have constructed a detailed graph highlighting the 30-year bubble below and will discuss historical reasons later in the article: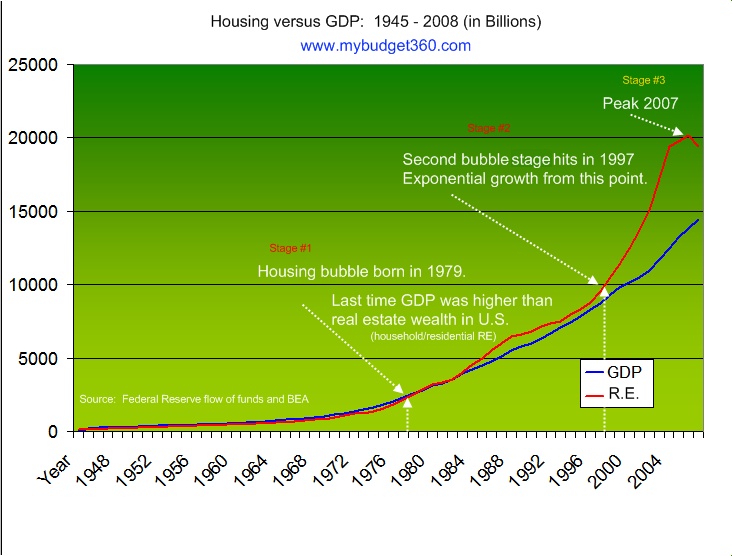 *click for sharper image
If we are to believe that the GDP reflects the actual economic power of a country, we can state that in 1979 we started valuing residential real estate more than we valued the economic production of our country.
History is rather unforgiving for past mistakes.  The fact that this year we have witnessed the housing bubble pop and the big 3 automakers on the verge of bankruptcy isn't two separate and distinct events.  What it does represent is our shift from manufacturing jobs to jobs in the finance and real estate parts of our economy.  First, let us look at the loss of manufacturing jobs: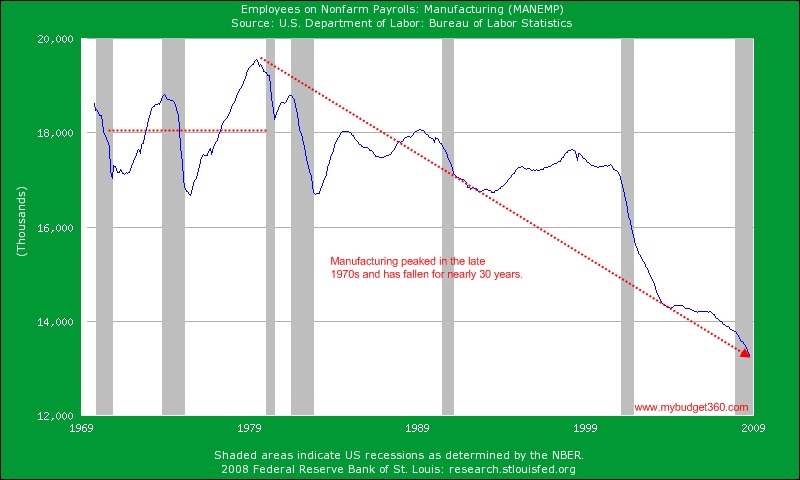 Manufacturing peaked in 1979 with over 19,500,000 million people employed in this sector.  After that as you can clearly see from the chart above, it has been a 30 year steady decline.  Yet our population has been increasing and for the most part employment has remained steady with a few bumps along the way.  Where did many of these jobs go?  Well the manufacturing jobs as we all know were shipped overseas.  But what industries picked up Americans that once would have been employed in the manufacturing sector?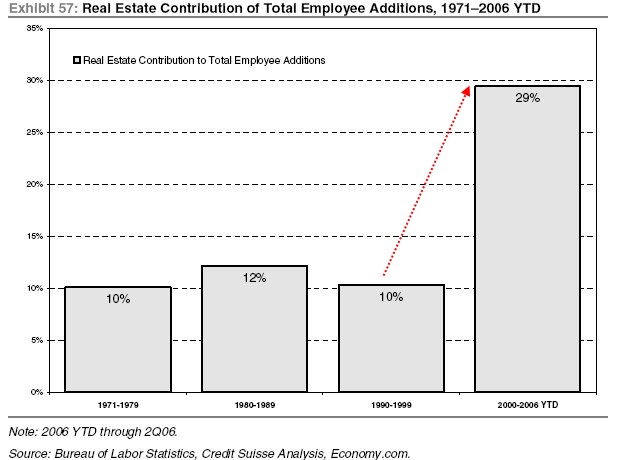 This chart above is rather telling.  For 3 decades, those of the 1970s, 1980s, and 1990s real estate contributed to roughly 10% of employment in this country.  This current decade real estate has contributed to well over 30% of employment (the chart stops at 2006).  The shift from an economy that produces actual goods to a country so dependent on real estate is amazing to witness over this timeframe.  In addition, many other people found work in the services field many times selling items directly related to real estate.
It is no coincidence that the domestic auto industry and real estate bubble are collapsing at the same time.  But to think this is something that only happened over the past few years is simply not looking at the systemic problems that caused the housing bubble to form.
Stage #2 – Mania
Robert Allen wrote a best selling book in 1980 called Nothing Down.  It was an interesting book on investing in real estate and discussed some perfect-case scenarios where someone would take back a 2nd note or borrow money from some random borrower and the deal would work.  It made it seem all too easy.  You had to have a perfect storm of events for you to buy real estate at a good deal given interest rates were sky high: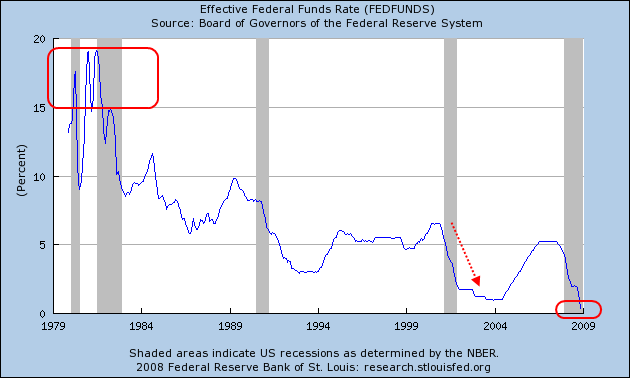 I think much of this was a fad when it initially came out and was relegated to a pocket of savvy real estate investors.  This mentality contributed to the S & L Crisis which again was based with real estate.  Then came the era of low interest rates which were ushered in the 1990s.  This spurred a renaissance in real estate but a large portion of the funds were quickly chasing the technology sector.  Toward the end of the decade, real estate was catching on as a savvy investment vehicle.
You need to remember that during the 1990s numerous real estate investing books were flooding the market.  Seminars were being filled by countless newbie investors.  Carleton Sheets was one of the more famous TV infomercial salesmen preaching easy street via real estate investing.  And what had to be one of the more comical methods of selling real estate investing was ushered in via Tom Vu: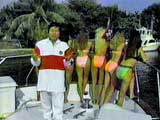 "Tom Vu promised that by attending his free 90-minute seminar you'd learn the same secrets he used to make millions-and you could use them too. Then all the accoutrements of wealth that Tom enjoyed would be yours as well: mansions, luxury cars, yachts, and, most of all, dozens of luscious babes ready to please you for the rest of your life. The barely-dressed ladies appeared all over this infomercial as lovely backdrops: there they were playing backgammon, sipping cocktails in the yacht's bar, sunning themselves in various alluring poses, standing around the pool at the "Tom Vu Mansion" in Florida, bending over the edge of the yacht so as to give the viewers an eyeful of their firm-yet-supple rears."
I think in the initial phases much of this was taken as a major pipe dream.  But what had to usher in the mainstream real estate investing idea to everyone is a real estate guru euphoria produced from Rich Dad, Poor Dad which ironically came out on April 1, 2000.  What this book did at least to a certain extent was made real estate investing a mainstream way of getting wealthy.   Not only that, it also mocked people that actually worked for a living.  If you read the book, there are subtle hints at this.  Take a look at this quote:
"Most people are poor because when it comes to investing, the world is filled with Chicken Littles running around yelling, 'The sky is falling. The sky is falling."
Another view that people came away with after reading the book was:
"The poor and middle class work for money. The rich have money work for them."
We already were on path to losing our manufacturing base and the only thing many people needed was someone to tell them rich people basically do nothing while getting rich and those who are poor and middle class (the majority) are simply suckers for not jumping into real estate.  If all the recent bailouts to Wall Street and investment banks prove something is that those few people that actually are getting any money in the current environment truly have done nothing to earn it.
So this set the psychological stage for the nation.  People now believed in the god of real estate.  All they needed was the financing to make it happen.  Curtain opens up and here comes Alan Greenspan.
After the 9/11 attacks we were already in a recession.  It is a mistake to believe that 9/11 was the entire reason for the recession since we were already on our way to dealing with the technology bubble bursting.  9/11 tipped us over the edge to the prospect of a more severe recession.  Alan Greenspan with his infinite wisdom decided to flood the market with easy credit.  In comes the toxic mortgage mess.  You can almost pinpoint where the housing craze went off into a bubble by looking at the Case-Shiller Index: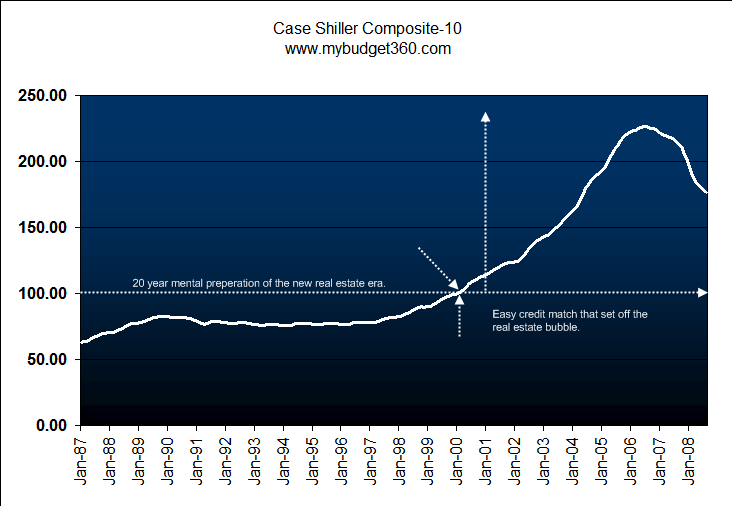 I think simply looking at when the mania started is too easy an explanation for this bubble.  Since 1979 Americans were already mentally shifting their belief gradually that work was for chumps and easy money was not only a possibility but a right.  When the idea of no money down was just a sophisticated way of making a deal in 1980 to being mainstream in 2000 we had completed the process.  We really bought into the "poor and middle class work for money" because only those who don't understand finance or real estate (FIRE) are too simple minded to understand what really makes a country work.  Yeah right.  Try explaining why $50 trillion in global wealth has evaporated in one year because of the greatest credit bubble ever known to humankind and explain why it is a smart move to load up with real estate.
In 1999 the Glass-Steagall Act was repealed when Senator Phil Gramm introduced the bill in the House of Representatives for consideration.  The repeal of this act allowed commercial lenders like Citigroup to underwrite and trade instruments such as MBS (mortgage-backed securities) and CDOs (collateralized debt obligations) and also established complicated structured investment vehicles that bought many of these securities.  Citigroup who was on the verge of bankruptcy and received a $306 billion backstop just a few days ago.
So the entire stage was set.  One singular party isn't too blame but certainly without the financing of Wall Street, this game would have never gotten started.  The removal of modest regulations in 1999, Alan Greenspan dropping rates to 1%, and 2 decades of letting our manufacturing base be decimated proved to be the perfect ecological system to create a housing bubble that spread like a fungus.
Stage #3 – Bust
Like all bubbles, they do eventually burst.  When they pop, they usually end in a spectacular fashion.  The technology bubble for example annihilated the NASDAQ which to this date has not recovered:

Bubbles like that in technology do burst and leave only a shadow of what they once were.  The NASDAQ is still over 70% below the peak reached in March of 2000.  Residential housing wealth hit a peak of $24 trillion at the height of the market mania.  The Fed flow of fund report used above to construct the first graph measures real estate declines by the OFHEO measures which are extremely conservative.  They've always been this way.  Why?  They focus on conforming loans which even though Fannie Mae and Freddie Mac have been virtually nationalized, the vast majority of the loans in their portfolio are high quality.  Now of course in a severe recession like the one we will face, even prime borrowers will default.  But the OFHEO numbers largely missed the bubble which was fueled by Alt-A, option ARMs, and subprime mortgages.
So looking at the Case-Shiller Index fall gives us a better idea how much we have fallen because it looks at single home sales measured over time.  According to the Case-Shiller we are now approximately down by 22% nationwide in terms of housing prices.  What that means is $5.28 trillion in housing wealth is now gone.  I would argue that prices are much lower and in states like California, we are now seeing median price drops of 50% and above.  The global equity markets have collapsed and have seen $32 trillion in wealth disappear since the markets peaked in October of 2007.
This isn't simply a decade long bubble but a system that was given life 30 years ago.  The destruction of our manufacturing base and focusing our energy on the FIRE economy has left us at this perilous crossroad.  I'm afraid there is still much more pain to be felt since as we've noted above, much of our employment base is now tied to real estate so logically it would follow that a busting real estate market would carry jobs down with it.  It would be different if we were setup like the 1970s, 1980s, and 1990s where a large portion of our employment base wasn't dependent on housing.  It is now.  The question we have to ask ourselves is do we want to continue to perpetuate an economy that is largely based on "not having to work for your money" or are we going to focus on actually working for our wealth?

If you enjoyed this post click here to subscribe to a complete feed and stay up to date with today's challenging market!