Going Broke on $50,000: The Story of the Struggling American Middle Class. The $50,000 Median Household Budget.
Posted by mybudget360 in baby boomers, banks, budget, debt, economy, Employment, frugal, government, income, investing, recession, retirment planning, savings, wealth preservation
The recent recession is exposing how many American families have been treading on the edge.  Problems were already in the system before the recession began but the downturn in the economy was the ultimate catalyst.  Many families were using credit cards as a means of supplementing a decade of stagnant wages.  The median household income for the entire country is $50,740.  In addition we have 34,000,000 Americans now receiving some form of food stamps.  They are not part of the middle class group.  Yet when we dig deeper into the data, it is clear why so many Americans are going broke on $50,000 a year.
The current recession by many accounts is one of the worst since the Great Depression.  Some 26 million Americans are without work or underemployed and many other millions have seen no pay raises or have seen their hours cut back.  With an aging population and rising healthcare costs, many are facing a balance sheet that seems impossible to balance: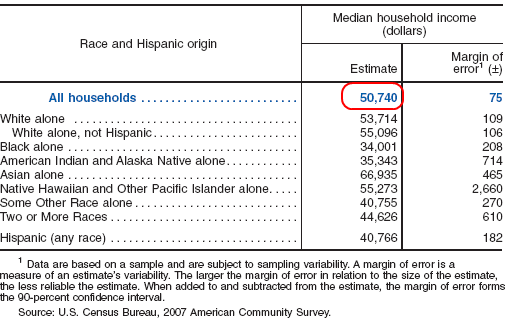 To understand this data even better, let us break out the income by top earning households: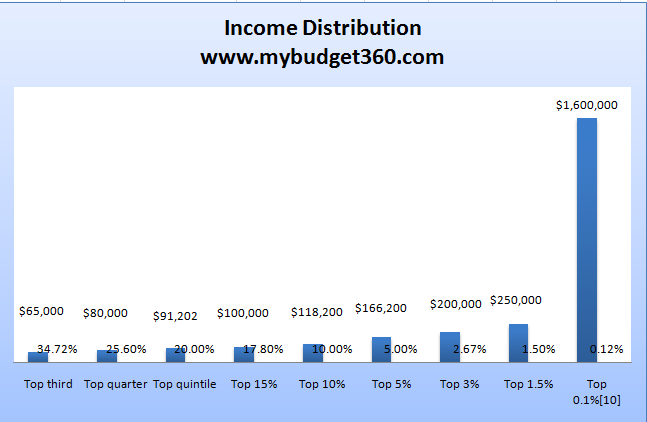 In order to be in the top 20 percent of households, a family would need to earn $90,000 a year.  To be in the top 10 percent a family would need an income of $118,200.  Yet these numbers are clearly out of the reach of the 50 percent of U.S. families making $50,000 or less a year.  Let us put out a hypothetical budget of a household making $50,000: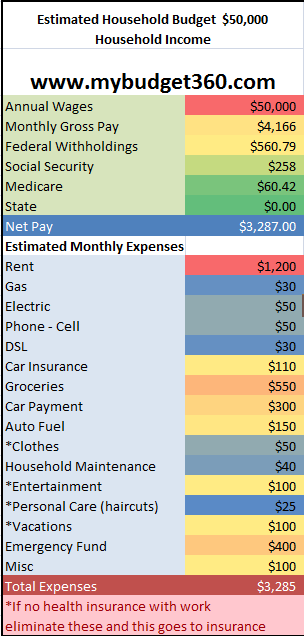 With this budget we are assuming a few things.  First, we are being generous in assuming no state income tax.  In a state like California, this can add up to a 10 percent burden depending on the circumstances.  But for our purposes, we are assuming no tax here (for example, Texas).  The gross monthly pay comes out to be $4,166 but after taxes, the net pay is $3,287.  This is where you can see why the middle class is having a tough time maintaining in the U.S.
We are assuming the person is renting a home.  Rent of $1,200 should be sufficient for a nice home (a 3 bedroom and 2 bath home in Texas).  In terms of utilities including gas, electric, and phone I went on the conservative side.  These costs have been creeping up now that oil is back up.  Groceries are always a big expense in a household.  For the middle class family, food can take up to 15 to 20 percent of their net pay.  And food has gone up in price.  Now, people are getting more for less because of smart packaging: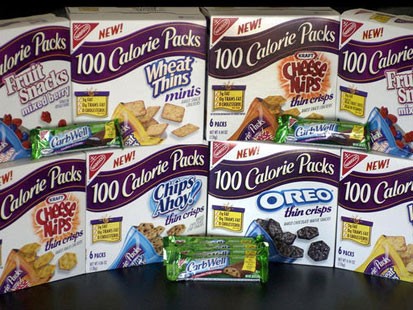 You also see less quantity in items like cereal for example.  For most middle class Americans housing is the biggest line item.  This applies to both renters and homeowners.  Roughly one-third of net pay will go to housing.  In the above budget, we are assuming the household has one car payment at roughly $300 per month.  They may have two car payments so you would have to adjust for this.
Next, we need some form of emergency fund.  We are setting aside $400 per month here.  Ultimately, you want to have 3 to 6 months of expenses set aside.  At roughly $2,800 in monthly expenses, we need to set aside $8,400 at a minimum.  At $400 a month, this will take us 21 months.
We are spending $100 in entertainment.  This probably amounts to 2 movies and 1 night eating out.  Many Americans do more of this.  I'm not advocating one thing or another but just pinpointing why someone at the middle income level is going broke and it doesn't take extravagant spending.
Haircut and clothes are optional, I know but if you work in a professional environment you might need to have a decent set of clothes.  This line item can adjust depending on your work environment.
So what are we missing?  How about retirement funds and healthcare?  These are expensive items.  You can see that $300 to $500 a month for healthcare will have to come from another line item in the budget.  Retirement?  Ideally they will invest pre-tax dollars into the market but people are shaken up since the S&P 500 has become basically a Wall Street casino.
So it is easy to see how people can go under with a $50,000 household income and that is what we are seeing with the rising unemployment rate and the massive jump in bankruptcies.  It is interesting to note that states with income tax and no tax are having problems.  California for example had to patch up $60 billion in deficits this year alone.  But if you think states with no taxes are immune to problems, take a look at the Gini Index for states in the U.S.: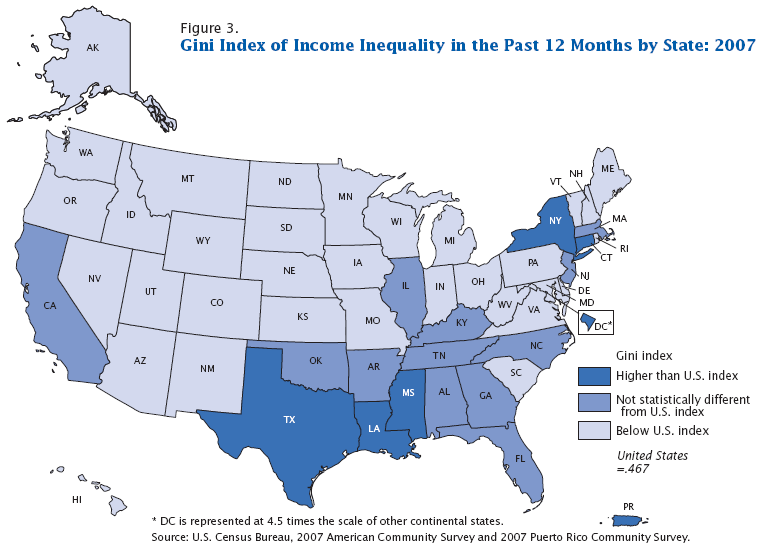 It is interesting to note that a handful of states have higher income inequality and two states that you would expect at opposite ends of the spectrum, New York and Texas both show up in this data point.  Only 5 states have higher than the U.S. Index average for the Gini Index.  It is also interesting that some of the states also have some of the highest poverty rates: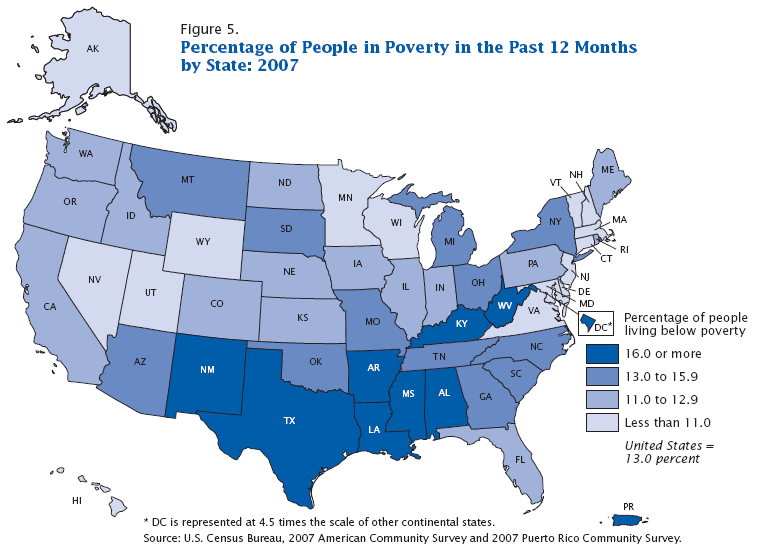 So the solution to the current crisis isn't so clear cut.  You have states with high taxes like California having problems and states like Texas with no income tax having some of the highest poverty rates.  Bottom line is many families making the median of $50,000 a year are being crushed in the current recession.  It is all good to say things are getting less worse but we are not seeing any job growth.  That is a major issue.  With an aging population, how are people going to pay for food and healthcare?  Social Security just announced no cost of living adjustment for the year.  These are all issues we will be facing in the upcoming years.

If you enjoyed this post click here to subscribe to a complete feed and stay up to date with today's challenging market!