The Road to Financial Serfdom: The Official Disconnect of Main Street from Wall Street and the Financial Mainstream Media.
On Thursday with the S&P 500 inching closer to the 1,000 mark it is near impossible to silence the "recession is over" media hype.  Of course, this is the same media that missed the biggest economic collapse since the Great Depression but here they are predicting the end of the recession.  The problem of course is they do not define the end of the recession clearly.  In their mind's eye, the end of the recession means Wall Street profits and largesse pouring into the banking coffers.  What about jobs?  What about $14 trillion in lost household net worth?  The U.S. Treasury and Federal Reserve are suddenly neo-Keynesians but only when it comes to saving themselves which is convenient.  If you think of the stimulus plan for example, it was passed in February and had a price tag of $789 billion.  This may seem gigantic but compared to the $13.5 trillion banking and Wall Street bail out it is relatively small.
Yet many people forget how that money was spent or will be spent: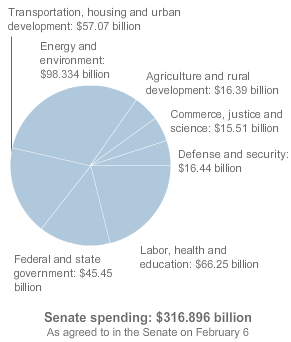 Now the above gives you a general sense of the plan.  Much of the money sent to states is already spent.  Not much stimulus occurred here because states used the funds to patch up brutal deficits like those being experienced in California.  Also, a large portion of the money was in tax cuts.  That amount is $282 billion.  Much of that money is already factored into the current economy.  Yet the stimulus bill was more like a band aid and less of a stimulus plan.  The overall idea of a stimulus bill is to create jobs but when you dig into the bill, there really wasn't much money dedicated to this.  However, let us now look at the Wall Street and banking bail out: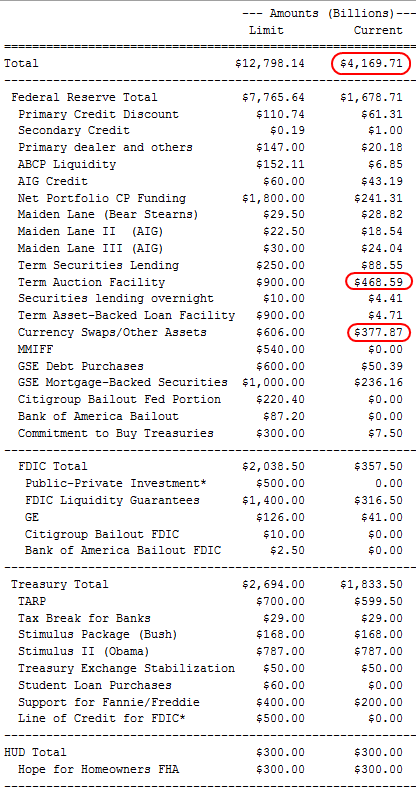 *Source:  Bloomberg
In fact, if we look at only two line items here, the Term Auction Facility and the Currency Swaps program, these two dwarf the 2009 stimulus bill.  So why is the stock market rallying yet 26,000,000 people are unemployed or underemployed?  Because Wall Street has become a casino and most of the "bail out" funds have gone to the rigged banking system.  Keep in mind this is the same banking system that created collateralized debt obligations trying to convert toxic waste mortgages into "solid investments" and sold them off to so-called investors.  This is the same industry that hungered for subprime mortgage debt and allowed the real estate industry to give loans to anything and everything.  This is the same Wall Street that held the American public financially hostage last September and October.  This is the same industry that offered wicked incentives to the real estate industry for finding any loan even if it was fraudulent to put into their mortgage-backed security portfolios.
So on the one hand, we have a stimulus bill of $787 billion that people can feel and then you have $13.5 trillion committed to the banking and Wall Street bail out with already $4+ trillion used.  And you wonder why the stock market is up 46.5 percent in four months?  The stock market is no longer connected to main street.  Take a look at some mainstream media analysis of this: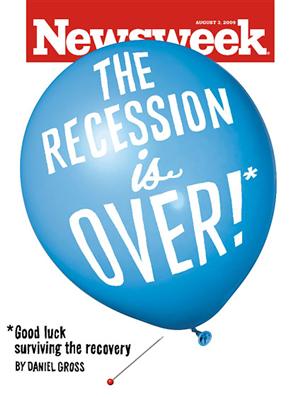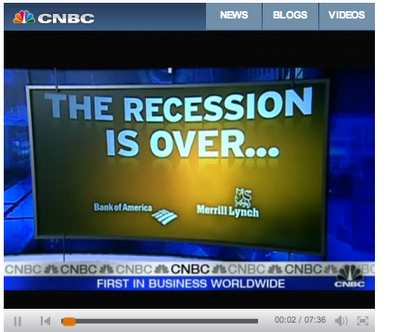 *Source: Futurnomics
What can be more telling than that CNBC screen capture stating the recession is over and then, right beneath it you see the Bank of America and Merrill Lynch logos?  The recession may be over for Wall Street and banks thanks to the $13.5 trillion committed but Main Street is still very much in a recession.
Keep in mind the U.S. Treasury and Federal Reserve have already committed this money and we still have the $3 trillion commercial real estate bubble that will burst and we have covert action like Plan C where they are preemptively getting ready to use taxpayer money to bail out more toxic financial waste.
Why is all this failing so miserably for the public?  We have the worst of Keynesian thought mixed in with the worst of free market thinking.  In a nut shell, Keynesians believe that in difficult economic times the government should step in to create an environment that will help economic conditions by stimulating work and demand.  In war, this works perfectly as it did after World War II and issued in 30 years of prosperity for the U.S.  Yet using too much of this during peacetime will create problems like the 1970s stagflation.  That is, politicians will use Keynesian mixed-market planning in times of political desperation like when Nixon stated, "I am now a Keynesian" and was re-elected for a second term in a very difficult economic climate.  An advisor to Nixon at the time Milton Friedman chastised his action but that is how politicians will operate in desperate times.
After that, the school of free market thought entered and de-regulation was put up on a mantle.  This led to economic recovery but also gave us the S&L crisis and was a precursor to our current financial de-regulated mess.  Unfortunately, it would seem that we are using the worst of both systems.  We are using Keynesian principals to bail out the so-called free market banks.  They are using both theories of Hayek and Keynes in completely unjustified ways.  We really have no idea how things will end but many Americans are feeling as if they are on path to financial serfdom.
We have bankruptcies rising at colossal speed.  The 30 year housing bubble has burst with deep consequences.  We keep borrowing money every day from our foreign lenders.  Unemployment is still rising with the real unemployment rate closer to 17 percent.  Keep in mind that even though we are not flying off the edge, companies are not hiring.  That is the second part of the equation that is leading to modern serfdom.  Sure, companies may not be laying off current employees at the peak levels of this recession but they are not hiring either: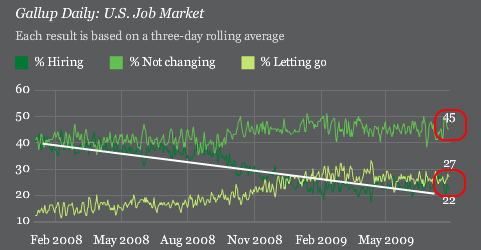 *Source:  Gallup Poll

As usual, it pays to look at who is doing the hiring instead of clamoring around Wall Street and the mainstream media analysis like middle school girls.  As you can see from the above, those letting people go is still high.  We went from about 40 percent of those surveyed in February of 2008 saying they were hiring to the current 22 percent.  Those letting go was about 11 percent in February of 2008 and now it is near 27 percent.  But again, who needs a job when you have trillions funneling into Wall Street.  And what good is a tax cut when you are unemployed?
The road to financial serfdom is paved with bad intentions here.  The U.S. Treasury and Federal Reserve are operating under the premise of "what is good for Wall Street is good for America."  It is not.  When are we going to investigate Wall Street with a strong arm?  And don't you think it would make sense to investigate why things failed before committing $13.5 trillion to the cause?  Interesting how they already know how much money they need right?  That is why you shouldn't be surprised when you get reamed with another trillion for commercial real estate, more trillions in bad toxic mortgage debt, and the government running to bail out Wall Street for bad bets.
You cannot be dogmatic in these cases but it is incredible what is happening.  Looks like the financial overlords on Wall Street want to make Americans into their financial serfs.  Who needs a job when you can watch CNBC all day and watch them drink champagne while they cheer big earnings for banks since trillions has been given to this industry?  Hard to lose money with a trillion safety net.

If you enjoyed this post click here to subscribe to a complete feed and stay up to date with today's challenging market!