The 401k has been a disaster for most Americans: Only 44 percent of private sector workers participate in a defined contribution plan.
Failing to plan is planning to fail.  If this is true, most Americans are planning to live in retirement with very little money and are going to rely heavily on Social Security to get by.  That is the case today where most retirees get the bulk of their income from Social Security.  Back when the 401k plan was introduced, the thought was many people would squirrel away money each month and after 30 or 40 years of working, there would be a large nest egg thanks to a raging stock market.  Stock market growth has tempered and most people just didn't participate.  So now as many Americans enter retirement age most are realizing they are going to work until they die.  The 401k plan was introduced in 1978 and the end result for most Americans is that it has failed.
The 401k plan
The 401k program is really the tax code for where individuals could set aside money tax deferred to plan for retirement.  In theory this is good, however with the shrinking of the middle class, many Americans have less money to save.  The program as it turned out really just benefitted a small segment of our population that had excess income to stash away.
Take a look at private sector workers and their usage of 401k programs: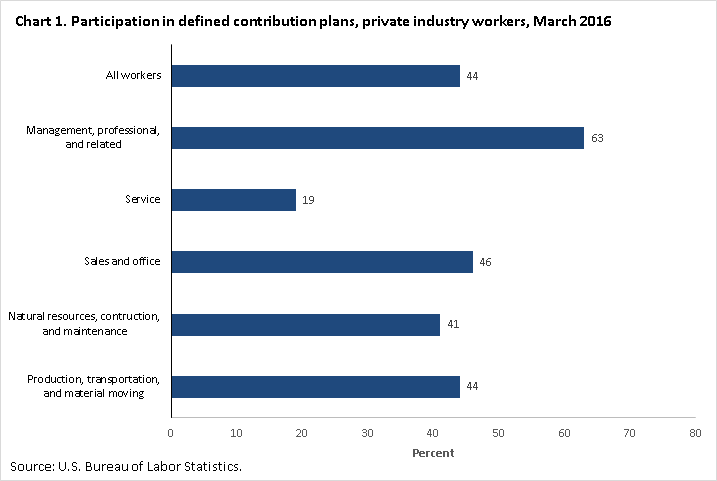 Source:  BLS
Only 44 percent of private sector workers even participate in a 401k.  This means the person that has $100 in an account is also counted here.  But take a look at how many service sector workers participate in this program.  Only 19 percent of service sector workers even utilize a 401k and that is the biggest portion of our workforce where many young Americans are ending up.
Since pensions are largely gone, this means that 56 percent of Americans are fully hoping that government support will be there once they hit retirement age.  That is a scary proposition.
But let us look at people that actually save for retirement.  How much do they have saved?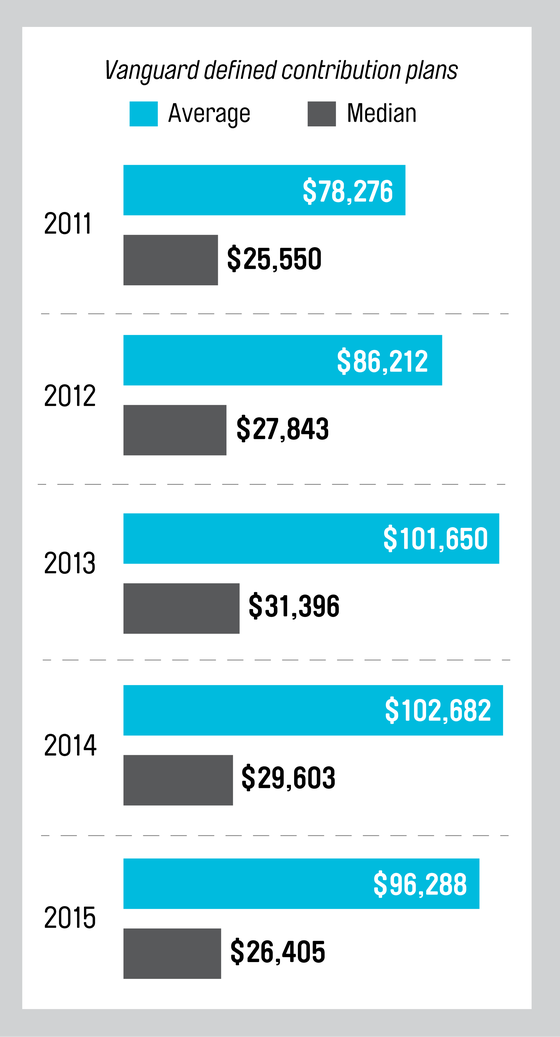 The average is worthless in this data because you have outliers that have millions of dollars saved skewing the results.  The median is the most telling figure here.  In 2015 the median amount in a 401k was $26,405.  That is one broken leg with a hospital stay away from zero.  And keep in mind this is only for those that actually participate in this program (which is fewer than half of Americans).
Why are Americans saving so little for retirement?  There are a few reasons:
-They simply are too broke to save

-The stock market has turned into a wild casino

-Many options within 401ks are loaded with wild expenses that eat away at your returns

-Lack of financial literacy
Someone trying to get by is not looking at 30 years down the road when their baby needs diapers.  The rent needs to get paid.  So these daily pressures cancel out any budget planning.  It is important to save and to plan for the future.  Given the above figures however, most Americans are hoping the government is going to be there when they are no longer able to work or have no job generating income.

If you enjoyed this post click here to subscribe to a complete feed and stay up to date with today's challenging market!