The increasing odds that you will die working: The extinction of retirement and the growing old age labor force.
I was greeted by an older gentleman at a local Target store.  He slowly smiled and said hello.  I nodded and said hello as he proceeded to greet other shoppers.  Leaving the store I was greeted by an older cashier.  Over the last decade, the retail labor force is seeing a growing number of older Americans.  Many don't envision retirement as working in a low-wage job but that is simply the way of life for many.  The BLS estimates that labor force participation rate for those 65 to 74 years of age is going to increase to 31.9 percent in 2022.  That is an incredibly high number of older Americans eligible for Social Security still working in the labor force.  This is happening as younger Americans make up a smaller portion of the labor force and as many more Americans enter into college.  Yet one thing that is rarely discussed is that many older Americans are going to work until they die out of necessity.  Not a few.  Not a couple.  A large portion of older Americans are working deep into old age because they can't afford to retire.
Working into the grave
The idea of having a long-term retirement of doing nothing aside from sipping margaritas is a relatively new notion.  It is a notion that grew out of the post-World War II economic boom and was quickly subverted by the mutual fund idolization that started in the early 1980s to phase out pensions.  The cumulative end result is that many Americans were sold the dream but very few have access to this vision.
Take a look at participation rates for various age groups: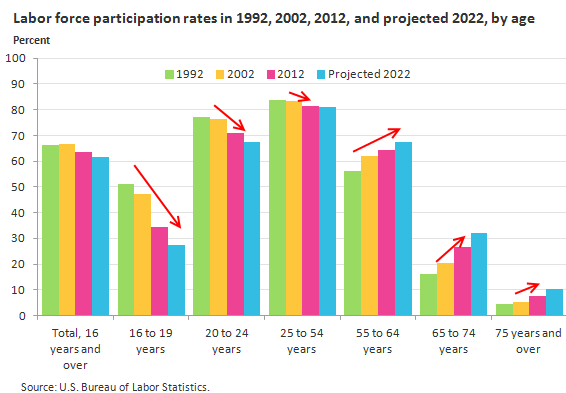 Source:  BLS
This is a big change.  In 2002 20 percent of those 65 to 74 participated in the labor force.  The trend is only heading up and it certainly isn't because Americans are suddenly in a better financial position.  It is interesting that the trend for younger workers is the opposite.  You would expect that teenagers would hold retail jobs for experience but that is not the case.
"(Harper's) Aging isn't what it used to be. In an era of disappearing pensions, wage stagnation, and widespread foreclosures, Americans are working longer and leaning more heavily than ever on Social Security, a program designed to supplement (rather than fully fund) retirement. For many, surviving the golden years now requires creative lifestyle adjustments. And for those riding the economy's outermost edge, adaptation may now mean giving up what full-time RV dwellers call "stick houses" to hit the road and seek work."
This decline in old age income security is also seen on how many elderly Americans fully depend on Social Security.  The eradication of pensions and low wages has slowly created this crisis with older Americans:
"That means no rest for the aging. Nearly 7.7 million Americans sixty-five and older were still employed last year, up 60 percent from a decade earlier. And while 71 percent of Americans aged fifty to sixty-five envision retirement as "a time of leisure," according to a recent AARP survey, only 17 percent anticipate that they won't work at all in their later years."
In other words many older Americans are going to be working into their retirement years instead of sipping exotic drinks on the beach as those Wall Street backed mutual funds had led many to believe.  What are you going to save when the cost of living is out stripping any stagnant wages?  This "recovery" has been very painful for working and middle class Americans.  The notion that simply hitting 65 means you will be ready to retire is a giant mirage.  Many are hitting 65 and realizing they are going to have to work for many more years.  The trend is rather clear and it isn't pointing to a life of leisure and golf.

If you enjoyed this post click here to subscribe to a complete feed and stay up to date with today's challenging market!