Social Security supports 1 out of every 5 Americans: Most retirees heavily depend on Social Security for their retirement income.
It is great that people overall are living longer but adding years to your life can get costly.  Retirement can be a long time.  For some, retirement can last as long as their working career. With a pension people didn't have to worry about longevity as if this was a bad thing.  Yet pensions are rare in our current low wage environment.  Social Security has become the backbone of income for millions of retirees.  Numbers can be daunting but as I dug deep into the Social Security figures, we now have more than 64 million Americans receiving some form of Social Security.  In other words, 1 out of 5 Americans is receiving funds from a system that heavily relies on those actually working.  The challenge is now emerging where many young Americans are being pushed into low wage jobs while older Americans scrimp by on their monthly benefit payment.  Things work until they don't and math eventually catches up.
The Social Security system is facing some strain
You usually hear about people kicking the can down the road when it comes to Social Security.  Since the problem seems so far away, they simply choose to ignore it.  The problem however is that this is the primary source of income for many of our older citizens.  When the problems do hit, it is going to be the equivalent of millions of people losing their jobs if benefits need to be adjusted.
Take a look at how heavily older Americans rely on the Social Security system: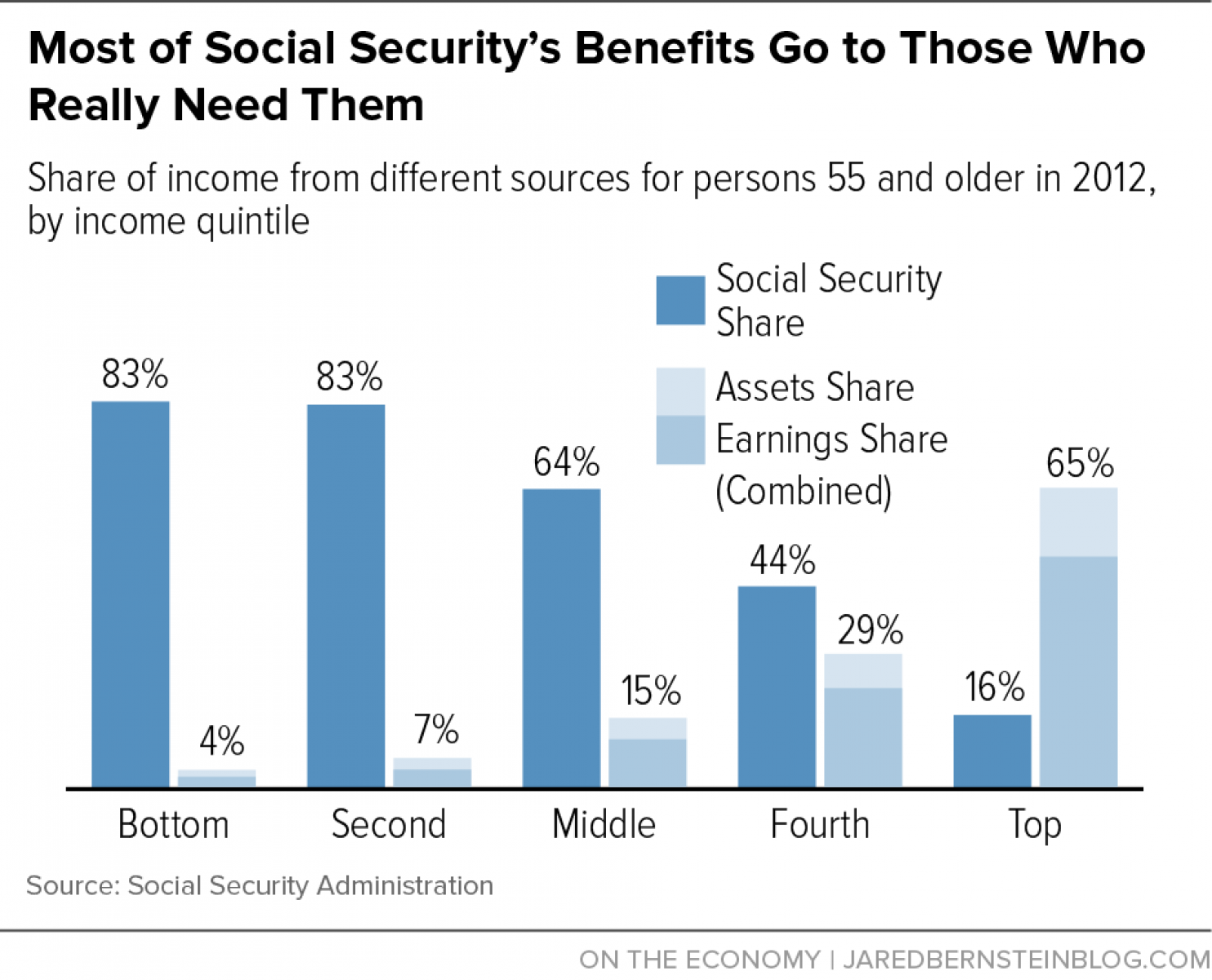 Is the system working?  Sure, if you mean that today payments are going out.  But Social Security was never intended to be the main source of income for many Americans.  For nearly half of retirees, Social Security is their retirement plan.  As you can see from the above chart, many older Americans heavily rely on Social Security into old age.
The retirement system was designed for Americans to rely on three main sources for retirement income: Pensions, 401ks, and finally Social Security.  As we've noted, half of Americans don't even own one single stock.  Pensions are going the way of the dinosaurs.  So for many, Social Security is the one item left standing.  Yet this system relies heavily on the currently working.  I usually get people talking about how we have funds stashed away but if you haven't noticed, we are in giant debt:

Source:  US Treasury
The US owes $18.15 trillion and this number just keeps going up.  We are simply borrowing into our future.  People will then say that we have the Fed and that they can print as much as they want.  Well guess what?  That is exactly what we are doing and you are seeing the big inflation hitting in big ticket items like housing and college tuition but of course, much of this is hidden from the consumer.
However you slice it we have a lot of Americans depending on Social Security:

Source:  SSA
And with 10,000 baby boomers hitting retirement age every day, this number is only going to boom.  What can be done?  Well you really have three options:
-1.  Do nothing.  Basically our current course forward and amounts to kicking the can down the road.

-2.  Cut benefits.  If you don't have enough you need to pullback.  Good luck getting this to pass.

-3.  Raise taxes.  You can raise taxes.  Good luck on getting this to pass.
This is really all you have.  You already see the economy starting to contract realizing that something is amiss in the market.  You have central banks all pursuing similar strategies and industrialized nations are seeing major challenges with having a good portion of their population being older people.  These are modern day problems.  Even the US has 1 out of 5 Americans depending on Social Security.  This is why we have coined the adage that the new retirement means working forever.


If you enjoyed this post click here to subscribe to a complete feed and stay up to date with today's challenging market!