The oncoming disaster in public pensions: The $4 trillion retirement savings deficit and the bill of payouts for pensioners.
Americans have done a very poor job saving for retirement.  In many cases, families simply have very little left over each month to save after monthly expenses chomp away at their net take home pay.  Pensions used to be common.  In 1975 you had 88 percent of private sector workers and 98 percent of state and local sector workers covered by defined benefit plans (that is a pension).  By 2011 only 1 in 5 private sector workers had access to a pension.  Public sector workers still have access to pensions for the large part but the math is not working out.  Glorious stock market gains have not made up for big pension shortfalls as retirees start pulling in payouts.  The numbers just don't work.  Greece is an extreme example of public spending gone awry and pensions are a part of the math.  You have weak tax collection and massive payouts.  How does that math work?  It isn't a question of pensions being bad but the underlying assumptions that are flawed.  If you want healthy pensions, expect to pay.  Yet people want it all with little coming in and politicians promise the world leaving future problems to predecessors to deal with.  In the US, many pensions are relying on future stock market gains that seem very optimistic to meet their liabilities.
The pension challenge
The public sector still provides access to pensions for the most part.  Starting in 2000 the math just stopped working.  Even in light of the big stock market boom pension funding doesn't look all that great.  Part of it has to do with states underfunding their obligations.  For example, the payouts are now coming in fast and furious but those paying in are not covering the outgoing funds.
The analysis is easier to see when you break down revenues and expenses: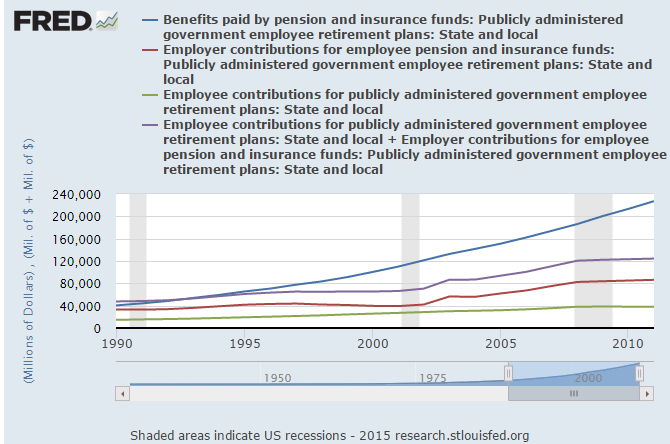 "(FRED, St. Louis Fed) Some cities and states, such as Detroit and Illinois, are struggling to fund their public-sector employee pensions. These crises may have seemed abrupt, but we can observe some structural causes using FRED. In the graph above, the blue line shows pension benefits paid to public-sector employees; the red and green lines show contributions from employers and employees. Adding the two revenue streams (red and green lines) creates the purple line. Note how the purple revenue line dipped below the blue payouts line in the mid-1990s and never fully rebounded. When the Great Recession hit in 2008, revenues dropped dramatically and payouts continued to rise. The graph below shows the resulting gap between pension payouts and contributions has increased markedly since the past recession."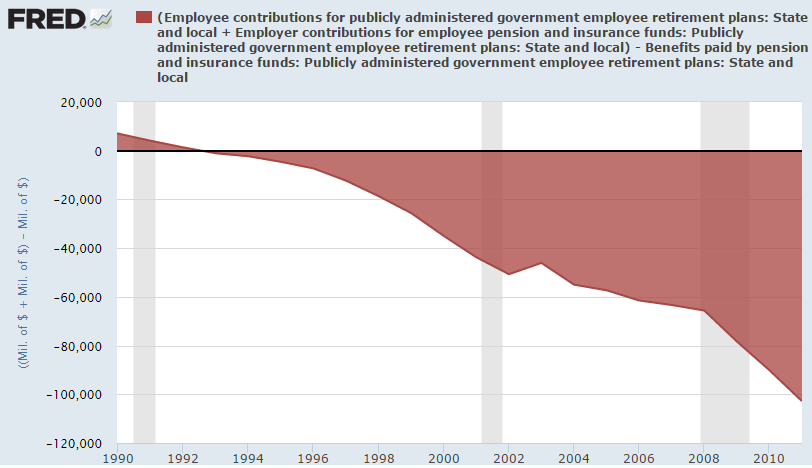 In 2011 for the public sector, over $100 billion was paid out over what was collected through contributions.  The chart is very clear.  More is going out than coming in.  And many pensions keep a large part of their funds in boring and safe funds so the returns have been capped in the face of the roaring stock market.  Yet you don't want to take giant risks when a large portion of your retirement pool is now drawing on pension assets.  This is the standard advice given to most investors.  When you are young, you want a large part of your asset allocation in stocks and less in bonds since you have plenty of time to ride the ups and downs of the stock market.  As you near retirement, you want the bulk of your assets in bonds and less in stocks.  You don't have the flexibility at this point to ride any major changes to the stock market.
The charts above show the reckoning that is now happening with pensions.  A large number of states are underfunded: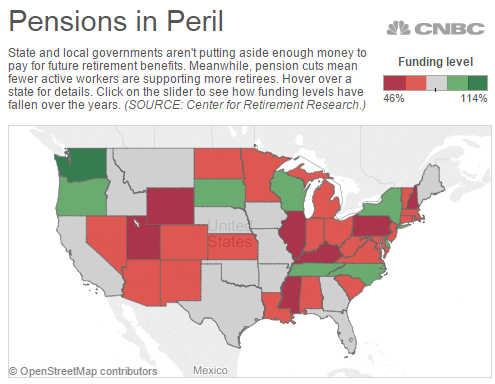 States like Illinois and Michigan have big problems.  The math eventually catches up.  This is why most of the retirement risk has been shifted to employees directly: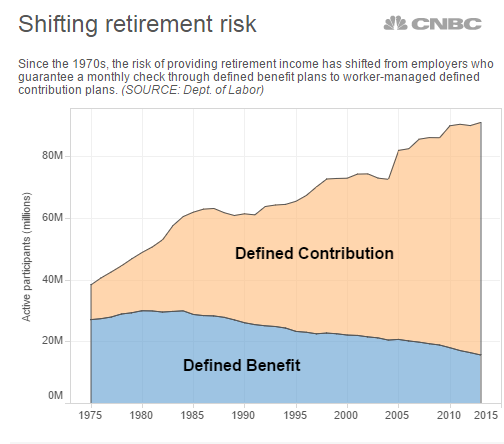 Going to defined contribution plans (i.e., 401ks) puts the retirement risk on employees.  And many have not saved or are heavily underfunded (if funded at all).  Over half of retirees rely on Social Security as their primary source of income.  The retirement funding gap across the country is estimated to be at $4 trillion and that assumes the stock market continues to remain steady after the epic Bull Run starting in 2009.  What is certain is that pensions are in a losing battle now.  How bad will it get?  It really depends on the overall stock market performance and how well plans are funded.  Some states are in better positions and some are deep in the red.  Someone is going to pay for this.  The young are making less and have even more limited retirement options.  Is this the group expected to fund all these built in liabilities when they have massive debt in the form of student loans?  Probably not but the pension problems are not going away anytime soon.

If you enjoyed this post click here to subscribe to a complete feed and stay up to date with today's challenging market!