China lost the equivalent of 14 Greeces over the last month: Why the actions of banning short selling and punishing the market taken by the Chinese government will backfire.
The market has been fixated on the actions of Greece, a country with 11 million people or the equivalent of Los Angeles County.  However, the bigger action is taking place in the gambling obsessed Chinese economy.  For those of you not following global news the Chinese stock markets, primarily the Shanghai Composite, Shenzhen, and Hang Seng have been on a ridiculous tear.  The ChiNext which tracks China's small-cap board had a trailing PE ratio of 90, twice that of the NASDAQ back in America's dotcom bubble in 2000.  In other words China is in one massive bubble.  They are following the path of Japan in the sense that they had (still have) an absurd real estate bubble that has now popped and people then flooded their money into the stock market.  The recent actions in China carry an underlying feeling of fear.  They loved capitalism when the stock market was soaring and farm workers and hairdressers suddenly became mini Warren Buffets.  But with the bust, all of a sudden it is communist central and people are being punished for selling.  This doesn't bode well especially considering at the latest trough, $3.3 trillion in wealth evaporated.  This is the equivalent of losing 14 Greeces.
The actions in China will have an impact on the world
The real estate market and stock market in China are flat out in a ridiculous bubble.  With the recent panic, the Chinese government has stepped in flooding money into the market and relaxing leverage requirements on an already leveraged system.  That didn't seem to work so then they said they would go after short selling.  Now, there are rumors going around that some brokers are not allowing people to sell blue chip stocks!  This not only is panic, this is the face of dread.
Greece may be capturing most of the headlines but the changes in China will have a bigger impact on the global economy: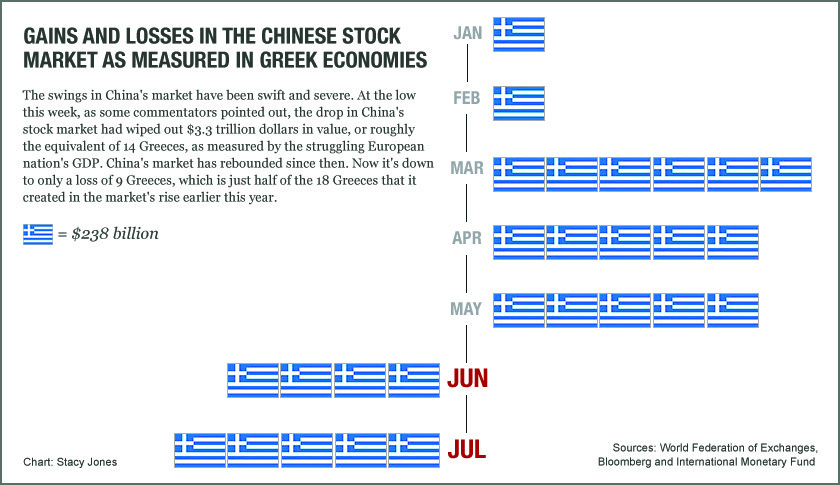 If you weren't paying attention, China recently lost in wealth the equivalent of 14 Greeces.  What is crazy is that the two recent rallies recovered two Greeces in market cap.  Even after a big drop, the markets are insanely overvalued: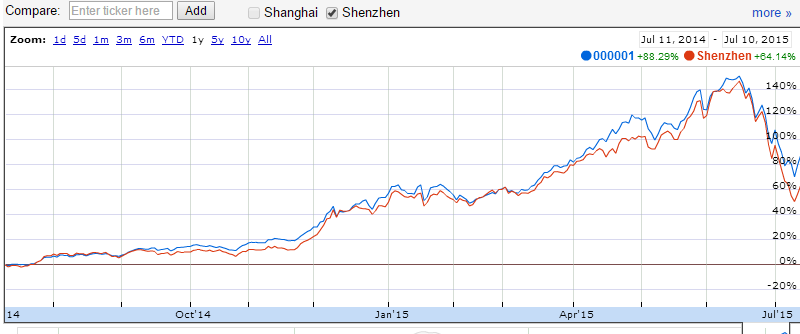 The Shanghai Composite, the main index is up 88 percent over the last 12 months while the Shenzhen index is up 64 percent.  All of this even in the face of a slowing economy and PE ratios that make the dotcom bubble look sensible.  Why is this important?  Because China is now the second largest economy in the world and while Greece has deep implications for Europe, China has deep implications for everyone especially the United States.
What is telling is that many stocks on the index have flat stopped trading: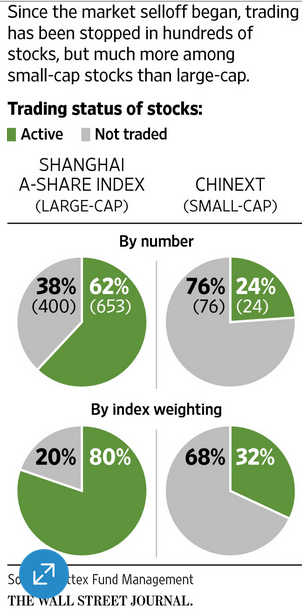 "(WSJ) Nevertheless, a total of 1,473 companies, or 51% of all stocks on the Shanghai and Shenzhen markets, remain suspended. Companies can request a trading halt under circumstances such as a takeover or restructuring, or a stock exchange can impose a suspension if it sees a need to."
Just imagine that half of the NYSE and NASDAQ stocks were fully suspended from being traded.  That is what is going on in China.  What the government is doing smells of desperation and has caused a short-term rally but trust in the market, certainly from outsiders is now questionable.  Is this truly a market or some sort of rigged casino?  For now, it looks like a poorly rigged casino where "free market" is only permissible if prices go up.  That hand is now exposed to global and local investors.
The bottom line is that even after the recent correction, stock values in China are incredibly overvalued.  It is also difficult to assess true PE ratios since many accounting reports from companies are managed very carefully.  A good way to assess internal demand is by looking at copper since China is one of the biggest users of copper: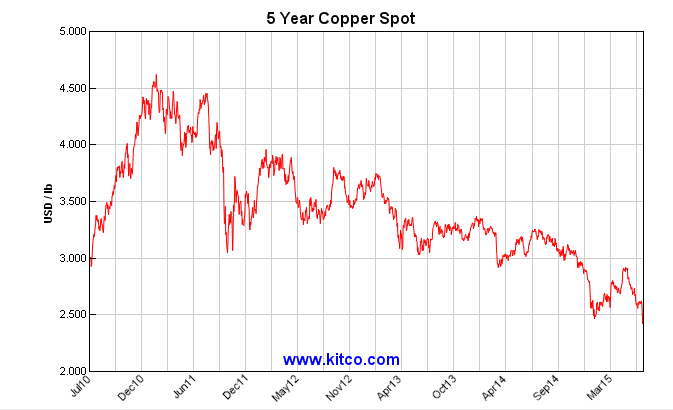 Since copper is traded on a global scale, it is harder to manipulate these prices.  By looking at the chart above, global demand is low, heading back to the last financial crisis.  China has a long way to go and this is merely the beginning of the correction.

If you enjoyed this post click here to subscribe to a complete feed and stay up to date with today's challenging market!