Family Budget: How to go Broke on $100,000 a year. Why the Middle Class has a hard time Living in Expensive Urban Areas.
One of the challenges during this economic crisis is budgeting.  As much as we hear about the housing collapse or the stock market seesawing like a playground, we rarely get a glimpse into the actual budget of real live Americans.  Sure we know housing is expensive.  We all intuitively knew that $147 a barrel oil was not going to be good on our economy.  But how does this translate into the monthly budget of a family trying to get by?
A few months ago I put together a budget for a family/person living on $46,000 a year here in California.  Many people doubted this was even possible.  It is possible because I based the data from friends and family members that live on this amount.  I had requests to put together a budget for a family in the middle to upper-middle class.  Today we are going to look at a detailed budget I put together for a family making $100,000 a year and trying to live here in California.  Let us look at the budget: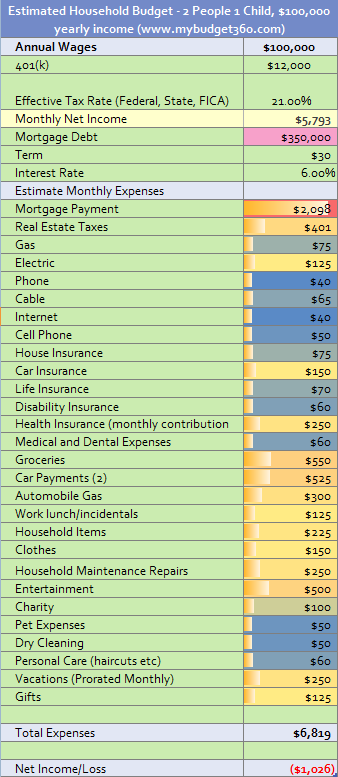 Let us go line by line and discuss each specific area.  This budget is based on a family trying to live here in California.  We'll also show areas we can trim down to make up for the monthly deficit they are running.
401k
We are putting away $1,000 per month into our 401k plan.  Many right now may be questioning why we would even do that given the poor market conditions.  Keep in mind that many funds allow you to put money away into savings funds that bring in 3 or 4 percent per year but are guaranteed.  In addition, this money is pre-tax so you have more money to invest thus boosting your savings power.  I'd be cautious about what funds to invest in given the current climate.  If you are not sure just put it into a savings fund until you have a better idea.
Mortgage Debt
I'm basing this off the median home price in Los Angeles which is $355,000.  That is for a basic starter home.  You can now find a "nice" place for $400,000.  So let assume this couple bought a nice $400,000 home here in Los Angeles County.  They now have a mortgage of $350,000 and put down $50,000 which is about how much you need in today's tight credit market.  Let us now go through the line items for each expense.
Mortgage Payment
At 6% on a 30 year fixed note, they are looking at a $2,098 payment simply for principal and interest.
Real Estate Taxes
In California, many of the nicer areas have city taxes on top of the state tax which is low hovering around 1%.  With the additional items you are paying about 1.25% to 1.75% on the very high end.  With taxes are payment is now up to $2,499.  Throw in insurance and you are looking at $2,574.
Gas
I've averaged out gas payments for a family that does cooking and also uses internal heaters during the winter (which are mild here in California).  You may find this line item different for your family.
Electric     
For electric we are spending $125 per month.  This is about right if you consider a household that has a child and an income of $100,000 probably also has the typical suburban amenities.  Televisions, computers, and other items do suck electricity.  Again, you may find this item lower on your budget.
Phone
A basic land line with the ability to call long distance will cost you anywhere from $30 to $40 a month.  Many people are cutting this out and going strictly with a cell phone.  This family chooses to have a landline. [save $30]
Cable
A basic cable package will cost $65.  Many people spend upwards of $100 to $150 a month on cable programming.  I think that is a waste to go beyond the basic cable but this is where folks spend their hard earned money.  This is an item we can completely trim out. [save $65]
Internet
DSL or cable modem coverage will cost you about $40 a month.  Most people now go with broadband for the home so this may be a necessity especially if you use the computer for work at home.  Not much to trim here.  You can go with "naked dsl" which is service without the phone or cable attached but it may be limited in your area.
Cell Phone
A basic cell phone plan will cost you $50 a month.  If you get an iPhone or Blackberry expect to pay $100 or more a month for decent service.  You can get a pre-paid phone from Virgin Mobile or T-Mobile and they usually don't even require a credit card. I know with Virgin Mobile, you can pay as little as $10 a month for service.
House Insurance
We already factored this item above.  In California this may increase if you are looking at fire or earthquake insurance.
Car Insurance
For car insurance, we have a family with 2 cars and good driving records.  They have modest cars and have full coverage on both.  Assuming they are in their 30s we are looking at $150 a month.  Keep in mind this is for modest cars.
Life Insurance
A person with a family should definitely not skimp on this item.  It is important to ensure your family is covered no matter what.  For a younger couple, this shouldn't be too expensive.
Disability Insurance
Given the tough economic climate, you'd be smart to have some disability insurance in case something happened to you on the job and you were unable to find work for some time.  Again, this should be minimal if you are younger but the premium will increase with age.
Health Insurance
This is where it can get tricky and prices are all over the map.  You can get a basic packaged for $250 a month but this is barebones.  There isn't much we can cut here but if your employer covers this, you can find savings here.
Medical and Dental
We'll throw in co-pays and dental visits here.  In this assumption we have your employer covering your dental insurance but a lot of coverage is basic and you'll have to have a deductible.
Groceries
For a family of 3 you can get by on $550 a month.  I know in the previous budget people flipped out and said that it was impossible.  Well yeah, if you are shopping purely at Trader Joes.  Here in L.A. we are lucky to have great diversity in our stores.  You can find great deals and many other local markets have great cuts of meat and much better prices.  You may need to shop at 2 or even 3 stores.
Car Payments
We are assuming the couple has 2 cars they are still paying.  Let us say a Civic and a Focus.  The payments are slightly above $250 for each car.  If they accelerate and pay the cars off, this will be a net savings of $525.  My suggestion for a young couple with this level of income is hold off on the luxury car and buy a nice used car.  This is so crucial.  The big mistake in L.A. many people make especially when they have a low 6 figure income is they buy a very expensive luxury car.  Well that pushes up your payment, insurance, and gas.  Many people spend $1,000 to $1,500 a month simply on one car!  Insanity.  Potential savings here.  [save $525]
Automobile Gas
Gas has dropped quickly due to the collapse of the oil markets.  Now, you can get a gallon of gas for $2 a gallon.  So with the recent knock down in gas we can say that this family will spend $200 a month on gas.  With a Civic and Focus that is enough.  [save $100]
Work lunch/Incidentals
If you are really frugal, you'd price in your brown bag lunch from your grocery budget.  This family is spending $125 a month on eating lunch at work.  This can easily be shaved down.  [save $125]
Household Items
This is for things like vacuums, furniture, and other items that go in your home.  Over time these do add up.  For example you do need a microwave and stove.  So over a year you are looking at spending say $225 a month. A new refrigerator will cost you $800 to $1,000.  At least a good one will cost you that much. So this outlay is only for the first few years and should taper off.  We can assume this couple is new to their home and needs new items.  Next year, they'll need to close that deficit so they'll need to cut back here at least by $125.  [save $125]
Clothes
People in L.A. love shopping so this is hard to resist for many.  We are allocating $150 per month here.  Some people want to dress their kid in GQ clothes but they really don't care or even realize what they are wearing.  Many times the clothes are more a reflection of the parent's wants and desires.  Cut this back by $50 a month.  [save $50]
Household Maintenance
Owning a home is expensive.  Anyone that owns property knows this.  The toilet screws up.  You need a new roof.  You kick the door down after partying too hard.  Yeah, things like that come up all the time.  So this budget allocation seems about right.  It isn't monthly but keep in mind a roof can cost you $5,000 so for 2 years that works out to be $208 per month.
Entertainment
Okay, this is much too high here.  You like movies?  Hook yourself up with Netflix for 9 bucks a month and you'll be able to get as many movies as you like.  Do you really need to buy every DVD you see?  Free museums, gorgeous beaches, and nice parks are all over L.A. County.  Use those.  If you have a deficit you can certainly cut back here.  Yes, you'll go out and have a nice meal and watch movies.  So we won't be draconian but let us cut this in half.  [save $250]
Charity
I'm a believer that you should give a little bit each month to those less fortunate.  Some may have religious requirements here so this will vary.  But my feeling is a family with a $100,000 income has a bit of wiggle room to help others.
Pet Expenses
Pets are expensive especially dogs.  Vet bills and food are additional costs.  If you have no pet, this is easy to save but many families here have pets so we'll leave this line item.
Dry Cleaning
If you work in a professional environment, you may need to have some of your suits dry cleaned.  Understandable.  Just don't take your Metallica t-shirt here.  $50 is plenty for once or twice a month service on important items.
Personal Care
Let us be honest that the genders are not equal here.  For guys, a basic haircut is cheap.  For the ladies not so much.  So this area will vary.  If your bald hey, you've just saved some dough here.
Vacations
Working families like to take vacations.  I can't believe how some people in this income range take $20,000 vacations and put it on their credit card.  Absurd.  That is why even these people are going broke.  We are saving $250 per month for a nice mini vacation per year.  $3,000 should go a long way here.  You won't be going to Monte Carlo but a $100,000 income isn't enough to take that trip anyways.  $3,000 can be a great camping trip/equipment, a nice week long cruise, a flight to a nice place in the United States.  You get the picture.
Gifts
Birthdays, Christmas, and other holidays.  This family is spending a little too much here given their monthly deficit.  Let us cut this back by $50 per month.  This still gives them $900 a year to spend on gifts.  [save $50]
Total Savings Above
With very modest cuts above, we were able to trim $1,195 from the budget, plenty enough to cover the deficit of $1,026.  These weren't even draconian cuts.  You can trim more money but I'll leave that up to you.  The point is, many people that I know are within this range and struggle but it is because they have cars that are too expensive or bought homes that they simply could not afford.  $100,000 does not go far in Los Angeles.  This family above is comfortable but they certainly aren't living like Trump.
Hopefully this gives you an idea on how to budget.  If you live in an expensive area yet make the median income of $46,000 please take a look at the budget I put together for that.  People need to be realistic and live within their means.

If you enjoyed this post click here to subscribe to a complete feed and stay up to date with today's challenging market!