Orange County Jobs: The Real OC, Companies Cutting Jobs Since the Recession Started in California.
Southern California's most expensive area, Orange County is not immune from the current economic downturn.  The employment situation is dire across the state with the current unemployment rate spiking to 9.3% in December from a rate of 8.4% in November.  The speed of job losses is increasing in a state with a deeply troubled housing situation.  Orange County seemed to be a stronghold in the early stages of the bubble but now is simply another county in California with double-digit declines.
So what is really going on in Orange County?  How do the job losses look like for the common person on the street here in the sunny OC?  Much of this is lost in the current statistics jungle where thousands of layoffs are merely aggregated together into one clean and cold percentage.  Yet the numbers do tell us a lot of what is happening.
Orange County has a pool of 1,648,500 workers and last month, lost 107,700 people to unemployment.  The current rate in Orange County is fairing much better than the overall state which is now at a stunning 9.3%.  The amount of job losses are increasing and so is the velocity.  As the retail numbers point to a minor depression like nothing we have seen since World War II, we are left trying to stem the flow of broken balance sheets.
The unemployment rate has shot up from 5.9 percent in December of 2007 to 9.3% in December of 2008 for the state.  Keep in mind, looking back at data to 1976 the worst unemployment rate California has had was 11 percent.  Given the way the unemployment numbers are calculated, this is already one of the worst recessions since those that are part-time workers looking for full-time work and those who have given up looking for work are simply not counted in the overall data.
Let us dig deeper into what areas are shedding jobs in Orange County: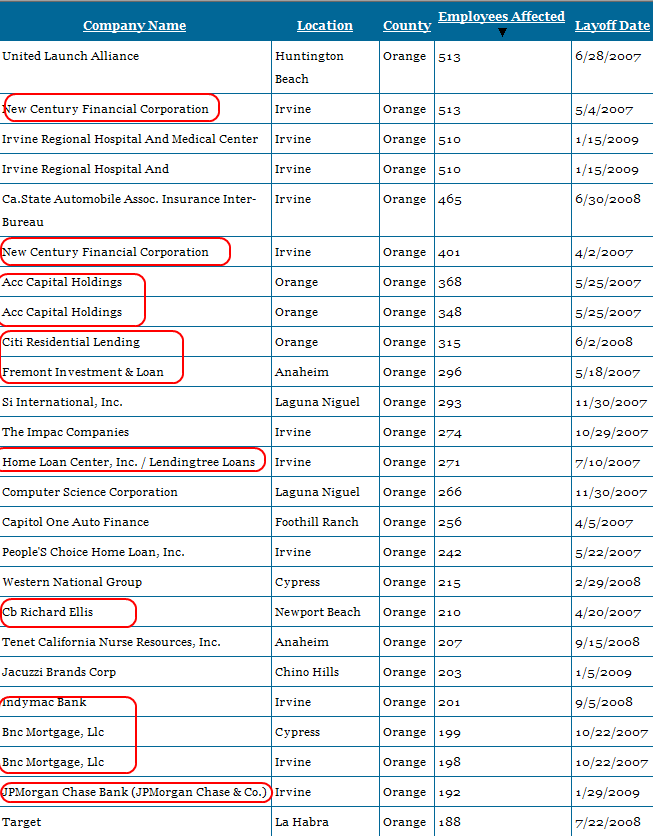 *Source:  Sacramento Bee
I've sorted by the largest layoff notices.  Much of this data shows the large impact the housing and mortgage industry has here in Orange County.  Keep in mind that mass layoff announcement are made when 50 unemployment insurance claims are made against one company.  I wanted to provide you the above to give you a sense of which companies are cutting back.
But let us sort the data by date to see recent layoff announcements: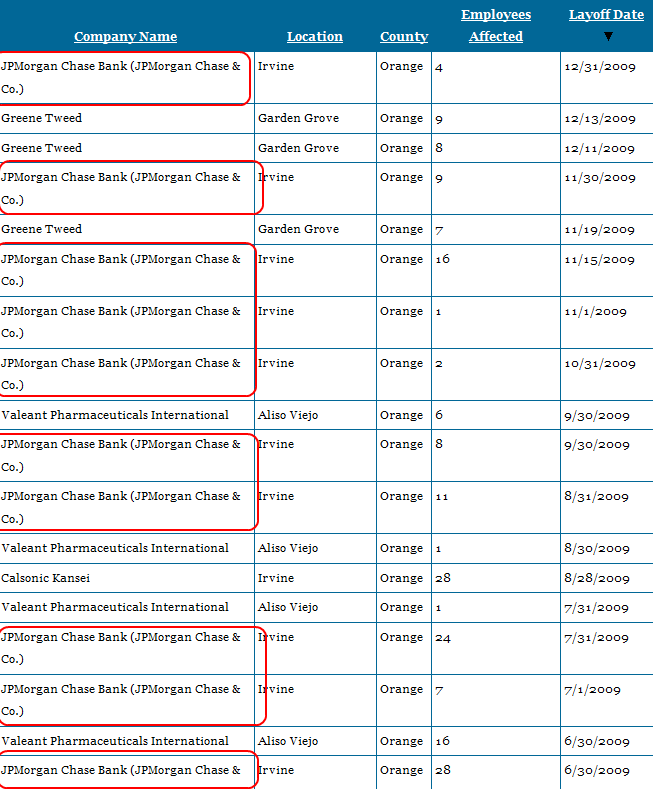 Looks like JP Morgan is busy with those layoff announcements.  Recently they have acquired WaMu which has a large presence here in California so these layoffs may have something to do with that integration.  I also have an account with WaMu and I have been getting recent letters telling me that they are soon going to be Chase.  Not sure when they are aiming to complete this renaming.
The way the layoff announcements data is calculated is as follows:
"Employers must file warning notices when there is a plant closing, layoff or relocation of 50 or more employees within a 30-day period. Relocation is defined as a move to a different location more than 100 miles away. So not every layoff is reflected in the WARN Act filings. Also, some listings reflect short-term layoffs that are quickly rescinded, as when a retailer moves to a new location and imposes a temporary layoff."
So many of the layoff announcements haven't even happened if you noticed so this will only add additional people to the unemployment lines.  This again reinforces the notion that we will have a profoundly bad housing market in California for years to come, even in areas like Orange County.
The recent median home price in Orange County just broke the $400,000 mark and is at $397,000.  Take a look how the above employment situation has affected home prices: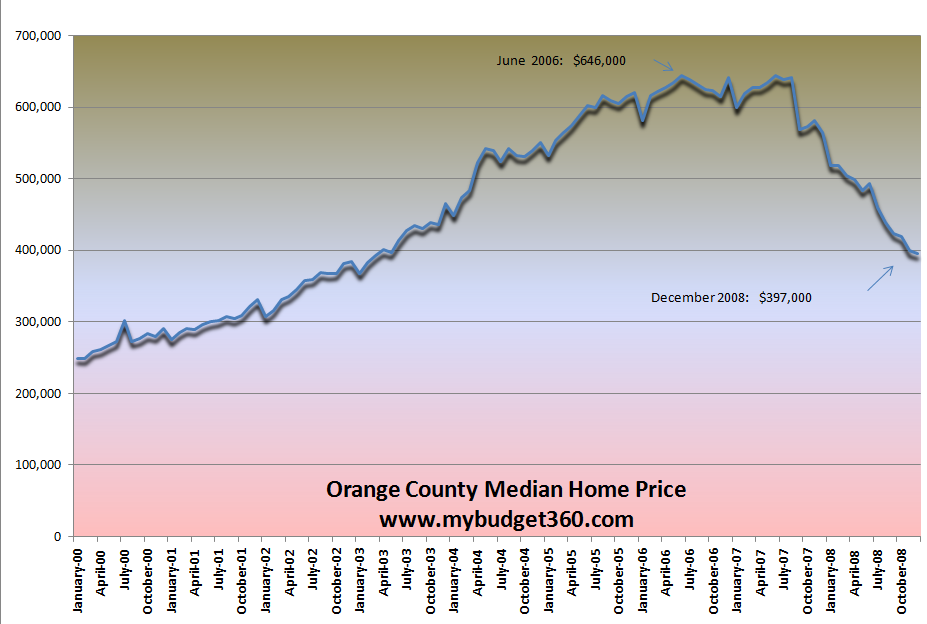 We are miles away from the $646,000 price reached on June 2006.  Just reflect, how do you think this plays out in the community to think that nearly $250,000 in equity has vanished into thin air?  I saw a statistics that the average American retiree only has a $50,000 nest egg (this data came out before the collapse last year when $50 trillion in global wealth vanished).  So here, we are talking about $250,000 gone in slightly over 2 years.
Yet the county is diverse.  Let us look at some data points:
Population:    2,954,771
Households:   976,713
Median Household Income: $ 73,263
So that should give you some perspective.  Let us look at some ratios:
(peak housing price) / ($73,263) = 8.8
(current home price) / (73,263) =  5.4
Even with the current price decline, the median home price is still in a bubble.  Keep in mind that wages have been stagnant and as we point out above, many of the jobs that are being cut were high paying mortgage and finance jobs that won't be coming back.  So the median household income may actually start declining in the next few years.  Keep in mind starting February 1st, the governor signed an executive order furloughing thousands of employees which is effectively a 10% pay cut.  That will pull the median household income even lower.
So how wealthy is Orange County?  Let us look at the actual income breakdown:

Orange County is a relatively affluent area.  Yet looking at the numbers, you realize that these numbers will be decreasing. Why?  This data is from 2007 which is the latest macro data we have yet was at the peak of the housing bubble here in the state.  Even with this in mind, only 9.2% of household bring in over $200,000 a year in a county that had a peak home price of $646,000.  It is highly likely that many of those households in between the $100k and $200k mark were employed in the finance, real estate, and housing industry.  These jobs are gone and many were commission and bonus based.
This is another reason why Chapter 7 bankruptcies are soaring because people simply cannot hang on anymore even in the glamorous OC.  The gig is up and a county so dependent on booming real estate and bubble finance is now taking it on the chin for relying so heavily on one industry.
It is also the case that people here were big spenders and reflect the poor habits of California with little or no savings.  This has left the budget in shambles and will leave many households dealing with the fallout for years to come, even in the OC.

If you enjoyed this post click here to subscribe to a complete feed and stay up to date with today's challenging market!