China's housing correction is now in full swing: Big developers begin to slash prices with sales falling more than 10 percent.
It was bound to happen. The housing correction in China is now here. It is interesting to hear the various perspectives from people and how China is absolutely different to the point of never being open to property bubbles. The same arguments were made during the Japanese real estate bubble as well. Well apparently the laws of math apply to most countries around the world and unfold on their own timelines. The typical price for a new home in China fell yet again for a third straight month with property developers cutting prices. The government has intervened to quell the fires of a bubble but at this point, it is already too late. The correction will occur. The bigger question will be how deep will the correction be? When bubbles occur, entire systems are built around the inflated prices as if they were only set to stay high. They rarely factor in a reversal. Perceptions will drive future home purchases and do people want to buy an asset that suddenly is starting to fall? The argument goes that many people put massive down payments in China so therefore, things will be okay. Okay in what respect? Instead of using money that is borrowed, people are using their own hard cash. So the burden is shifted to the public versus banks. As we know, many in China will funnel in life savings into a property just to purchase. In many respects, this will likely make buyers more cautious and impact sales harder. I'm not sure this is reason enough to justify permanently high prices and the current correction is a symptom of this perception.
The correction in Chinese real estate
Prices in 70 major Chinese cities fell for the third straight month in July. This is significant because it shows a growing trend versus a one month anomaly. The Chinese government is well aware that real estate in the country is deep into bubble territory and has implemented a few programs to quell the massive speculation in the industry. Many state owned enterprises are built around the housing industry so it will be interesting to see how low they will allow it to go. This of course assumes they have full control of prices in these major cities.
The correction is coming: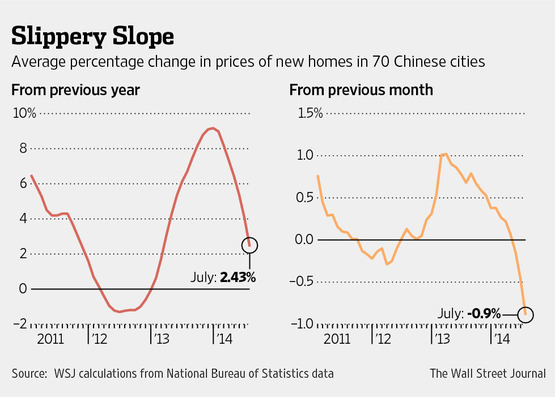 Source: WSJ
It is clear that a correction is occurring. How low it will go is still yet to be seen. What is important to understand is how widespread the correction is occurring signaling that this is a countrywide issue: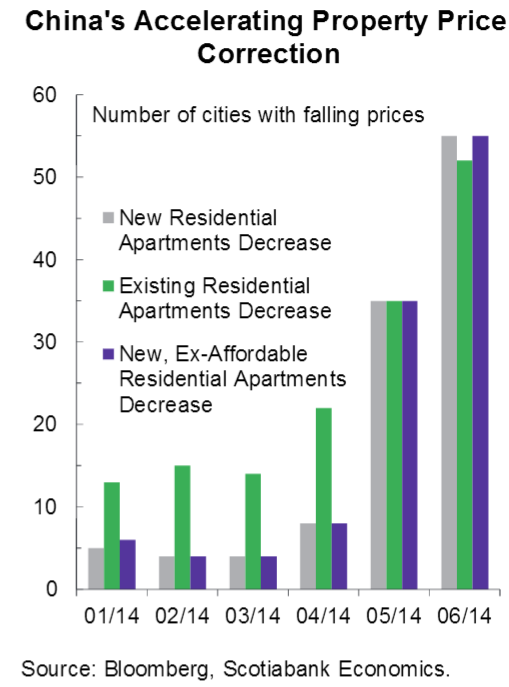 You can see that in May and June, and now July prices are correcting more uniformly. I'm not sure why this is so hard to foresee. It is understandable that many of the ghost cities are pre-built for future incoming residents. But governments are not experts in estimating market prices and how many people will eventually move in. Clearly the optimism in many of these places was much too high. This is why prices are correcting and sales are falling.
Since most of the development is in the high rise variety, take a look at steel prices and you will see that demand is falling: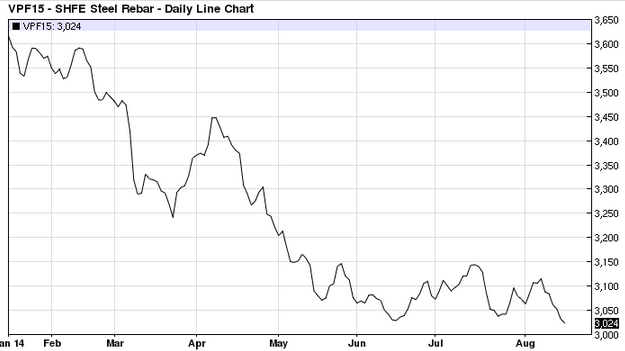 Some were arguing that no correction would ever be allowed in the Chinese market but that simply is not the case. And what a shock that Chinese buyers are motivated by the same rules of economics all across the world:
"(WSJ) I'm definitely not buying homes anymore," said Gan Xiaodong, 36 years old, who previously flipped several homes in the southwestern Chinese city of Chongqing. Mr. Gan said he was having trouble selling a particularly large house there, and "beginning in 2011, I couldn't raise the price anymore."

Real estate and construction are important drivers of China's economy, the world's second-largest. They account for more than 20% of China's gross domestic product when cement, steel, chemicals, furniture and other related industries are factored in, analysts estimate."
Sure sounds like a correction to me. The market has been blistering hot in China. It was bound to face a correction in their real estate markets.

If you enjoyed this post click here to subscribe to a complete feed and stay up to date with today's challenging market!