Cryptocurrency Bubble or new Paradigm?  When $100 billion in market cap evaporates overnight and the rise of new currencies.
The market cap of crypto currencies hit over $830 billion and seemed to be on pace to reaching $1 trillion.  This week South Korea openly discussed closing down exchanges since it felt there was excessive speculation in the crypto currency markets.  It is hard to argue with that when you look at the rise of certain digital coins rising 1,000% to 4,000% (or more) in a relatively short period.  Are people looking for a get rich quick scheme or is this something different?  Is there a bubble in the crypto currency markets or is this some sort of new financial paradigm?
Crypto currency market cap
The market cap for crypto currencies has grown exponentially in the last year.  For most of 2017 the total market cap was below $200 billion largely dominated by one coin, Bitcoin.  However, starting in November a flood of money rushed in.
Take a look at the chart below: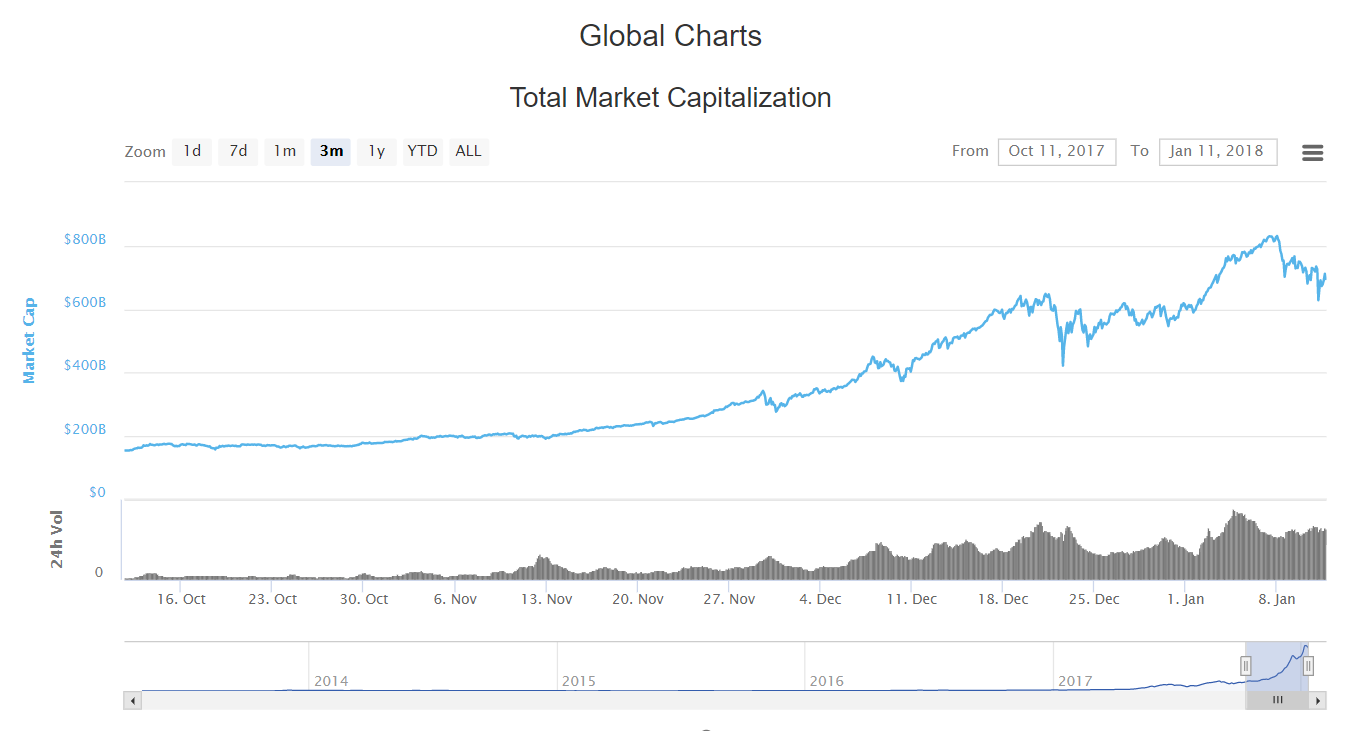 The total market cap peaked at over $830 billion.  Money was rushing into the over 1,400 crypto currencies that were out in the market.  Alt-coins, those like Ethereum and Litecoin started growing dramatically as well.  However the market is proving to be extremely volatile.  This week alone the market cap has seen over $100 billion evaporate.
So with this new found interest there is obviously a lot of huckster rushing in to capitalize in the mania.  But the crypto market is different from say a publicly traded company  If this is a new form of "money" what are some common characteristics of money?
-Durability

-Portability

-Divisibility

-Uniformity

-Limited supply

-Acceptability
Now some of these apply to crypto currencies.  For example, they are portable and divisible.  However, there is clearly no uniformity right now.  Which currency dominates?  Who is taking the currency?  Where is it being used?  Some of the coins like Bitcoin are in limited supply.  But others are not.  With 1,400+ digital coins out there, we still don't have a standard like say the US Dollar or Euro.
Now many in the crypto world felt they were going to skirt governments.  But of course, like any profits you need to pay taxes.  The IRS has made this clear:
"(Forbes) As the number and variety of cryptocurrencies on the market continue to grow, so does the scrutiny by government regulators.  As noted in my prior post, the Federal Bureau of Investigation, Securities and Exchange Commission, and the Commodities Futures Trading Commission have developed units focused on cyber-threats, as have numerous foreign governments.  Most recently, the Internal Revenue Service has joined the mix by investigating the ways in which taxpayers do – and more importantly, do not – report virtual currency transactions.  Now Congress has gotten in on the action by amending the tax code to close a loophole that allowed cryptocurrency owners to exchange digital currencies without reporting the transactions on their tax returns.  2018 is likely to be a year of uncertainty for owners of cryptocurrencies, which may account in part for the double digit decline in the value of Bitcoins at the end of December."
In other words, you are going to pay on those gains.  Also, there does seem to be a mania in even trying to figure out what this actually is.  Look at the hottest Subreddits now: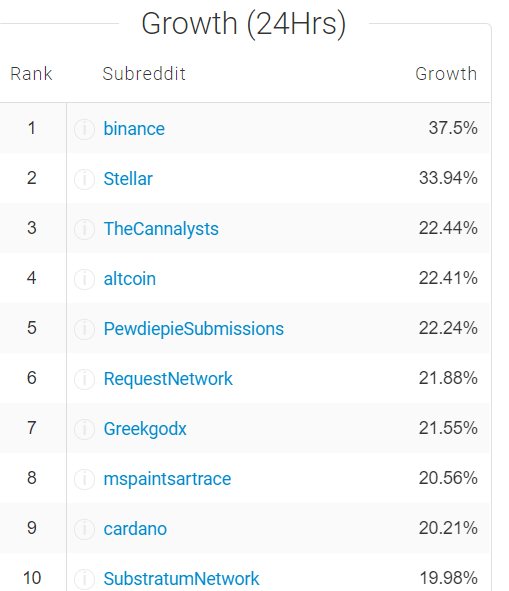 Most of these are dealing with crypto currencies and altcoins.  In other words, most people are buying and have no clue what they are buying and also don't understand the underlying technology of blockchain that is governing this market.
I do believe we will have crypto currencies in our future.  Right now this is the wild west like the dot com boom of the 1990s.  There will be companies that change our world but how many of the 1,400+ coins will be around in a few years?  That is the big bet.

If you enjoyed this post click here to subscribe to a complete feed and stay up to date with today's challenging market!