Federal Reserve slaps on financial rocket boosters but who will benefit? Half of Americans spend more than they make and household incomes fall back to levels last seen in 1995.
The Federal Reserve announced the sequel to the sequel on Thursday with Quantitative Easing 3.  After all, if something didn't work the first time might as well rinse and repeat.  The markets are rallying yet what has come from the QEI, QEII, TALF, TARP, and all of those other backdoor bailouts?  What has resulted is that we now have the highest poverty rate in a generation and US households have seen their household income fall back to levels last seen in 1995.  Is this the solution?  Who really benefits from these negative interest rates?  The Fed had a hand in engineering the biggest real estate bubble we have ever witnessed and is now trying to allow banks off the hook by pushing rates so low that inflated prices appear lower simply because of the monthly payment.  The middle class in the US has declined substantially since the 1970s and many failed to even acknowledge the reality that the national debt passed the $16 trillion mark.  The solution?  More debt and lower interest rates.
Debt growing much faster than GDP
Total public debt is growing at a much higher rate than GDP: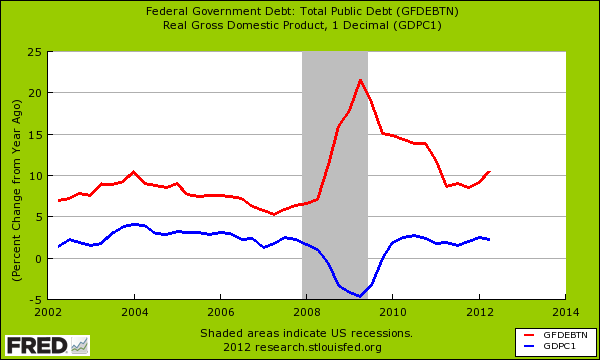 You'll notice that the growth rate of GDP has stalled out while national debt is picking up once again.  What are the long-term repercussions of this?  We really don't need to imagine since we are witnessing the changes through:
"Median household income was $50,054 in 2011, a 1.5 percent decline in real terms from 2010. This was the second consecutive annual decline in household income.  Back to 1995 levels."
Income has fallen back to levels last seen in 1995.  This is why Americans feel pinched.  Groceries are more expensive, fuel is more expensive, young Americans are going into massive debt for college, and soaring healthcare costs are all certainly real examples of how the standard of living is declining for many.
"In 2011, real median household income was 8.1 percent lower than in 2007, the year before the most recent recession, and was 8.9 percent lower than the median household income peak that occurred in 1999."
So what is really going on here?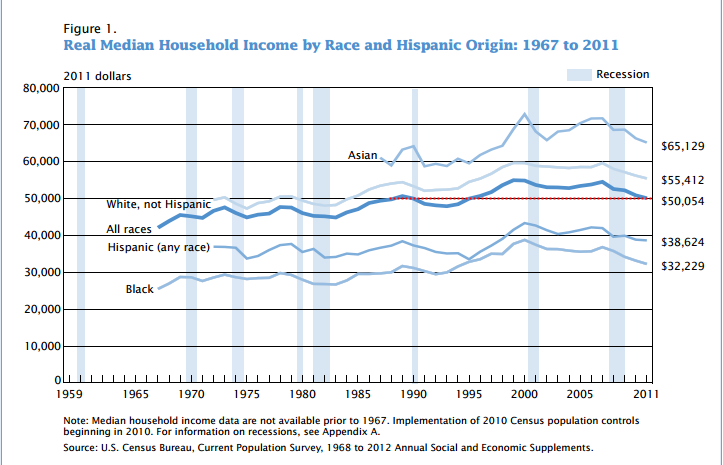 Lower interest rates and QE3 are really a method of boosting the financial sector and helping out banks.  The stock market is soaring on this news but most Americans do not live via stocks.  In fact, many Americans have seen their net worth fall by nearly 40 percent since the recession started.  Many have it even worse:
 "During the 2-year period from 2009 to 2010, approximately 28.0 percent of the population had at least one spell of poverty lasting 2 or more months."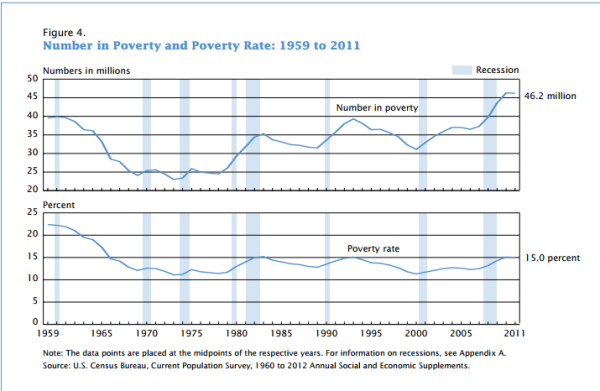 This is the highest rate of poverty in a generation.  The Fed has been in this bailout process since 2007.  Who is really coming out ahead here?  Unfortunately most of the actions taken by the Fed are focused on boosting the bottom line of their member banks.  Many are investing overseas and creating an economy that is driven by low-wage capitalism domestically.  These bailouts and programs do have a cost.  You are paying for it via stagflation in many of the stated items and the declining standard of living.  Just look at your budget and income and see if you are better off.
Even with the stock market, many retail investors have been driven out and equity volume is low: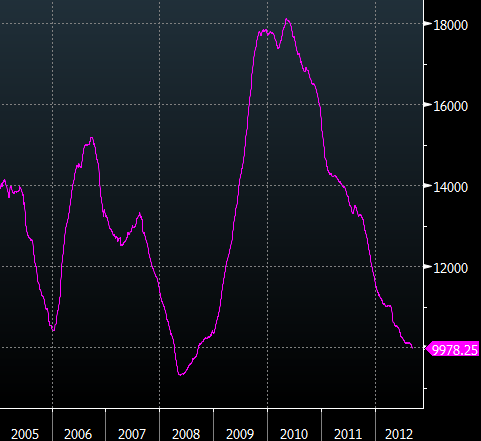 Why is this the case?  Many Americans are broke or spend everything they get:
"(HP) About half of 3,000 Americans polled in a recent survey said that they're spending more than they earn at least a few months each year. However, just 10 percent said they were living beyond their means, according to the survey by Rasmussen Reports for Country Financial released on Tuesday."
It appears that half the country is taking their advice from the Fed and banks.  That is, spend everything you got and for the rest go into debt.  Solving a debt crisis with more debt is unlikely to yield solid results.  Half a decade of results are already in and we continue down the same path expecting what?

If you enjoyed this post click here to subscribe to a complete feed and stay up to date with today's challenging market!