The gambling economy – Nevada GDP contracted 6.4 percent during the crisis. A state where 1 out of 4 people is unemployed or underemployed. States trying to balance budgets with gambling and casinos.
Nevada has really taken a hard hit from the current recession.  Most Americans at some level have felt the repercussions of the current financial crisis but Nevada has felt the pangs of the crisis much deeper.  Nevada now holds the highest unemployment rate of any state in the country.  Nevada's GDP is $131 billion with approximately $97 billion coming from the Las Vegas area.  Where Vegas goes so goes Nevada.  Las Vegas is also facing major challenges from the commercial real estate debacle.  Gambling revenues that depend on an economy with healthy discretionary spending have taken large hits and many of the commercial developments made large bets on continued growth.  That proposed growth has not come to fruition and unlike a stock that can plunge to zero, it is hard to undo a large condo project with very little buyer interest.  Whereas some areas of the economy might recover sooner, areas that depended heavily on real estate and leisure spending are falling on difficult times.
Nevada has contracted the most in terms of GDP from all US states: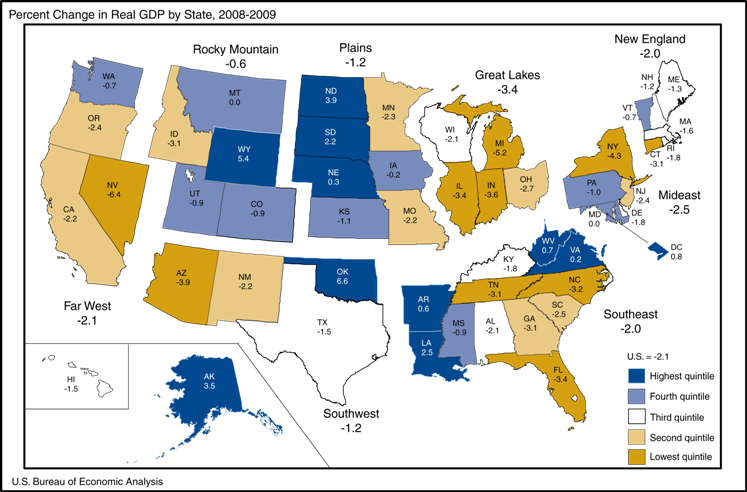 Source:  BEA
The above chart really highlights the magnitude of the contraction in Nevada.  Even a state like California that has fallen down on incredibly hard times saw GDP contract by 2.2 percent from 2008 to 2009.  Nevada contracted during this time by a stunning 6.4 percent.  The only other state that comes close to this level of economic malaise is Michigan.  Nevada depends heavily on neighboring states especially traffic from California.  When the economy slowed down so did the amount spent in Las Vegas.  Take a look at the amount of money gambled according to data provided from the state: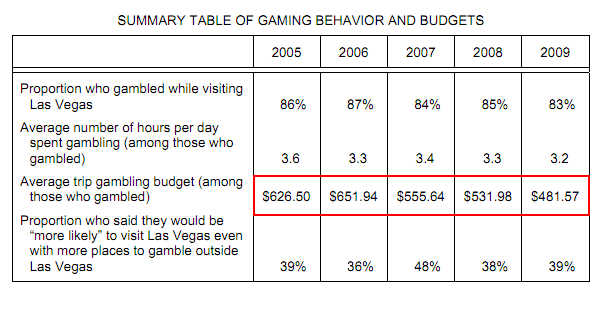 In 2006 those who gambled in Las Vegas played on average $651.  In 2009 this number fell to $481.  In a relatively short amount of time the average amount of money gambled fell by 26 percent.  For a city that is completely dependent on splurging money this did not bode well for the state economy.  As a result Nevada has been shedding jobs at a feverish pitch: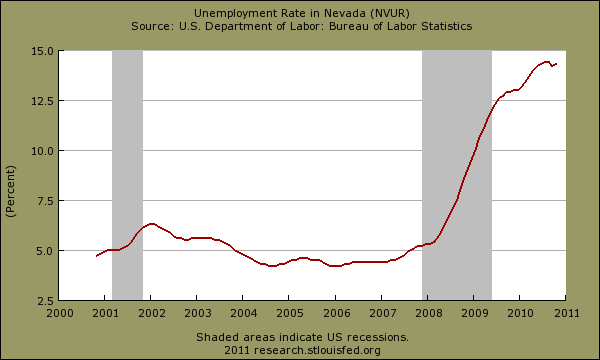 Nevada has a headline unemployment rate of 14.3 percent which puts the unemployment and underemployment rate at above 25 percent.  It is hard to believe that we are dealing with states that have underemployment rates of 25 percent all the while talking about a healthy economy.  The stock market has recovered incredibly since the lows of 2009 yet this has not translated to financial growth for average Americans.
Nevada's housing market has subsequently been hit the hardest as well: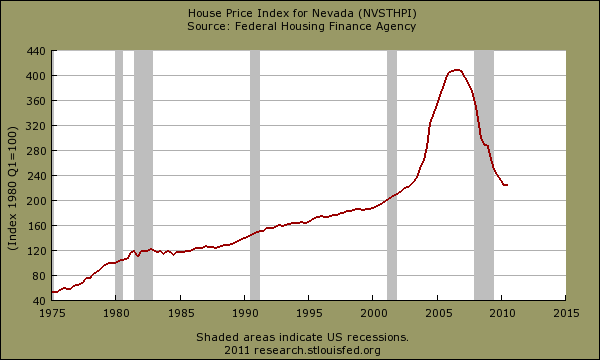 Las Vegas has the highest foreclosures per capita of any region in the country.  The above chart shows that when booms go to busts prices usually come down hard and fast.  Real estate in Las Vegas was built and was predicated on a model of continual growth.  Yet if we look at total gaming revenues for the last few years a solid contraction has occurred: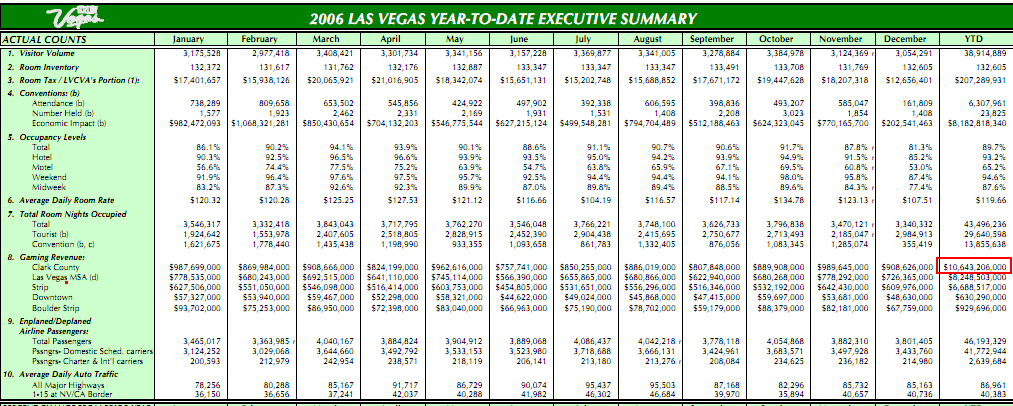 $10.6 billion in gaming revenue was brought in to the Las Vegas area in 2006.  In 2009 this dropped to $8.8 billion.  For 2010 the data is tracking close to that of 2009.  Nevada is facing severe challenges ahead and many of the nation's largest banks are holding onto loans that are backed by commercial real estate in Las Vegas.  What is the likelihood that prices will reach their apex any time soon?  Banks have suspended mark to market valuations and are basically making money in other arenas speculating in the stock markets not only domestically but globally and are trying to build enough gambling revenues to sweep the commercial real estate problems under the rug.  The problem of course is this is only able to happen thanks to taxpayer bailouts and financial chicanery.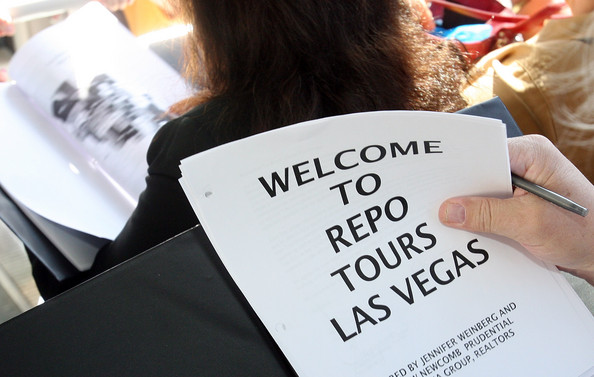 Source:  Zimbio
Is the above picture recent?  If you consider April 2008 recent then it is.  The problems for Nevada have been going on for a few years now.  The economic engine came to a grinding halt in 2007 and nothing has really changed since that time except that instead of gambling money in Las Vegas money is now being gambled on Wall Street.  Even the recent jobs report showed a decline in the unemployment rate not necessarily because massive jobs were added but because 260,000 people simply gave up or stopped looking for work.  You have much more transparency on the Vegas Strip than you do on Wall Street.
Other states have used gambling revenues to fill their wallets: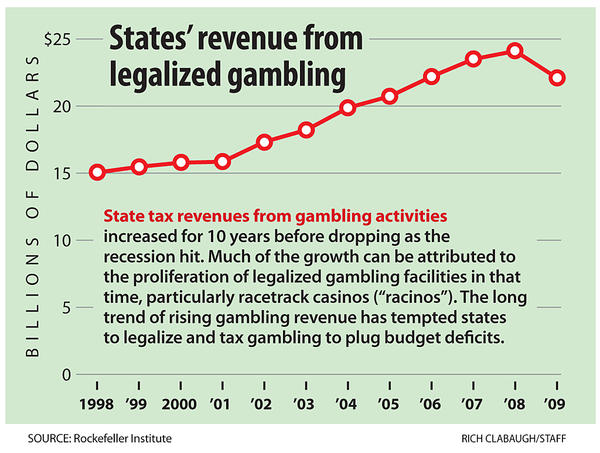 Source:  CS Monitor
Is this really a way to balance a state budget?  We already talked about the fact that 50 percent of working adults make $25,000 a year or less.  Is this necessarily good that people are spending their money via gambling?  I realize that gambling is as old as time but should states rely on casinos as a source to balance their budgets?  That is a question many should think about.
Ultimately Nevada has years of challenges ahead.  A big part of their revenue stream comes from California residents and if you even pay one minute of attention to nationwide issues you will know that California is in deep trouble like many other states.  60 Minutes had a recent episode talking about how some states are turning to gambling to plug budget deficits.  It has gotten to the point where taking money from people that have very little to begin with is now a strategy to balance budgets.  What we really need is sustained job growth in fields that allow Americans to have a path to a middle class lifestyle.  Nevada went from boom to bust in a matter of a few years.  What industry is going to pick up the slack?

If you enjoyed this post click here to subscribe to a complete feed and stay up to date with today's challenging market!