Lining up at Midnight at Wal-Mart to buy Food is part of the new Recovery. Banks offering Mattress Interest Rates. The Invisible Recovery Outside of Wall Street.
There seems to be a growing divide in the current U.S. economy.  On the one hand, you have the financial sector swimming in their bailout-induced profits like a modern day Scrooge Mcduck.  In their circles, it appears as if the recession is over.  On the other hand, you have average Americans seeing access to credit cards shut down, equity in their homes vanishing, and their stock portfolios looking a little too much like 1999.  Then you have 35.8 million Americans, roughly 11 percent of our population, on food stamps.  To this group the recession is still very much alive.
At a recent Alliance for Family Entertainment of the Association of National Advertisers, Wal-Mart gave a sobering look at the current economy:
"(NY Times) There are families not eating at the end of the month," said Stephen Quinn, executive vice president and chief marketing officer at Wal-Mart Stores, and "literally lining up at midnight" at Wal-Mart stores waiting to buy food when paychecks or government checks land in their accounts."
Now this is important since Wal-Mart is in every corner of every American metro area: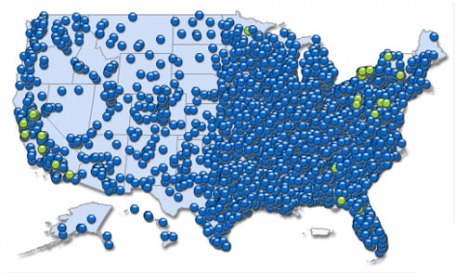 The fact that you have people lining up at midnight just waiting to have their paychecks or government checks clear for food is probably something you are not going to see on CNBC but it is happening.  This recession is really creating a split and is also flaming the fires of class warfare.  Average Americans and working class Americans are still dealing with what is known as the Great Recession.
Wal-Mart is looking to meet the new market reality by offering items that meet the new austerity demanded by millions of American families:
"Among the steps Wal-Mart is taking to address the changes in shopping habits, Mr. Quinn listed an overhaul of the retailer's private-label brand, Great Value, which is promoted in commercials describing how families can fix dinners with Great Value products "for less than $2 a serving."
For less than $2 a serving means millions of families are now needing to stretch their dollar.  So as you might have guessed, having the U.S. Treasury and Federal Reserve go on a path of dollar weakness actually hurts those at the bottom and middle class the most.  Yet they are concerned more about the financial sector and the chips may fall where they may for the remaining group of Americans.
Punishing the Prudent Saver
Those that save and are cautious with their money, are now being forced to make difficult decisions.  Even holding on to U.S. dollars is not a good move with the way the Fed is systematically devaluing the dollar. The Fed is artificially keeping rates at record lows so putting your money in a savings account amounts to stuffing it into your mattress.  Take a look at three of the too big to fail (TBTF) banks and their savings rates:



All you are doing is giving them your money to hold.  That is it.  A 0.1 or 0.05 annual interest rate is laughable.  Even if we have 0 percent inflation, the U.S. dollar is now down by nearly 20 percent since the March levels.  You have lost money.  Unless, you placed your money into the casino known as Wall Street.  The stock markets are now up by 60 percent since the March lows even though P/E ratios are at historic levels and unemployment is now up to 17.5 percent using the U-6 rate.  Most of the recent gains are based on cost cutting (aka layoffs) and restocking of inventory.  Basically we are seeing companies slim down and using one time gains to capitalize in the current marketplace.
If you doubt this, just take a look at the stunning 9.5 percent growth in worker productivity in Q3: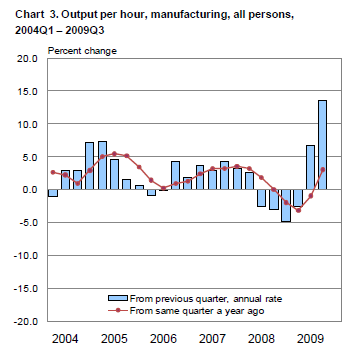 The above can be summarized as doing more with less.  Yet this is somehow good news for the average American?  Those that are prudent are left with very few places to protect their money.  Do they invest in the stock market even though earnings do not justify current lofty prices?  Do they put their money in the bank and allow the devaluation of the U.S. dollar eat their purchasing power away?  There are few places to go.
But even with these pathetically low rates at banks, deposit accounts are the only sector that has seen steady growth in the last few years: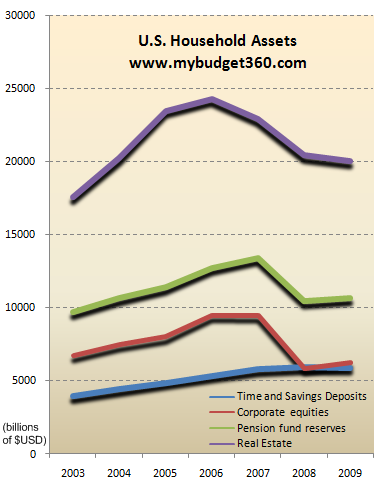 Every other major asset class from real estate, equities, to pension reserves has fallen.  Yet savings deposits have steadily increased.  A largely unspoken trend is out there and many people are basically protecting their money at all cost and believe cash is king, even if the cash is slowly being devalued by the U.S. Treasury and Federal Reserve.
There is little reason to believe that the dollar is going to spike significantly over the long run.  We simply have too much debt: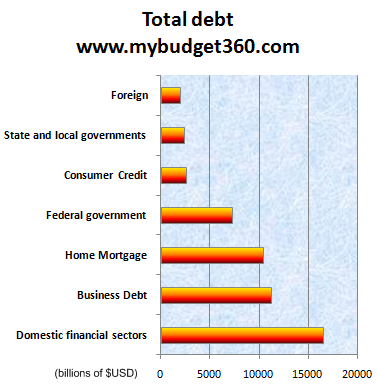 Add up the above and you arrive at $52 trillion in debt.  Home mortgages are $10.3 trillion of this amount.  State and local governments struggling with tax revenues have $2.3 trillion in debt.  Add in unfunded Social Security and Medicare liabilities and you can see why we are entering a perfect storm.
Summary
The financially prudent have taken it on the chin with the current bailouts.  The working and middle class Americans are largely caught bailing out the wealthy financial class while confronting the realities that the bailouts were largely designed to protect the banking sector.  Corporate equities and mutual funds have taken major hits in this crisis but the wealthier bond holders have faced minimal cuts.  Examples like AIG paying out to Goldman Sachs only reinforce this horrendous transfer of wealth.  Until the majority of Americans demand action and take to the streets, this pseudo-recovery is going to go on for years until finally Americans wake up and realize that they have given all their wealth to the banks.

If you enjoyed this post click here to subscribe to a complete feed and stay up to date with today's challenging market!