Myth Busted: Being Owned By the Ownership Society in California: How Housing and Credit Came Crashing Down.
In 2003 President Bush talked about an ownership society to encourage the American public to take personal responsibility for their own actions and success. This was the rallying cry for the major tax cuts that were being pushed onto the American scene supposedly to bolster economic growth. The plan itself seemed to be working for a few years since homeownership rates were going through the roof and it seemed that all was well. However, the underbelly of that boom was that America in a decade long bubble through deficit spending, was only forestalling a time when all would come crashing down.
In 2004 the Whitehouse came out with a detailed plan elaborating on this ownership society vision. Here is the fact sheet:
"Expanding Homeownership. The President believes that homeownership is the cornerstone of America's vibrant communities and benefits individual families by building stability and long-term financial security. In June 2002, President Bush issued America's Homeownership Challenge to the real estate and mortgage finance industries to encourage them to join the effort to close the gap that exists between the homeownership rates of minorities and non-minorities. The President also announced the goal of increasing the number of minority homeowners by at least 5.5 million families before the end of the decade. Under his leadership, the overall
U.S. homeownership rate in the second quarter of 2004 was at an all time high of 69.2 percent. Minority homeownership set a new record of 51 percent in the second quarter, up 0.2 percentage point from the first quarter and up 2.1 percentage points from a year ago. President Bush's initiative to dismantle the barriers to homeownership includes…"
The homeownership rate now stands at 67.8 percent, a number that hasn't been seen since 2002 before any ownership society speech was made. The problem with this ownership society isn't necessarily the overall gist or philosophy but how it was approached. Let us take a look at how this played out in California: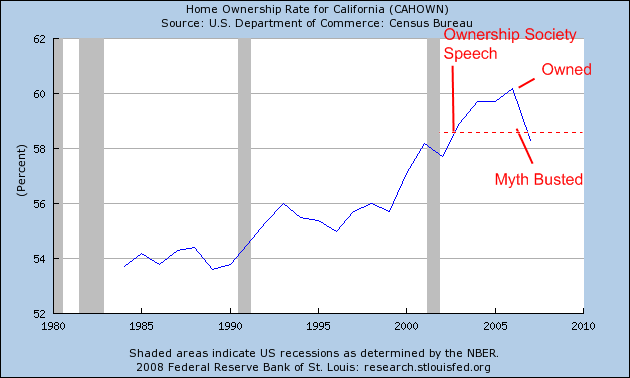 Clearly California the epicenter of this housing bubble took the words of a ownership society to heart. Yet the ownership society wasn't built prudently or carefully; it was fueled at all cost with the most debt ridden bubble we have ever witnessed. How do we know this? Let us look at the debt of the household sector: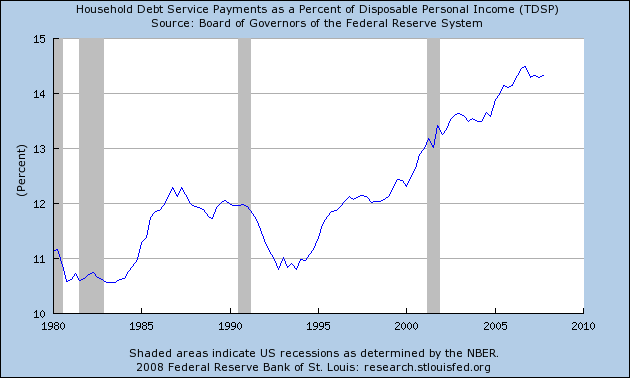 What unfortunately occurred is that under the guise of wealth via artifacts of money such as big homes and cars, all these items were fueled by the dwindling balance sheets of the American consumer. At a certain point debt became too big and had to correct. The problem with the ideals being pushed was that they failed to elaborate how to create a sustainable ownership society. That is, how can people increase productivity, save, and own a part of the American economy without sacrificing the future. This bubble was fueled with very little increases in personal wages yet ballooned as if people suddenly became ten times richer overnight simply because credit was being lent to everyone.
This idea was pushed to the extreme where by some estimates, homeowners in California used home equity lines to finance automobile purchases. The New York Times reports that the auto industry is now feeling the pinch from the housing market:
"The auto industry is getting sideswiped by the housing crisis.
Auto lenders and banks, closing their wallets, have prevented hundreds of thousands of consumers from obtaining the financing for a car. Home equity loans, which had been used in at least one of every nine deals, when lenders were more generous, are no longer a source of easy money for many prospective buyers. And used-car prices have fallen nearly 6 percent as repossessed cars and gas-guzzling trucks and S.U.V.'s flood auction lots."
And of course, the rise in fuel hasn't helped either. The American auto industry unfortunately aligned itself too much with V8+ cars that simply cannot survive in a $100+ a barrel oil market. Take a look at the quick shock here: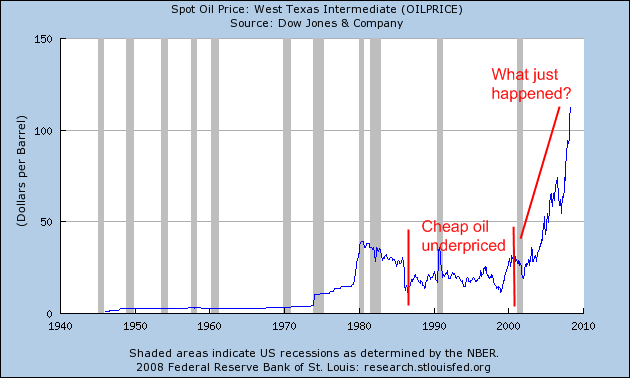 This was a massive shock yet partly a consequence of the ownership society. People bought bigger homes. Felt they needed gigantic cars that sucked oil. The Federal Reserve to keep people spending when incomes weren't rising, kept flooding the market with liquidity practically allowing banks to make loans to anyone. Well now that party is over. The dollar is hurting and the piper now must be paid. Oil is rising for a variety of reasons including speculation but also since it is priced largely in dollars, a declining dollar will make it more expensive for any American to pay for fuel. World demand is also outstripping refining capacity so it is a matter of basic economics.
The ownership society had no sustainability behind it. It was a quick fix. A sort of go to Vegas and blow $20,000 in one night and have a hangover for the next few days. It was fun while it lasted but was in no way going to last very long.

If you enjoyed this post click here to subscribe to a complete feed and stay up to date with today's challenging market!