Starting life in the negative net worth column. What the Fed does not want you to know about American net worth figures.
The reports on American wealth from the Federal Reserve and U.S. Census did not get the press they deserved.  You would think that an overall decline of 40 percent for household net worth would get the attention of the press but that might throw a wrench into the consumption machine that they are promoting.  Up until the housing bubble burst, practically every other commercial was financed by real estate firms and banking institutions.  Once that money dried up it was as if nothing happened.  This ability to ignore crucial figures is partly to blame for our slowly evaporating middle class.  It seems people are more comfortable losing this little by little versus questioning the bigger aspects of the system.  The Fed and Census reports only go up to the end of 2010.  Yet if we were to go further we would realize that the typical net worth of Americans has fallen even more while a very tiny minority has been increasing their wealth at a steady clip.
Taking the net worth study out to the current day
The bottom 90 percent of Americans saw their income and wealth decline since the recession hit: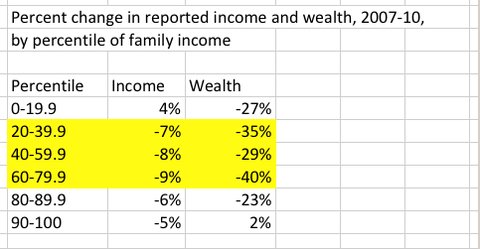 Source:  Economix Blog
These figures are actually far worse.  We could breakdown the top 10 percent and would likely find that most of the gains were aggregated in the hands of probably one percent of the population (a continuation of a multi-decade long trend).  This isn't an opinion but fact.  It is one thing when the entire economy is growing together but what is happening is the following:
-1.  Majority of Americans are subsidizing bailouts to the elite and politically connected

-2.  Failure of financial institutions is rewarded over prudence

-3.  Low-wage capitalism has improved the bottom line of many companies

-4.  Fierce austerity for 90 percent of the US while a small group has social welfare connections (i.e., the FIRE sector of the economy)

-5.  Most Americans derive the large part of their wealth in housing while the top derive their money from stocks and bonds
If we look at data after the net worth studies, we find that many Americans are even poorer from the dramatic 40 percent drop: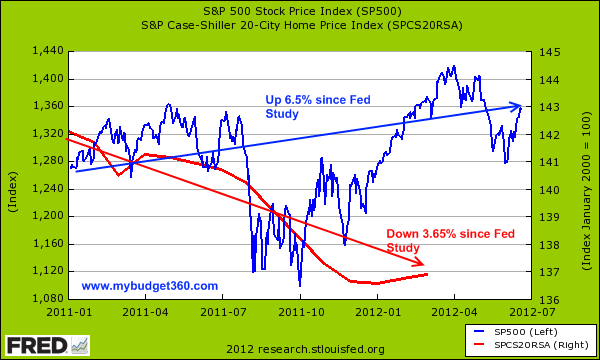 While the stock market is up roughly 6 percent housing values have fallen by more than 3 percent from the point of the Fed and Census study.  That is, Americans have likely seen even a bigger cut to their net worth figure.
Inflation is eating away at that paycheck while younger Americans are facing an incredibly expensive higher education machine: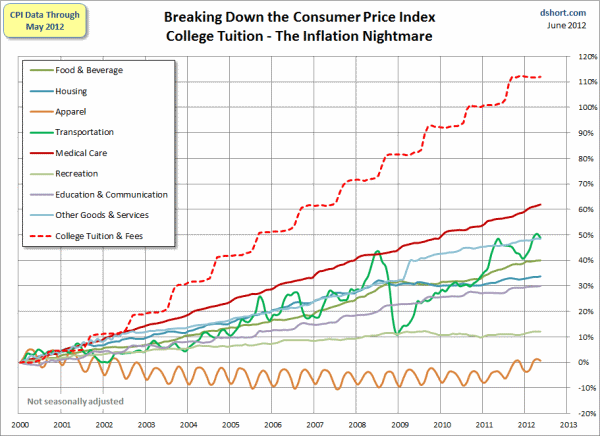 Source:  Dshort.com
From 2000 onward the cost of college tuition and fees has basically disconnected from any underlying sensible metric.  The large thing fueling this insanity is the access to crazy levels of student debt.  Income over this last decade has gone absolutely nowhere so people are simply funding this spending with debt.  This is likely to hurt net worth figures even more.  Think about this.  A student graduates with $50,000 in debt and no savings, a very likely scenario.  Right off the bat, this person is in a negative net worth situation and by the facts showing nearly $1 trillion in student debt (and growing) many are in this spot.
Is it any wonder why we don't have better month to month data on household net worth?  Then again, a 40 percent drop in median net worth didn't get much attention in the media and talk of protecting the middle class does not seem to be on the agenda of any political party.

If you enjoyed this post click here to subscribe to a complete feed and stay up to date with today's challenging market!