Part-time America: How we increased our part-time for economic reasons workforce by 4 million people since the recession began. Healthcare costs encourage low wage employers to hire more part-time employees.
The rise of part-time employment in the United States is part of the low wage system that is spreading throughout the country.  Part-time workers are cheaper to hire and easier to fire.  You also avoid paying benefits from a healthcare system that is seeing skyrocketing costs.  Prior to the economic crisis, the number of Americans working "part-time for economic reasons" was roughly at 4 million.  Today, in this supposed recovery it is up to 8 million.  While the stock market is taking off many companies have figured out that it is cheaper to have a large number of at-will workers instead of bringing on full-time employees and providing additional costs.  As we have discussed, the recession has been used as a cover to slash middle class wages and inflate profits that have filtered to a very small portion of our population.  Part of this problem is structural and we are seeing the impact of higher healthcare costs hitting the employment market.
Part-time America
The number of Americans working part-time is still near a peak level: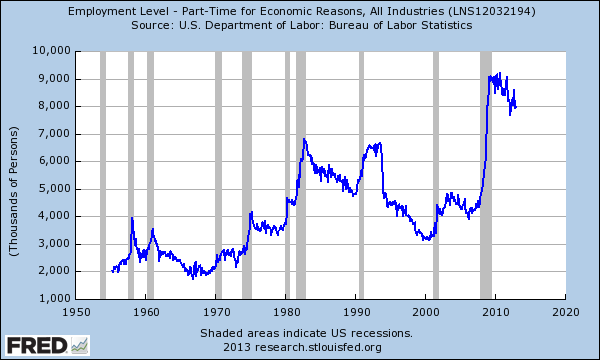 The recession caused this figure to jump by over 100 percent and it has largely not fallen back down.  Combine this with the vast number of Americans on food stamps, over 47 million and you start seeing the growing ranks of the permanent poor.  These changes of course are hitting many lower wage service sector workers:
"(WSJ) Some low-wage employers are moving toward hiring part-time workers instead of full-time ones to mitigate the health-care overhaul's requirement that large companies provide health insurance for full-time workers or pay a fee."
Keep cutting costs to increase the bottom line.  Take a look at how much more medical care costs have soared compared to the overall CPI: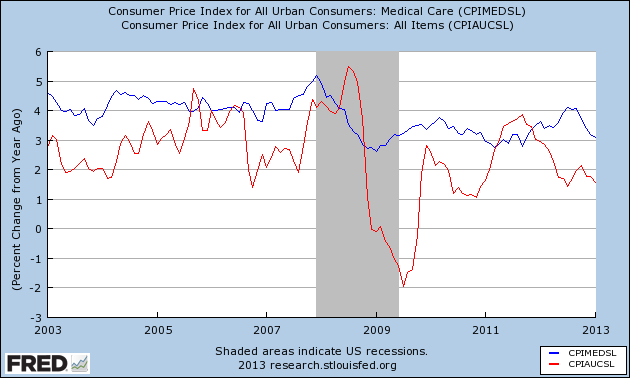 So of course when employers examine lower waged service sector workers they are very likely to balk when it comes to paying the high cost of healthcare premiums.  Let the government (aka society) cover these high bills.  The margins are squeezed when this occurs and since we are hollowing out the middle class, we are starting to get a preview of what our economy will look like.  Our economy will have a top quintile of highly paid professionals, a larger class working poor, and a shrinking middle class.
You have to examine the above chart carefully and see how consistent the gains in medical care costs have become.  Costs in the medical field are so outrageous that a one day stay in the emergency room can cost you up to $10,000:
"(HP) We have followed the health care debate over the past few years and, as a result, know that ER visits are expensive, so we figured my wife's visit would cost, oh, $2,000 or so. Well folks, we "mis-underestimated" the cost by a factor of five. I just received the bill from our insurance company and the grand total was $10,203 (or about $2,000 an hour). I called the hospital and received an itemized statement. Most of what was done was incomprehensible to me (I'm not that kind of doc!): CMP Pane ($510), Level 4 ($715), but an Internet search helped explain things a bit."
Think about the impact of something like this on the median household income that pulls in $50,000 a year, gross.  The outrageous costs in healthcare are completely unsustainable.  But here we are with subsidies to housing, colleges, and healthcare with no checks and balances so it is no surprise that prices are completely disconnected from actual incomes.
The growth of part-time employment stems from not only the avoidance of covering medical insurance but also the ability to cut workers at will.  The Fed has followed a similar path to the Bank of Japan and it is no surprise that Japan now has an incredibly large part-time workforce.  It doesn't seem like the press is concerned with the disappearance of the middle class but obviously the millions that are being thrown into the working poor will be.     

If you enjoyed this post click here to subscribe to a complete feed and stay up to date with today's challenging market!