The near extinct pension – US pensions aggressively invest in equities relative to other countries to make up for shortfalls.
The pension is nearly extinct.  Overly optimistic returns left many pension plans practically insolvent and not ready to adapt to a low yield environment.  The benefit of pensions however is that it forced people to save over time for retirement.  What we have learned via the 401k is that when left to their own devices, people simply are not good at planning for the future especially when it comes to retirement.  So now, a full generation into this experiment we are left with many older Americans fully relying on Social Security as their main source of income.  That was never the intended use of that program.  When we look at US pension plans we realize that they are aggressively betting on equities to make up for the larger returns needed to payout retirees.  It might seem that the stock market only goes up over the last few years but as we all know, tides do shift.
The US pension plan
Relative to other countries US pensions aggressively invest in equities.  The purpose of this is to chase higher yields since many plans are based on unrealistic 7, 8, or even 9 percent annual returns.  This is what is expected to meet beneficiary payout expectations.  That is simply unrealistic in this low yield environment.
Pensions in the US are heavily invested into equities: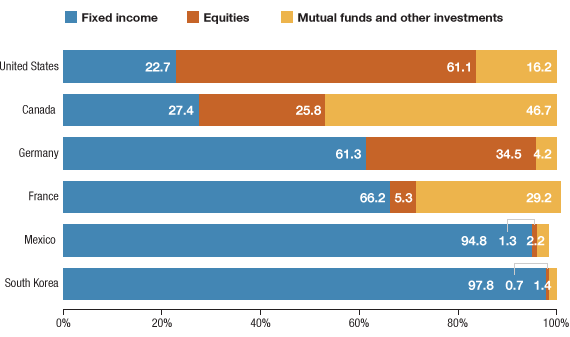 While other countries are more cautious in investing retiree money, the US has the largest portion of funds in equities.  Over the last seven years this has been fine but what happens when things inevitably correct?  The 401k has been largely a disaster for the average working American.  Of course you have many that did well but the point of a program say like Social Security is that a basic amount is there when you retire.  Right now, many people are left with nothing and some are doing okay.  That is why half of retirees are going to rely on Social Security as their primary source of income.
We can debate the above merits of pensions but the reality is the pension, or the defined benefit plan is going extinct.  Only a small portion of the population now gets access to a pension whereas one generation ago this was the most popular option.
Also, most of those on pensions are going to have to adjust expectations because payouts are unlikely to be full based on overly optimistic projection: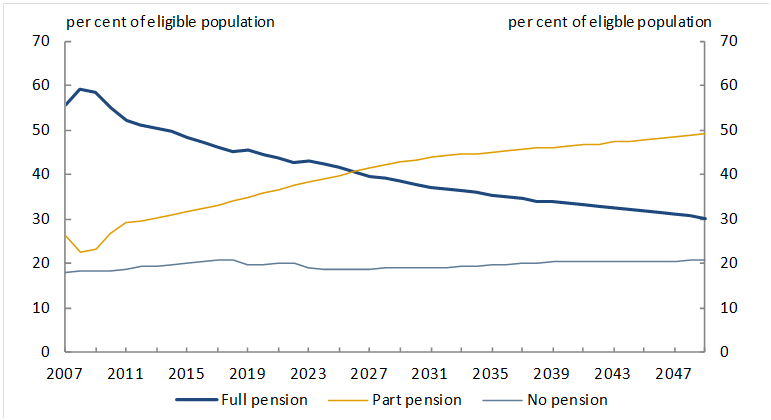 We already see those receiving full pensions falling and those on partial pensions jumping.  In reality the market returns needed to generate full payouts is going to be difficult to achieve.  People have already forgotten the 2007 to 2009 period and how quickly that can shift expectations.
Memories are short when it comes to recessions.  Part of it has to do with the way we are wired.  We are wired to look forward simply by our biology.  So this is good when it comes to going for a hunt and missing out on that deer.  You need to be optimistic you will get it next time.  But when it comes to learning about financial history, this can hurt us.  Just look at casinos.  Most think they are going to be the lucky "one" that is going to be a big winner even though they lost in their last trip.  They don't build casinos on losses.
So existing US pension plans are heavily invested in stocks.  I'm sure we are now in a new normal world and we are done with recessions forever.

If you enjoyed this post click here to subscribe to a complete feed and stay up to date with today's challenging market!