Phoenix real estate market being held up by all cash buyers – 47 percent of Phoenix sales were from all cash buyers in December. The $1 priced Detroit home.
The Phoenix real estate market has collapsed after reaching a price apex in 2006.  It is hard to imagine another market with similar real estate fundamentals but Las Vegas is a mirror image of foreclosure ridden Phoenix.  These desert cities rose up during the housing bubble with plentiful and cheap land to expand on.  Builders were able to build at a feverish pitch with the sound of jack hammers cranking and skeletal frames of model homes for as far as the eye could see since demand for easy loans and second homes were pushing many of these markets upward.  Las Vegas and Phoenix had enormous demand from eager wide-eyed California investors.  It is hard to pinpoint exact figures but at one point over 40 percent of purchases in Las Vegas were estimated to come from California buyers.  Home sales for these regions have perked up but anything looks higher when you are bouncing off the financial ground.  Yet I believe something else is going on here.  Many sidelined investors are now jumping into the market head first since they are merely reacting to lower prices.  Yet many are not thinking about longer term fundamentals like rising oil costs that will likely stifle many of these desert communities.  All that is being seen right now is insanely low prices that haven't been on the radar for over a decade.  To show investor demand let us look at all cash purchases for Phoenix in the last month.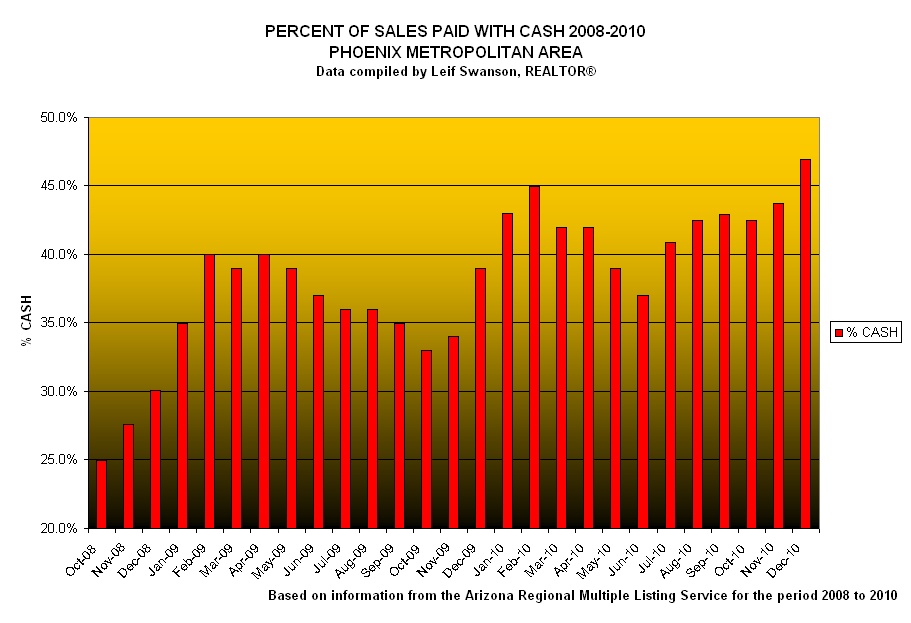 Source:  Leif Swanson
This shows rampant speculation but not like the kind we saw with maximum leverage through mortgages.  Keep in mind these are all cash purchases.  Last month nearly half of all homes bought in Phoenix came from all cash buyers.
"Could it be that all these people are buying simply to move into a place and live with no mortgage?  That is unlikely.  42 percent of all the purchases came from absentee buyers or people outside of the area."
What is more likely is that investors are running their numbers and thinking that these markets will be healthy for cash flow rentals.  But you have to remember that anything can cash flow when you go all in.  What this shows is that the crash in prices is pulling people off the sidelines.  If we look at how deep prices have been cut it becomes apparent: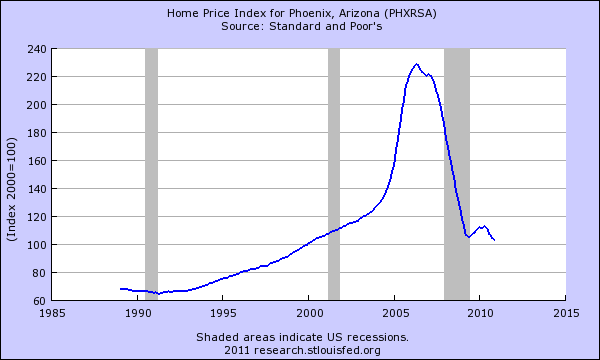 Home prices in Phoenix are off from their 2006 peak by 54 percent.  In fact you would have to go back to 2000 to find prices this low.  Yet low prices do not signify a good deal.  I keep thinking about the vast number of homes in Michigan selling for a month of rent: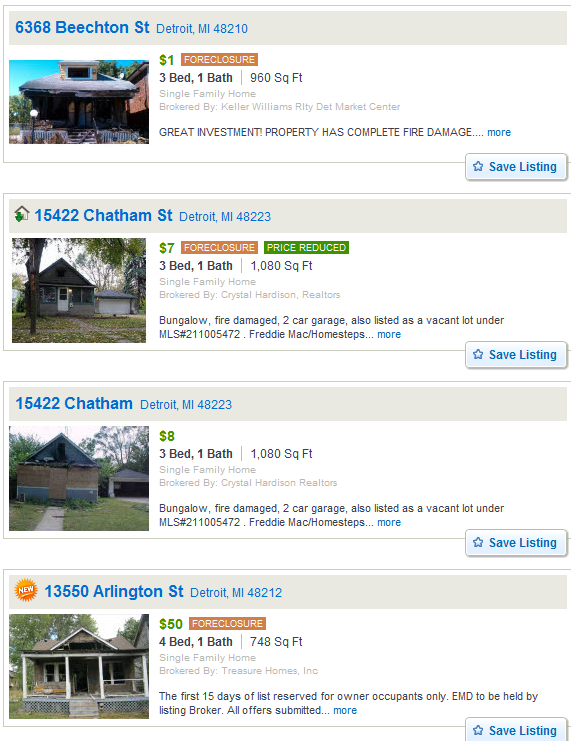 Anyone looking to buy a home for $1?  You have to ask why prices are low to begin with just like many should have asked why prices kept going up as they did.  Prices tanked in Arizona and Nevada because a large portion of the buying pool was generated from speculation.  Many of these investors are looking at the properties and day dreaming about easy rental income for years to come.  In fact, many of these areas will see shrinking populations because they face record unemployment and short of fuel going down, higher cost of living because of this.  A large part of their booming industry was due to the actual housing bubble.  So remove the housing bubble and you are left with an area that should look like 1999.
Look at the unemployment rate in Phoenix: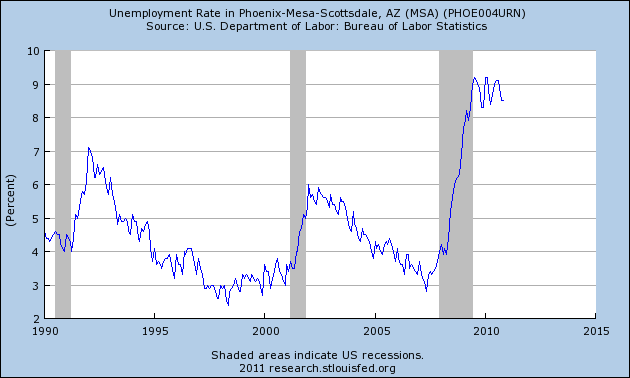 The unemployment rate is 8.5 percent which on the surface may look good but many industries in the market pay lower wages which can depress what people are able to afford.  Housing prices should reflect local market incomes.  As Americans tighten their belt, you have to realize that demand for many things will go down, including housing.
Here is an analysis of the market in Phoenix:
MLS listed homes                            9,094

Rentals                                                 1,154

Properties in foreclosure             18,913
These are signs of a very weak market.  Properties in foreclosure out number MLS listed homes on a scale of 2-to-1.  Some places are renting for low prices like $250: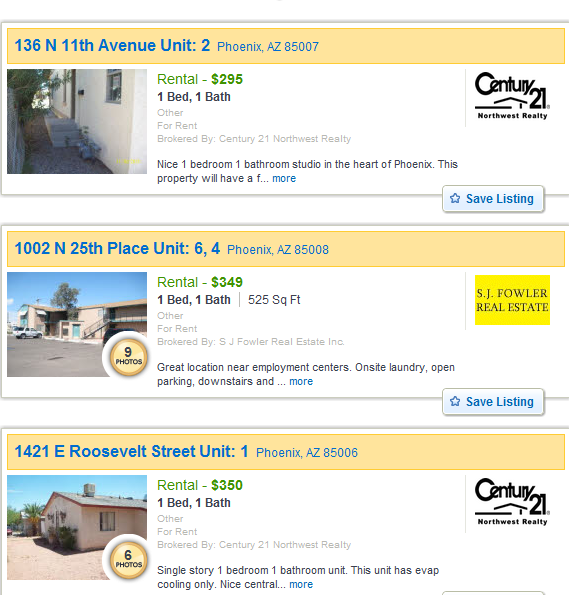 Now what many investors do not calculate is outside factors like tenants destroying your carpet or having to clean the house for new tenants.  Use the $250 rental above.  After one year you have pulled in a gross of $3,000 (assuming it remains rented the entire time).  But the carpet might be shot ($1,000 on the lower end) and you might need to clean the place professionally (another $1,000).  What about taxes?  In the end, you might be pulling in a few hundred extra dollars with additional headaches.  Those 47 percent all cash buyers are seeing numbers that are likely not to pan out.
More to the point, many of these all cash buyers are keeping an artificial floor in the market.  It is unlikely many are buying to live in these homes.  All cash purchases are rare.  If you are buying a home right now with record low mortgage rates it would make sense to take on a mortgage.  You can write off the interest and taxes so it would make much more sense instead of locking your money away.  So it is very doubtful that this is what is going on.  You can also have a large group of people trying to do micro-flipping.  That is, purchase a home for say $50,000 and fix it up and try to flip it for $75,000.  Half the people buying right now are going in all cash so you have a good pool of speculators to unload to.
Ultimately this is speculation ex-banking and shows that people still believe that real estate is an easy road to wealth.  There is no reason to rush into these markets with such poor dynamics.  After all, wouldn't you want to wait a year or two to see how things shake out since we still have a record number of foreclosures approaching?  I see this as another form of speculation although this time people are putting in their cash so at least in terms of moral hazard, this is part of a healthy market economy.  If these areas face out migration then people are likely to be pushing rental prices lower and lower.

If you enjoyed this post click here to subscribe to a complete feed and stay up to date with today's challenging market!