Student debt becoming a larger albatross for economic growth: $1.2 trillion in student debt is outstanding and many college graduates working in jobs that don't require their degree.
There was a time when going to college made sense in every feasible way. It made sense professionally, economically, and many college graduates have a wonderful time in the process of completing their degrees. Most would argue that learning is vital in growing and moving forward. Yet students need to ask whether their return on investment is really worth it? Many people go to college in a compulsory fashion. This is simply the next step after high school. This was an easy decision to make during a time when the costs of going to college were affordable. Today, many schools charge $40,000 and $50,000 per year for a basic undergraduate degree. That is problematic. A large number of recent graduates are now working in positions that don't require their specific field of study. In other words, they are employed in a field different from their undergraduate degree but still carry forward with mounds of debt. The total student debt market is now well over $1.2 trillion. It might be worth it to take a course in Student Debt 101.
Growing student debt
There are no signs or hints that the student debt bubble is likely to slow down in formation. To the contrary total student debt has been on a mission upwards in the last decade or so. When you saddle a nation of young people with mountains of debt don't be surprised when first time home buying reverses or discretionary spending slows down. That seems to be another problem for another day in debt world.
Student loan debt used to be a smaller part of non-housing related debt. Today it is now the largest consumer debt being held outside of mortgages. Take a look at the growth: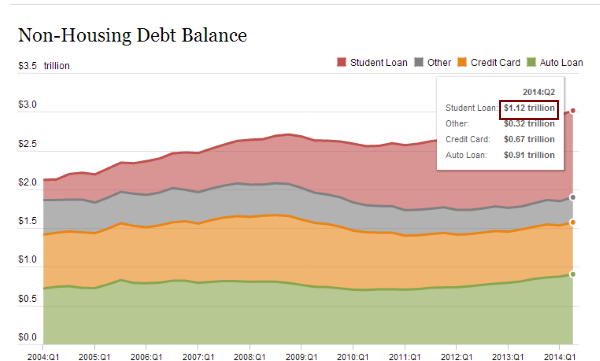 Keep in mind student debt started at roughly $200 billion about a decade ago and has now become a problem for parents and families to carry. It is an odd vision to see student debt so high. There is now data showing that student debt is hindering bigger purchases like those for homes, electronics, or furniture and kitchen appliances. We stepped off the debt based treadmill in 2007 in dramatic fashion and it seems like the public is ready to dive back in to spend.
Parent's could ease some of the burden by helping their kids pay for college but when you look at the amount of money saved by older Americans you fully understand why so many parent simply let their children go into massive debt so they can fight their own economic battles.
Take a look at inflation in student debt. The chart below shows how out of control college debt has become: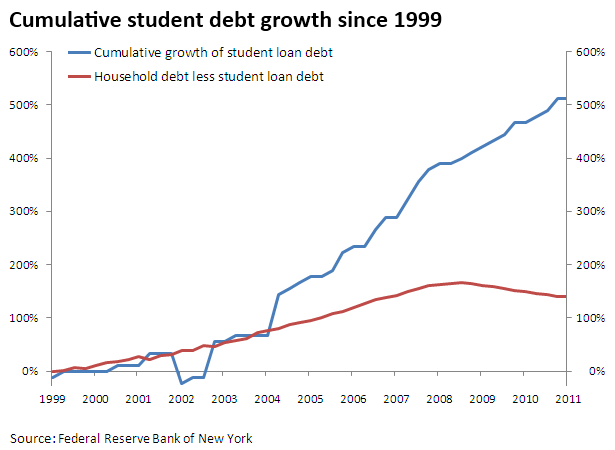 Student loan debt growth is out of control.  There are very few things in this world that allow you to borrow so much with no collateral at all. We've done that a few times and it rarely ends well. With college debt, you can easily hide under the guise of helping others to educate and grow but there is an extremely high level of poor spending inherent in the system. Debt seems to be the narcotic for all. It is interesting to see people come on through various media sources and mention that they were expecting debt levels of $30 or $50 thousand dollars and that this amount was unexpected. There are of course massive tradeoffs and going to college is not a simple no brainer. You have to run the numbers.
We are also now seeing more online degrees from reputable schools and competence based learning where edification is measured through application, not just showing up to class. One immediate item we can remove is the blanket statement that going to college always produced a great return on investment. But compared to what? We rarely hear about the other options until it is too late. You are already seeing the drag of that $1.2 trillion. Less disposable income is available after servicing the debt. There is no free lunch for the public, only the well connected on Wall Street.
I believe we are going to see the face of higher education change over the next ten years. Total student debt outstanding is over $1.2 trillion and only growing! So much for a simple little bill.

If you enjoyed this post click here to subscribe to a complete feed and stay up to date with today's challenging market!