The American Consumer Meets Minimalism: How This Recession Will Change the American Consumer.
Is the American consumer forever changed?  Did the current recession alter the seemingly unrelenting spending machine known as the American consumer?  From early indications, it looks like some habits will be changed for a very long time.  This is a big shift given the nearly endless round of bubbles in the past 30 years culminating with the stunningly manic housing bubble.  But many Americans are now feeling the credit withdrawal pains.  For many, the endless stream of credit card offers has turned into a trickle and in many cases, a complete drought.  Much of this is being brought about by a new found austerity and even shunning of consumption.
In a recent survey by Gallup, they found that 48 percent of Americans making $60,000 or less would be unable to make a big purchase if they had to: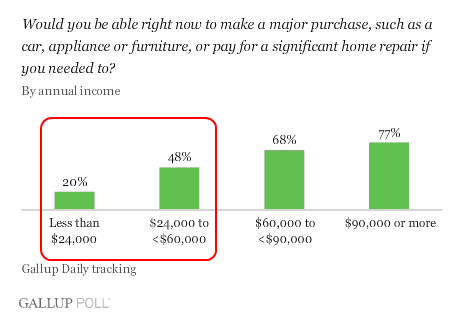 Why this is important is that 50 percent of our U.S households make $50,000 or less.  When you see data like this you can understand the motivation for massive incentives like cash for clunkers.  But interestingly enough, many when asked if they have enough money to buy the things they need many stated that they did: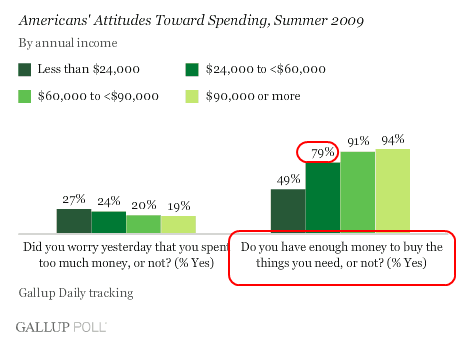 This data somewhat goes in the face of the other chart but part of this is due to the new austerity.  In times like this, a want and a need are very different things.  I am sure that many Americans are finding a new found respect for their jobs in light of the 26 million unemployed and underemployed Americans.  Many now realizing they have to depend on their own savings and not credit, are starting to sock some money away: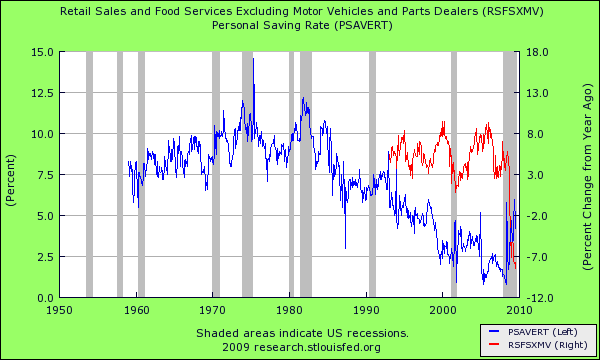 The simplicity here is that with more saving, Americans are also spending less which the above graph highlights.  Retail sales have fallen off a cliff.  Although things might be stabilizing, the halcyon days of the bubble are long gone.  There must be a new normal.  And those who are out of work are finding it harder to land a new job: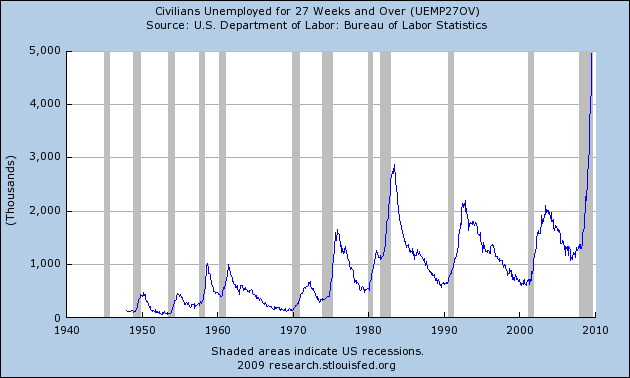 This is one of the more difficult things of this recession.  Companies are not hiring in large numbers.  Even as the amount of layoffs tapers, company hiring remains at record lows.  The long-term unemployed are a significant part of the population.  Many of these people are doing very little consumption.  And personal income has fallen at the fast pace in record keeping history: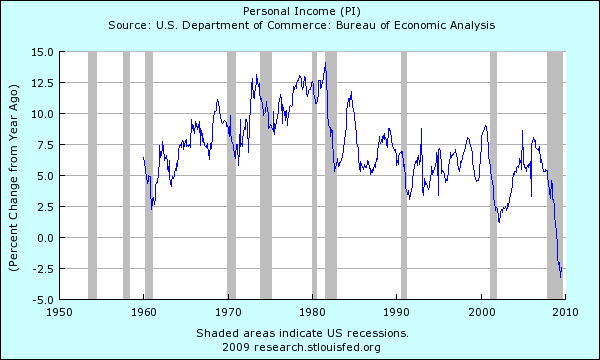 When we look at data like this, it is easy to understand why Americans depended so much on the credit bubble to make things appear as they once did.  It was only a matter of time before the piper would be paid.  With that, personal consumption expenditures have declined drastically: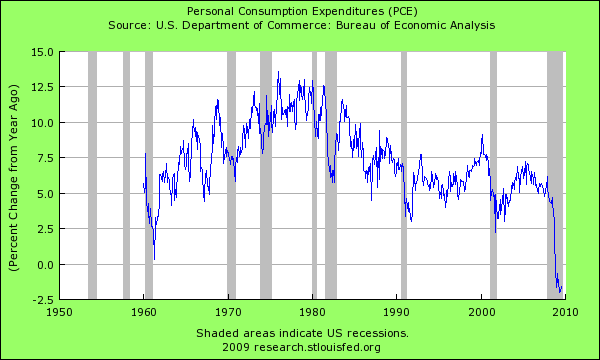 Even with all the bailouts, the average American employee is finding it harder and harder to go back to how things were.  And that is probably one problem with our current lull.  The assumption is that it is only a matter of months before we are back to "normal" spending.  If you look at the above charts, those days are long gone.  Many baby boomers are entering retirement and they are trading security over spending.  Given the wild casino like movements in the S&P 500, stability might be a sought after commodity.  The American consumer is altered for a generation thanks to a decade of easy money and debt induced spending.  Many are realizing that 1 plasma TV is just as good as 3.  A new normal will emerge from this crisis.

If you enjoyed this post click here to subscribe to a complete feed and stay up to date with today's challenging market!